Section Branding
Header Content
The Players You See Today are Tomorrow's College Stars
Primary Content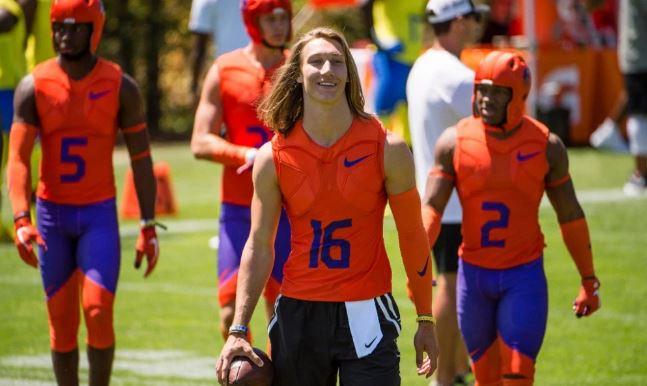 It never ceases to amaze the incredible number of Georgia high school football players that I encounter on college rosters every week. By the time you read this, I will have opened my college football schedule with Florida International at Tulane Thursday night on ESPN3 and then Saturday, I'll be calling Campbell at Troy at 6 p.m. on ESPN+.
It's easy to keep up with former Georgia high school stars like Trevor Lawrence, Jake Fromm and Justin Fields. After all, Lawrence is probably the 2019 Heisman Trophy favorite as just a sophomore at Clemson after starring at Cartersville High School. Fromm went right from starting quarterback at Houston County High School to starting QB for national championship-contending Georgia. Former Harrison Hoyas star Justin Fields has landed at Ohio State and will quarterback a Buckeyes team once again contending for a berth in the College Football Playoff.
We all know that. But that's just the tip of the proverbial iceberg. In the two college football games I'm working this weekend alone, there are 24 players from Georgia high schools that are either starting…if not starring…and at the very least are No. 2 at their positions on their team's respective depth charts.
Tulane has five players led by starting left tackle Tyler Johnson from Stephenson and starting defensive end Cameron Sample from Shiloh. Three FIU players came from Georgia including starting left tackle D'Antne Demery from Brunswick High School. 
There are four players from Georgia, and three that will start, for Campbell including freshman QB Hajj-Malik Williams who will make his debut Saturday at Troy. He played last season at U.S. Military Academy Prep after leading Hapeville Charter to the 2017 State Championship.
But the Troy Trojans top them all. Not only are the Trojans led by Head Coach Chip Lindsay, who a decade ago was the head coach at Lassiter High School when Hutson Mason was the record-setting QB and the late, great Philip Lutzenkirchen was there, the Trojans have no less than 12 former Georgia high school stars in their two-deep. Lindsay by the way will be making his collegiate head coaching debut on Saturday.
In Troy's starting line-up you will find right guard Tristan Crowder (Carrollton), wide receiver Tray Eafford and safety T.J. Harris (Lee County), wide receiver Sam Letton (Walton), free safety  Kyle Nixon (Peach County) and his twin brother Kevin is a back-up defensive end, nose guard Will Choloh (Archer) and defensive end Antonio Showers (Tucker).
And that's just two games, four teams from this first full weekend of college football. That's why when you watch Football Fridays in Georgia on GPB, you are watching the future stars of college football and in some cases the NFL.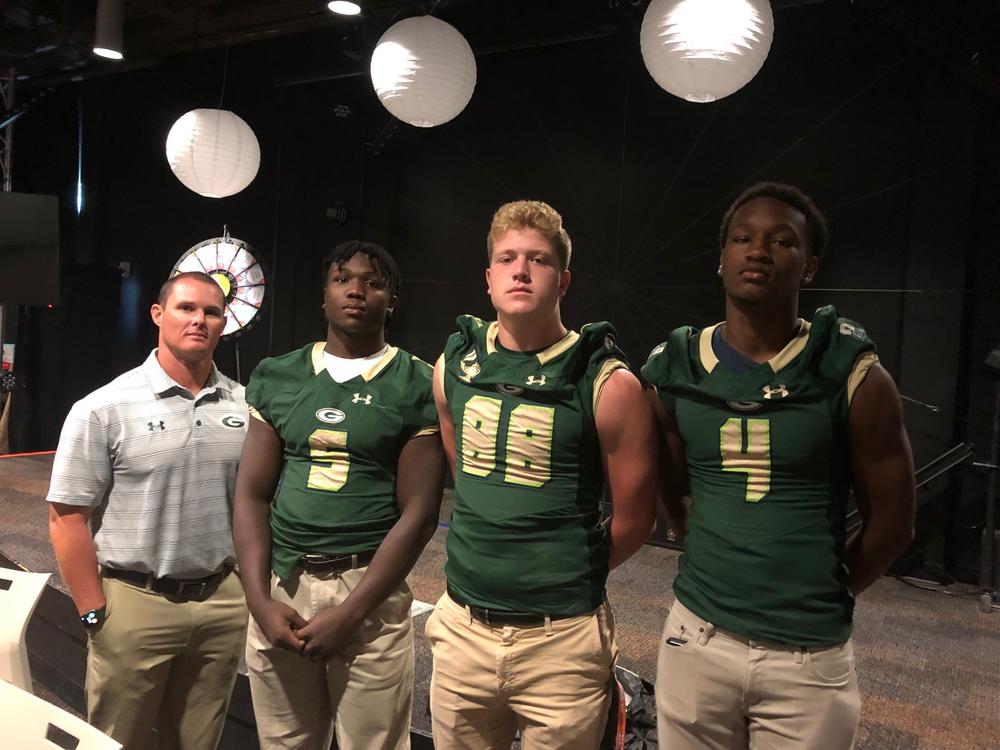 Why I Vote the Way I Vote
So, if you follow me on twitter, you see each week I share how I voted in that week's GPB Poll. We have a number of experts who vote in our weekly poll, but I want to be transparent in my vote so you know where I stand in the Top 10 rankings. Many times, my vote is very similar to my colleagues, but not always. 
I got a couple of tweets this week that I thought I would share because you might have had similar questions. One wanted to know why I had Grayson No. 1 in Class 7A.
There seems to be this notion that the Rams are down, even thought most every poll I've seen has them in the Top 5. I'm just the only person, or one of the few that has them at the top. Grayson still has two players ranked in the state's Top 40 prospects and only Marietta has more. The Rams boast 4-star QB C.J. Dixon who is committed to Indiana and 3-star wide receiver Ryan King committed to Georgia Tech. 4-star Phil Mafah is the No. 13 ranked junior running back in the nation who reportedly was hurt in the Rams season opening win. Keeping him healthy will be key.
This is a Grayson program that has gone 57-9 the last five seasons with a state championship in 2016 and quarterfinal finish in 2018. The Rams hired a great young coach in Adam Carter. So, any notions that Grayson underachieved the last two years or might not be as talent-deep this year, are dispelled in my mind with the hiring of Carter.
So why not Marietta No. 1 right? The Blue Devils are obviously the most talented team in the state from a college football recruiting perspective. But after going 5-6 with basically the same talented group last season, they have to prove it to me. Sure, this year isn't last year and Marietta looked impressive in blowing out Rome, but they have to show me more than that. I've got the Blue Devils No. 3 and they play both Grayson and No. 2 McEachern during the regular season, so they will get ample opportunity to show that they are going to live-up to expectations.
And just to share a hunch. I think Franklin Stephens just might lead McEachern to that elusive, first-ever state championship. Would not surprise me one bit!
The other tweet I had wondered why Dublin at No. 1 in AA. Well that's easy. I had the Fighting Irish ranked third in the preseason and the two teams in front of them Callaway and Hapeville Charter both got beat opening week. But I also feel like Dublin is a program on the rise. Won 11 games last year and reached the quarterfinals for the first time since 2011. Fighting Irish are talented too with 4-star linebacker Romello Height and 3-star athlete JaQues Evans who stars for Dublin at running back.
Let's face it. The rankings are not a science but an opinion. Something to talk about during the week until another Football Friday in Georgia rolls around. So, keep those questions coming. Looking forward to our season-opener on GPB Friday, Sept. 20.
Secondary Content
Bottom Content