Section Branding
Header Content
It's Always A Family Affair at Bremen
Primary Content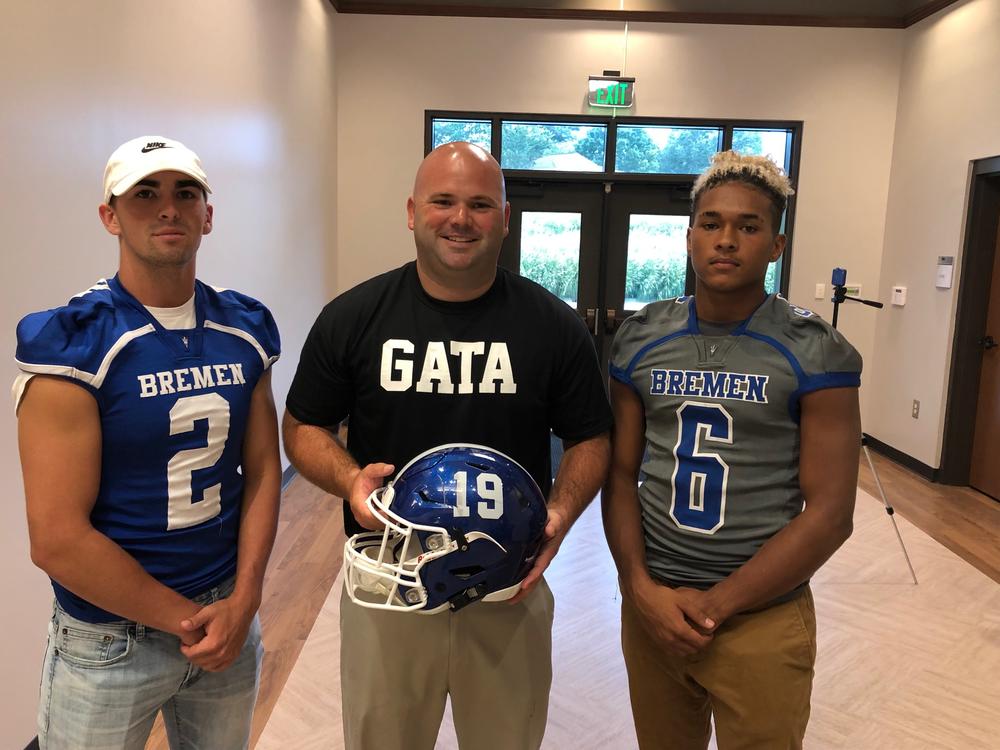 It's all about family at Bremen High School.
There is a community feel around the school that is felt at few other schools. Several generations of Bremen natives have bonded together around the football team and this year is no exception. Look no further than starting quarterback Cooper Cartwright; his cousin Wade Cartwright (now playing at Cumberland University) was the starter at the position for the last three years and his father, Ty Cartwright, was the quarterback in the '80s. 
"You can graduate players, but you don't graduate tradition," said Bremen coach Davis "Rooster" Russell. "I feel like we're getting to where we have a tradition of winning and will continue to do so. These guys don't expect a dropoff. They expect to win every game and that's why it's fun to coach them."
This will be the fourth year for Russell as the head coach. After going 7-5 in 2016, the Blue Devils have gone 9-2 and 9-3 the last two seasons. Bremen was knocked out in the second round of the playoffs by eventual state runner-up Rockmart. 
But that team lost 30 seniors and will need to grow up fast to survive in competitive Region 5-AA, a league that includes defending state champion Heard County. 
The Blue Devils will need to see quick growth from Cartwright, whose work ethic cannot be questioned. 
"He's gotten so much better in the last two months … improved more than anybody I've ever seen," Russell said. "Every day he's done every little thing right to get better. He went on his own away to a camp to get better. He's the ultimate leader by example and he's a pretty danged good athlete, too."
But the ultimate Swiss Army knife player is Makai Terry, a preseason all-state selection who will play running back and defensive back – as well as any other position on the field, including an end rusher. Terry is only 5-10, 180 pounds, but is the one guy that Russell feels comfortable moving where he needs help. And Terry can deliver, regardless of where he's needed.
"He's a great teammate," Russell said. "We can't do that with every kid. His football IQ is so high. I can move him one week and he's good to go. He's going to be a college football player one day and to show his versatility isn't going to do anything but help him and his team."
Regarding his versatility, Terry said, "I've been doing that most of my life."
In keeping with the theme of community, Russell had a big addition to his staff. His father, Jay Russell, is coming out of retirement to work with his son. The elder Russell was an assistant coach at Georgia Southern, a head coach in high school for 10 seasons, with the greatest success at Stephens County and Rabun County. Before retiring, Russell was working for the Georgia High School Association. 
"I get to coach with my dad and I'm like a kid at Christmas," Russell said. "He's smarter than all of us. To have a guy like that who's won four national championships that I can bounce ideas off – or just shutup and listen to him – is awesome."
Russell said he's been trying to work out the details for the last seven or eight years and it never worked out. After taking a year off, Jay Russell told his son he was bored and was looking for something to do. 
"We're running with it," Russell said. "He's good with the kids and he's so intelligent. He gives me and coach (Drew) Willis somebody to bounce things off. We're not ego guys, so if he says it might be better to it like this, we're going to do it like that. We're going to listen to him."
Russell is comfortable drawing on a lesson he learned from his famous grandfather, Erk Russell, many years ago. 
"My granddaddy said to surround yourself with people who are smarter than you," he said. "That's not hard in my case, because I'm not very smart."
Secondary Content
Bottom Content