Section Branding
Header Content
Class 4A Preview: Blessed Trinity Vs. Cartersville
Primary Content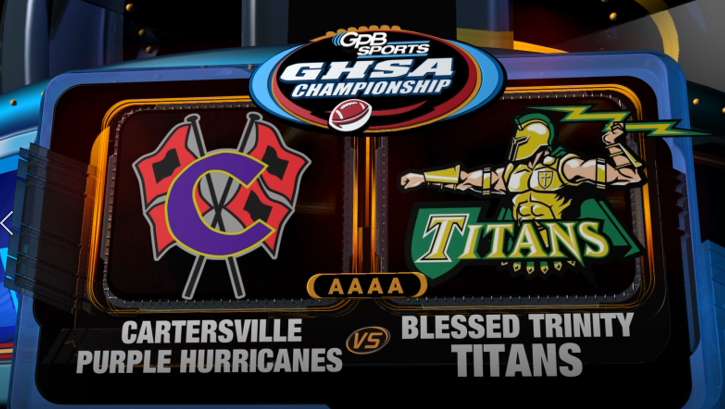 Class 4A 
Blessed Trinity vs. Cartersville, Wednesday, 4:30 p.m., Mercedes-Benz Stadium
Blessed Trinity TItans
School location: Roswell
Record, ranking: 14-0, No. 1
Coach: Tim McFarlin, 89-18-1 in nine seasons; 171-52-2 overall in 19 seasons.
How they got there: Def. Northwest Whitfield 55-16; def. North Oconee 35-10; def. Eastside 42-15; def. Troup 51-35. 
Top Players: RB Steele Chambers, LB J.D. Bertrand, QB Jake Smith, WR Ryan Davis, OL Jakson Filipowicz, DL J.R. Bivens, 
Playoff history: Blessed Trinity won the state championship in 2017. 
Cartersville Purple Hurricanes
School location: Cartersville
Record, ranking: 14-0, No. 2
Coach: Joey King, 63-7 in six seasons.
How they got there: Def. Stephens County 34-7; def. Ridgeland 41-7; def. Baldwin 42-13; def. Marist 17-14.
Top players: QB Tee Webb, RB Marcus Gary, TE Jackson Lowe, OL Matthew Surrett, OL Jonah Gambill, DL Bobby Harris, DL La'Kwayme Jupiter, LB Sunni Moorehead, S Marko Dudley
Playoff history: Cartersville has won four state championships --  1991, 1999, 2015 and 2016. 
Notable: The two teams have split two previous meetings, both times in the second round of the playoffs. Blessed Trinity won 21-17 in 2017 and Cartersville prevailed 24-23 in 2012. 
Secondary Content
Bottom Content