Section Branding
Header Content
Look Out For These Top Prospects At The Benz
Primary Content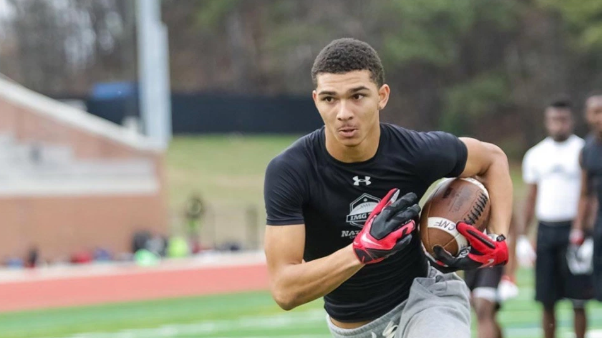 As the great lyricist Drake and Future would rap, "What a Time to Be Alive!" OK, I confess I don't really know the whole song, but I have heard that line and fits with the blog I'm writing.
What a Time to Be Alive. Fits well for all these young men who get to play for a State Championship at Mercedes-Benz Stadium Tuesday and Wednesday on GPB. Even better for those who a week later will be signing their names to college scholarships. The new early College Football National Signing Day is Wednesday, Dec. 19.
You can't really tell the story of these eight GHSA State Championship Games without talking about the recruiting aspect. 
Many of these teams are one win away from winning a State Championship because of the players you are about to read about. And let's face it. This is a big deal. These kids are about to get their college education paid for because they are great football players. 
Yes, they have a lot of God-given talent. But they've also worked hard to make the best of what the good Lord has given them. Because of that, the teams that they play for have a chance to win a state title before they go off to pursue even bigger dreams. Some of them will even play in the National Football League one day. That is so very cool that we get to see them play high school football one last time with a chance to fulfill a dream of winning a state title. Gives me goosebumps!
Now before you fire off an angry tweet. This list that I have put together for this blog is based solely on the 247 Sports Composite Recruiting Rankings. I like using this source because it takes the recruiting rankings of 247 Sports, ESPN, Rivals, Scout, etc.…adds them all up and creates a composite. I think it gives us about as accurate a picture as we can get with this very inexact science, we call recruiting…or crootin' for some of you. That's just a joke.
This list doesn't include two of the best senior quarterbacks in the state, Milton's Jordan Yates who's committed to Georgia Tech and Warner Robins' Dylan Fromm who's committed to Mercer. They are great, and I think they'll make great college football players. But they don't fall within the Top 10 composite rankings. 
The list doesn't include three of the best running backs that I saw this season…because their teams fell a win or two short. That list would include Rome's Jamious Griffin, Travis Tisdale of Lowndes and Buford's Derrian Brown.
Also let me say there are a lot of great players who had tremendous high school careers, will do great things on Saturdays in the years to come and will even get paid handsomely to play this game one day, who will be watching these games on GPB just like you. So, let's recognize the tremendous accomplishments of all the players, big-time recruits or not, and enjoy these eight football games for what they are. The stuff of which dreams are made.
So now that I've covered my bases … let's begin with the senior class.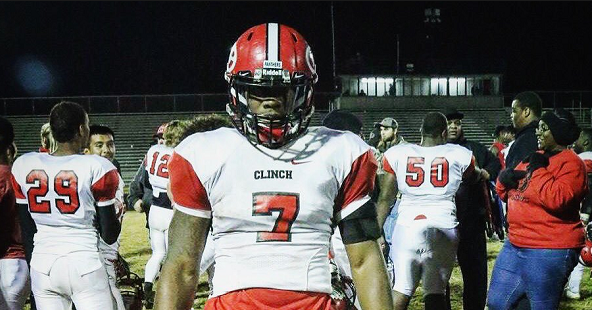 Jadon Haselwood – Cedar Grove High School. 6-2, 196-pound, Senior. 5-Star. No. 1 Wide Receiver. No. 1 prospect in Georgia. No. 6 overall national recruit. Once committed to Georgia, Miami is now considered his leader from among 16 other offers. Georgia is still recruiting him, and assistant coach James Coley had an in-home visit with him last week. Florida State is also still very much in the mix for Haselwood and David Kelly, who won a state championship as head coach at Dunwoody High School, is now recruiting him for the Seminoles. He took his fourth official visit to Florida State last month. Haselwood says he'll announce next month during the U-S Army All-American Bowl. He has 51 catches for 990 yards and 10 TD this season. 
Trezman Marshall – Clinch County High School. 6-0, 236-pound, Senior. 4-Star. No. 7 Inside Linebacker. No. 13 overall recruit in Georgia. Committed to Georgia in April over 12 other offers. Marshall did pay an unofficial visit to Alabama to watch the Iron Bowl and has had two unofficial visits to Tennessee during this season, as well as Georgia. Trezman will be a fun one to watch. He does everything for Clinch. He will rarely come off the field!
Joseph Charleston – Milton High School. 6-2, 190-pound, Senior. 4-star. No. 13 safety in the nation. No. 16 overall prospect in Georgia. Committed to Clemson in October 2017 over nine other offers. Expect to see Charleston playing on the offensive side of the ball as well. He had four big catches in the Eagles' semifinal win vs. Lowndes last Friday night on GPB. But his future is hitting people. He will lay the wood as we like to say in the bizness. How about this for a visual? His Coach Adam Clack describes his tackling to that of a powerful snake that coils and then strikes inflicting its damage. Kind of scary huh? BTW I don't like snakes.
Steele Chambers – Blessed Trinity School. 6-2, 215-pound, Senior. 4-Star. Ninth-ranked athlete in the nation. No. 27 overall prospect in Georgia. Committed to Ohio State in April over 28 other offers. You'll like watching him. Rushed for 240 yards and three touchdowns and even threw a touchdown pass in the Titans 51-35 semifinal win over Troup. The Man of Steele! I know. Too easy right? Coach Tim McFarlin did meet with him Tuesday following the announcement that Buckeyes Coach Urban Meyer is retiring but Chambers reaffirmed to his high school head coach that he was good with his commitment to THE Ohio State University. Listed as an athlete, the word is, he'll get his shot at running back with the Buckeyes.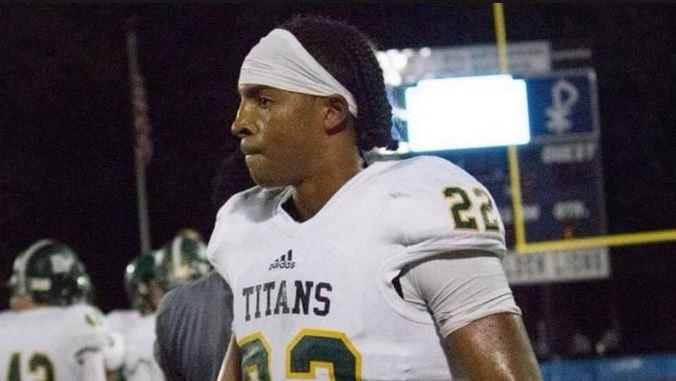 Juniors
Sergio Allen – Peach County High School. 6-0, 217-pound, Junior. 4-Star. No. 4 Inside Linebacker. No. 15 junior prospect in Georgia. Committed to Clemson in July over 12 other offers including Georgia, Alabama and Auburn. Can't say his name without thinking of the old Smirnoff ad campaign where everybody knew Sergio. "Sergio, come join us," they would say. Well that's exactly what Tigers DC Brent Venables did and Sergio has joined Clemson. He is the third junior from the state of Georgia to commit to Clemson joining Milton OL Paul Tchio and Creekview OL John Williams. If you haven't noticed, Dabo doin' business in Georgia…and has been for a while.
Paul Tchio – Milton High School. 6-5, 325-pound, Junior. 4-star. No. 22 junior offensive tackle in the nation. No. 18 overall junior prospect in Georgia. Committed to Clemson two Sundays ago over 11 other offers. Plays offensive guard for the Eagles and his name is pronounced "Tio." His Coach Adam Clack says a lot of times when you have a mammoth offensive lineman like Paul, they aren't very coachable and they don't work that hard (quite frankly because they don't have too) because they dominate on sheer physical size. Clack says Tchio is none of that. That he's exceeded his expectations and is the best OL he's ever coached.
Daijun Edwards – Colquitt County High School. 5-11, 185-pound, Junior. 4-Star. No. 18 running back in the nation in the Class of 2020. No. 23 junior prospect in Georgia. Six offers Georgia, Auburn and Florida State considered his leaders. Might be the best running back in the state next year as a senior. Imagine what his yardage totals might look like when he no longer shares the backfield with another 1,000-yard rusher in Ty Leggett? Edwards has rushed for 1,379 yards and 26 touchdowns this season and is just another storm trooper on the Packers' Death Star. But he is one big, bad storm trooper. 
Jeremiah Johnson – Clinch County High School. 6-7, 215-pound, Junior. 4-Star Wide Receiver. No. 27 junior prospect in Georgia. Offered by Arkansas, Nebraska, Cincinnati, South Carolina and Tennessee. Cool name. Saw the movie when I was a kid. He's only taken one official visit and that was to Florida State back in the spring, but his recruiting is about to ramp-up considerably. Afterall how many 6-7 wide receivers are there and who can cover them?
Sophomores (just for fun I thought I'd throw in a couple of highly ranked 10th graders you might want to bookmark)
Terrence Ferguson – Peach County High School. 6-4, 270-pound, Sophomore. 5-Star. No. 8 offensive tackle in the Class of 2021. No. 3 overall sophomore prospect in Georgia and overall the No. 31 overall 10th-grader in the nation. His seven offers include Georgia, LSU and Michigan.
Deion Colzie – Athens Academy. 6-4, 180-pound, Sophomore. 4-Star. No. 16 wide receiver in the Class of 2021. No. 11 sophomore prospect in the state. He's been offered by Tennessee.
So, there you have it. Our coverage begins Tuesday and Wednesday morning at 10 a.m. on GPB and runs about 14 hours each day so it'll be hard to miss us ha-ha. Enjoy it. We will.
Secondary Content
Bottom Content