Section Branding
Header Content
Football Fridays In Georgia: Rome, Dutchtown Players To Watch
Primary Content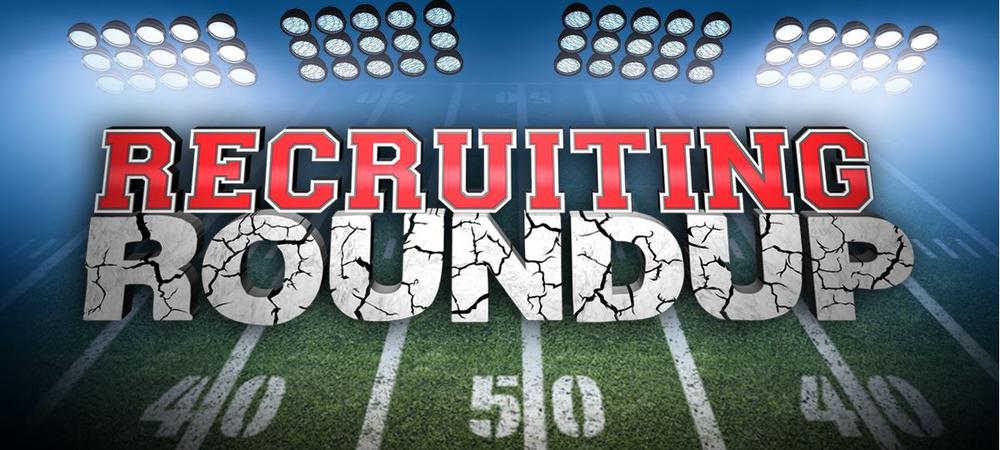 The Road to the Benz continues tonight on GPB as the top-ranked and two-time defending GHSA 5A State Champion Rome Wolves play at the No. 4 and 12-0 Dutchtown Bulldogs. The winner will be one victory away from playing in one of the eight GHSA State Championship Games at Mercedes-Benz Stadium Dec. 7-8.
The incredible contrasts in these two teams is impossible to ignore. First take the tradition. Rome will be going for win No. 40 in a row. The Wolves have won the last two 5A Championships and dominated in doing so. The Wolves program was born out of the West Rome and East Rome programs that back in the 1970s and 80s produced seven state championships between them. Rome has been there and done that and tonight's quarterfinal game is just another step (the 13th to be exact) toward a presumable three-peat. 
Meantime this is the biggest game in Dutchtown history. The Bulldogs have never been this good. This is just the second time the program has gotten as far as the state quarterfinals. This is just the third playoff season in Dutchtown's 15-year history and just their fifth winning season. Even Coach Clifford Fedd admitted that he knew nothing about the Bulldogs program when he interviewed for the head coaching job two years ago. But he told his administrators that his goal was for everybody in the state to know about Dutchtown. He would achieve that goal with an upset win tonight.
The contrast between the two teams doesn't stop there. Rome has the highest scoring offense in 5A. Dutchtown has the best scoring defense. In fact, the Wolves offense is among the best ever. Last year they set the state scoring record and are on pace to better that this season averaging 52.3 points per game. Meantime the Bulldogs defense gives up an average of five points per game and has shutout five opponents. Only sixth-ranked and current quarterfinalist Stockbridge (21-14 road win) scored two touchdowns in a game against Dutchtown.
The Bulldogs will not be able to shutdown the Wolves. I've already called two Rome games this season, a 51-41 win over then-7A Top-10 ranked Marietta and a 66-51 win vs. No. 10 and quarterfinalist Carrollton. If Dutchtown can hold the Wolves to 30 points, they've got a shot. Now can the Bulldogs offense led by Arendez Fedd, the coach's sophomore son at quarterback, score 30 against this Rome defense that gives-up less than 14 points per game? That's why you have to tune in to GPB tonight starting at 7 p.m. to find out. Another good reason is this…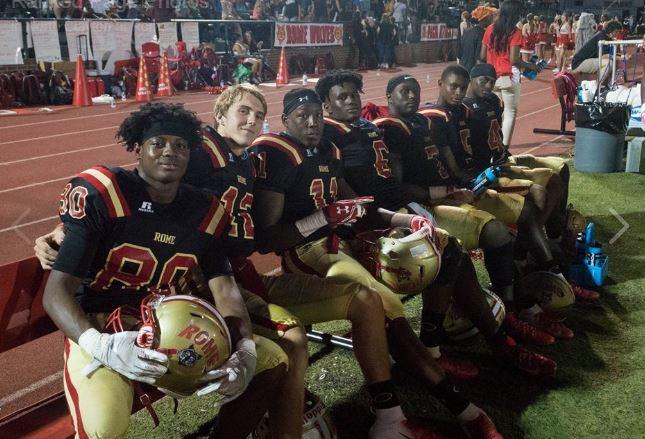 Rome Wolves
College Prospects to Watch Tonight
*All rankings are 247 Sports Composite unless otherwise note
Jamious Griffin – 5-10, 205-pound, senior. 247 Sports 4-Star. No. 15 RB in Class of 2019. No. 32 prospect in Georgia. Committed to NC State in May over 21 other offers. He's the best running back I've personally witnessed in the state this season.
Quantavious "Tic" Leslie – 6-4, 285-pound, junior. 3-Star. No. 39 OT in Class of 2020. No. 34 junior prospect in Georgia. Offered by Florida, Tennessee and App State 
Knox Kadum – 6-2, 180-pound, senior. 3-Star Pro Style QB. 10 offers including Georgia Southern, Tulane and Coastal Carolina but is also on the radar of some Power 5 programs like LSU.
Xavier Roberts-Donaldson – 5-10, 180-pound, senior. 3-Star wide receiver. Committed to Kennesaw State over Marshall last week.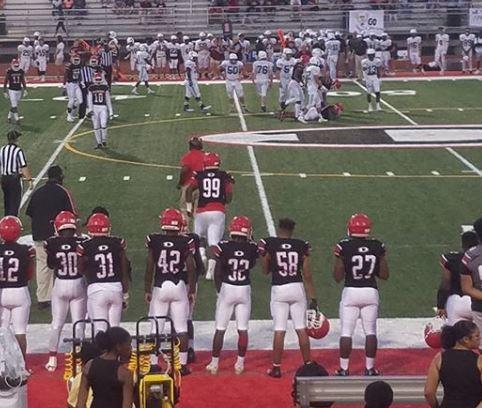 Dutchtown Bulldogs
College Prospects to Watch Tonight
*All rankings are 247 Sports Composite unless otherwise note
Will Anderson – 6-3, 235-pound, junior. 3-star. No. 19 defensive end in Class of 2020. No. 38 junior prospect in Georgia. 29 offers including Georgia Tech, UCF and Kentucky.
Kevon Glenn – 6-1, 220-pound, senior. 3-star. No. 34 inside linebacker. 45 offers with Georgia Tech, Kentucky and Mississippi State among his leaders.
Ja'Shaun Poke – 5-10, 175-pound, senior cornerback. 8 offers including UAB, Eastern Michigan and Miami (Ohio).
Nate McCollum – 5-10, 180-pound, junior wide receiver. 5 offers including App State, Coastal Carolina and East Carolina.
Arendez Fedd – 6-0, 200-pound, sophomore quarterback. Offered by Alabama State.
Adonis Butler-Ross – 5-11, 200-pound, senior linebacker. Offered by Illinois State and Shorter.
Monte Davis – 6-2, 225-pound, senior defensive end. Offered by Mississippi Valley State.
Khamari Thompson – 6-4, 260-pound, senior offensive tackle. Four offers including Morehouse and Stetson.
Secondary Content
Bottom Content