Section Branding
Header Content
College Prospects To Watch: Blessed Trinity At Flowery Branch
Primary Content
Friday night on GPB we will have the only match-up in the state featuring 6-0 teams when the defending GHSA 4A State Champion and No. 1 Blessed Trinity Titans take on the 8th-ranked Flowery Branch Falcons.
This will be a huge Region 7 battle with the winner set on a collision course to play No. 6 Marist for the region title in the last three weeks of the season. The loser will likely find itself having to settle on a No. 3 seed and having to play on the road in the state playoffs. So as you can see, the stakes are pretty high.
This will be the first-ever meeting between these two teams since Flowery Branch moved down from 5A to 4A this season. Last year the Falcons were in the same region with perennial power Buford and this year in the same region with Blessed Trinity and Marist. So much for the notion that moving down in classification would make life easier.
Blessed Trinity has become the team to beat in 4A under veteran Coach Tim McFarlin. One of the really good guys in the business. He led Roswell to its first state championship in over 30 years in 2006 and then retired a few years later. He says he never dreamed he would end-up at BT. They are glad he did.
McFarlin has gone 81-18 in his seven-plus seasons at the Catholic School in Roswell. The Titans will carry a 12-game winning streak into the game and they've won 20 of their last 21. Their only loss during that time a 25-24 defeat at the hands of rival Marist, a loss they would avenge two months later in the 2017 State Final. BT is 43-3-1 against Georgia opponents over the last three-plus seasons with the only losses, that one-point loss to Marist, a one-point loss at Mary Persons in the 2016 state quarterfinals and a 38-31 overtime loss vs Westminster in the 2015 State Final. Can you say domination?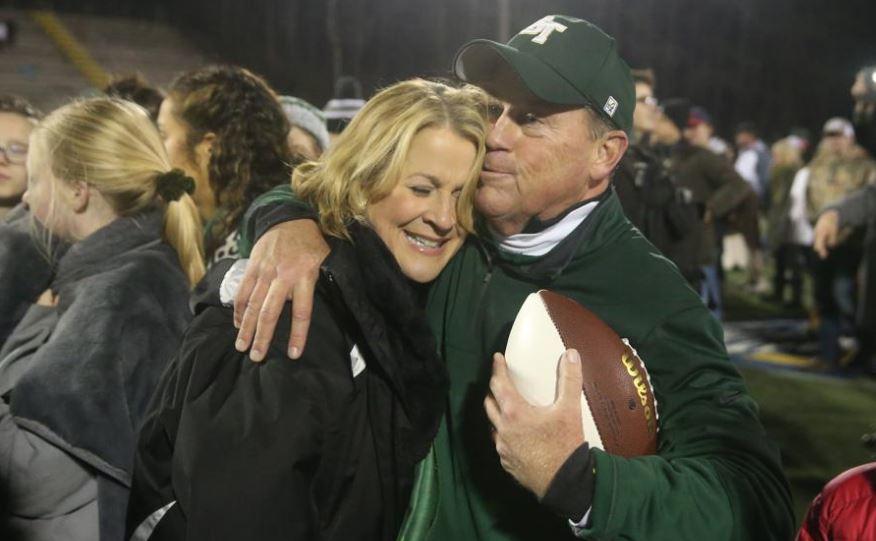 That's the team that Flowery Branch will try to beat Friday night. A decade ago a state championship contender, the Falcons had a seven-year stretch in which they went 73-17 and played in the 2008 State Championship Game. Second-year Coach Ben Hall has the Falcons flying in that direction again after taking over following the 2016 season and a third straight year failing to make the state playoffs. The Branch has gone 15-3 in his first season-plus and this year the Falcons have outscored their six opponents 260-59.
Coach Hall learned from his late father Bill, who was the head coach at Rabun County when a fella by the name of Lee Shaw played there. Coach Shaw would later be the man that turned Flowery Branch into a state power and also known as the father of star quarterbacks Connor and Jaybo Shaw. Hall worked for Shaw for one season before getting a call to join the legendary T. McFerrin at Jefferson. He did and then four years later became the head coach for four seasons going 44-8 before the folks at Flowery Branch called and asked if he were interested in coming back. Having never moved from Hall County, he certainly was. Falcons' fans are happy about that.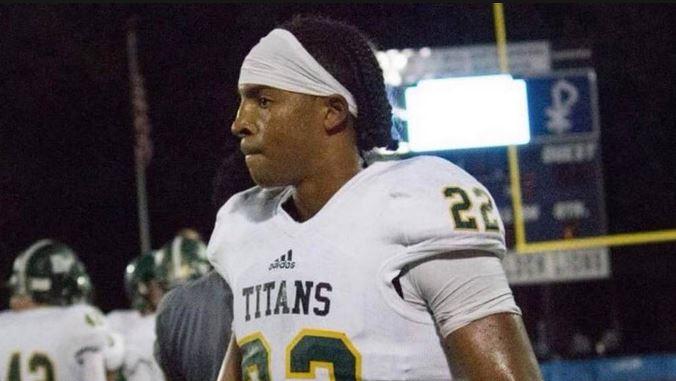 College Prospects to Watch Friday Night
*All rankings are 247 Sports Composite
Blessed Trinity Titans
Steele Chambers – 6-2, 215-pound, Senior. 4-Star. Ninth-ranked athlete in the nation. Plays RB and LB for the Titans. Committed to Ohio State in April over 28 other offers. Leads team with 632 yards rushing, 9.3 yards per carry average and 16 TD. Also has 5 TFL on defense. McFarlin: "Better person than player and he's a great player. Similar to Jermaine Phillips." Phillips starred at Roswell under McFarlin and then went on to star at Georgia and played for the Tampa Bay Bucs. Now Phillips is the Titans secondary coach.
J.D. Bertrand – 6-1, 215-pound, Senior. 4-Star. 16th-ranked outside linebacker in the nation. Plays Mike LB and FB for the Titans. Decommitted from Georgia last Friday after being committed to the Bulldogs for over a year. Immediately visited Florida over the weekend and picked-up an offer from the Gators. Also been offered by Wisconsin and TCU since his decommitment and has 12 total offers. Leads team in tackles and has seven TFL and three sacks. McFarlin: "Reminds me of Chris Reis." Another former Roswell star who went on to star at Georgia Tech and then played for the New Orleans Saints.
Elijah Green – 5-10, 190-pound, Junior. 3-Star running back. Five offers including South Carolina, North Carolina and N.C. State. Unfortunately he's missed most of the season with a fractured ankle. Titans hope to get him back for the final week of the regular season and if recent history holds true, that means Green could still end-up playing in six more games.
J.R. Bivens – 6-0, 250-pound, Senior. 2-Star Defensive End. Plays Nose Tackle for the Titans. Committed to Middle Tennessee in July over eight other offers. McFarlin: "Speed, strength and quickness are his specialties. We move him around a lot on the defensive line and he commands double teams freeing-up our linebackers to make tackles."
Jake Smith – 6-1, 210-pound, Senior. Runs 4.5 40. Starting QB and Strong Safety. Rare quarterback that plays both ways. Completed 68 percent of his passes for 883 yards, six TD and no interceptions. Also has one of the team's two interceptions. Great baseball player but also wants to play football, too, and McFarlin says where he gets that opportunity is where he will end-up. McFarlin: "Most under-recruited player in the state." A lot of that has to do with the fact he plays baseball in the spring and summer rather than going to football combines. Georgia Tech was at practice last week to watch him. Yellow Jackets and Georgia Bulldogs both interested in him in baseball.
Flowery Branch Falcons
Coach Ben Hall says "we've got a lot of great high school football players but no blue-chippers like many of the programs we play." The Falcons do have some younger players that will likely end-up in the recruiting process like junior QB Elijah Gainey, who is 6-3, 220-pounds. Sophomore tailback Jay Ellingham and the junior twin brothers' combination of linebacker Chandler Dial-Watson and free safety Chase Dial-Watson. Their dad Chezley is the Falcons first-year varsity basketball coach. They also play hoops.
So should be another great Football Friday in Georgia! Join us from Falcon Field Friday night. Our coverage starts at 7 p.m. on GPB.
Secondary Content
Bottom Content