Section Branding
Header Content
Football Fridays In Georgia: Sequoyah vs. Creekview College Prospects To Watch
Primary Content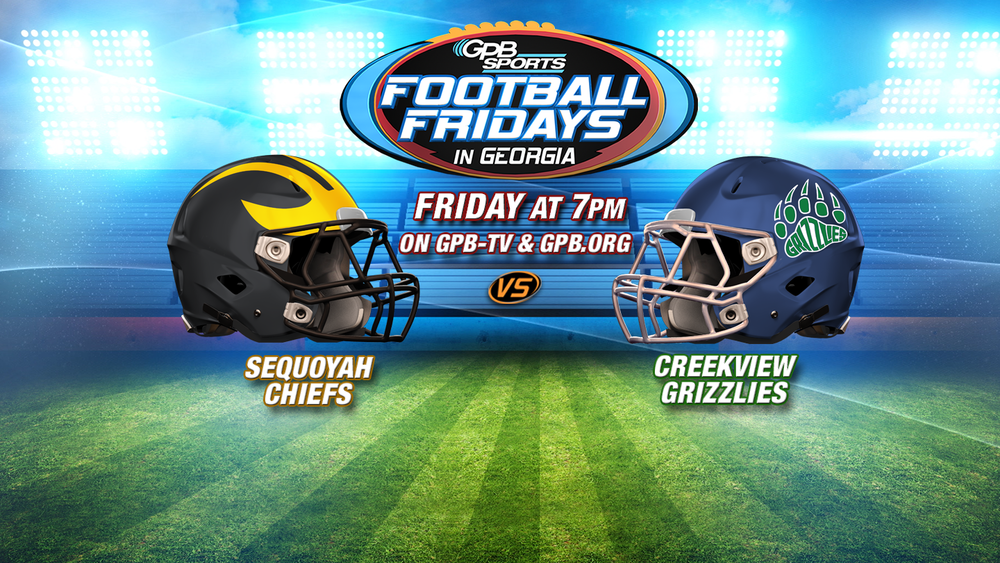 One of the great things we've been able to do this season on GPB is televise some teams on Football Friday in Georgia that we've never had on before, outside of perhaps a state championship game appearance. We've been able to get to some new venues, new communities, new fan bases and that's been exciting the fun.
This Friday night will be another example of that when the GPB Sports Team rolls into Canton for our first-ever visit to Creekview High School as the No. 4-ranked and 5-0 Grizzlies play host to rival No. 5-ranked and 4-0 Sequoyah Chiefs. The two schools are separated by only eight miles. Many of the players in the two programs grew-up playing with and against each other in the CYFA (Cherokee Youth Football Association).
Under first-year Head Coach and former Valdosta Defensive Coordinator Adam Carter, Creekview has rolled to the first 5-0 start in the program's 12-year history. This is a Grizzlies program that has had only two losing seasons in its brief history and six times made the state playoffs, but have never won a postseason game. 
Sequoyah has mashed its first four opponents by a combined score of 154-28 including a 42-14 rout of then fifth-ranked Dalton three weeks ago. That's the same Catamounts team that Creekview had to come-from-behind to beat 21-17 just a week later in Dalton. 
This is James Teter's tenth season as the Chiefs head coach and the first time his team has started a season 4-0. The 17-year Georgia high school head coach came to Sequoyah after leading Dunwoody to its best season in years, a 12-1 state quarterfinal finish in 2008. 
Teter is known for running the Wing-T offense. Once a staple in the state, not so many teams run it anymore because it requires precision execution and it isn't as "cool" as the spread. But it's also very hard to defend and the Chiefs average 282.5 rushing yards per game. The Grizzles are no-shrinking violets. They like to play smash mouth football too rushing for 248 yards per game. So it's going to be a physical game!
Creekview Grizzlies
College Prospects to Watch Friday Night
*All rankings are 247 Sports Composite
John Williams – 6-5, 270-pound, Junior. 3-Star Offensive Tackle. Committed to Clemson four weeks ago over nine other offers. Coach Carter: "Looks like a grown 35-year-old man with his full beard. Strength has improved dramatically since our staff arrived from benching 265-pounds to 315."
Nick Pendley – 6-5, 290-pound, Senior. 3-Star Offensive Guard. 12 offers with Georgia State, USF and Colorado State considered his leaders. Coach Carter: "He's what you want in an offensive lineman. Nasty and physical. We go as he goes."
Cade Radam – 6-0, 205-pound, Senior Running Back. Three offers from Air Force, Army and Morehead State. Stats: 103-709 yards rushing for 7.1 avg. and 6 TD. Also 9-88 yards receiving and 2 TD. Coach Carter: "Some college coaches are concerned that he might not have top-end speed, but I've never seen him get caught."
Paxton Nayman – 6-5, 235-pound, Senior Tight End. Offered by West Georgia, Presbyterian and Morehead State. Drawing interest from Pitt. Stats: 9-133 yards receiving and 2 TD. Coach Carter: "Basketball kid who can go and high-point the football."
Jacob Pfundt – 6-4, 180-pound, Senior Wide Receiver. Drawing interest from Presbyterian, Reinhardt and Kent State. Hasn't played much varsity football. Stats: 11-158 yards receiving and 1 TD. 5-7 on FGA with a long of 47 yards and 85% touchbacks on kickoffs. Coach Carter: "Runs 4.5 40. Hidden gym because he hasn't played very much varsity football. Might have a future kicking at the next level."
Andy Davis – 6-0, 195-pound, Senior Safety. Committed to The Citadel. Stats: Team-leading 38 total tackles with 1 INT. Coach Carter: "Leader of our defense."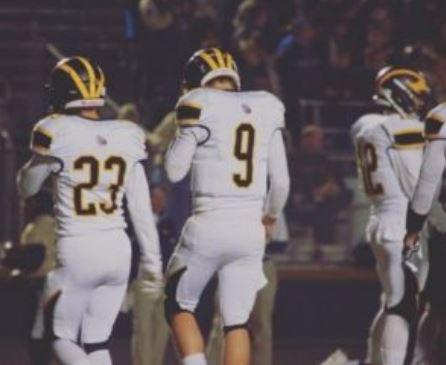 Sequoyah Chiefs
Emmanuel Jenkins – 6-1, 193-pound, Senior. 3-Star Cornerback. 12 offers with West Virginia, USF and Rutgers considered his leaders. Stats: 12 tackles, 1 TFL, 1 forced fumble. Coach Teter: "Out of all the highly-recruited players I've coach, he's handled it best. A lot of times when kids get offers or committed, they stop working. He's worked harder and gotten better."
Collier Pecht – 6-1, 175-pound, Senior Quarterback. Offered by Stetson and Virginia-Wise. Stats: 18-28 passing, 305 yards, 5 TD and 2 INT. Coach Teter: "Probably gets viewed a little differently because we run the Wing-T but he can get in the gun and throw it out of the spread, that's just not what we do."
Alex Majeed – 6-4, 295-pound, Senior Offensive Tackle. Drawing interest from Reinhardt. Coach Teter: "A lot like our RB Cole Jacobs, getting lots of looks but nobody has pulled the trigger yet on an offer and I don't know why."
Adam LaSelva – 6-0, 190-pound, Senior Linebacker. Offered by Stetson. Stats: 29 tackles, 3 sacks, 4 TFL. Coach Teter: "Leader on defense. He just wants to hit people."
Jordan Bowers – 6-1, 205-pound, Senior Defensive End. Offered by Shorter. Stats: 15 tackles, 2 sacks, 6 TFL. Coach Teter: "Three-year starter. Very consistent. One of the better DE in this area."
Join us for another Football Friday in Georgia on GPB as #5 Sequoyah takes on #4 Creekview in Canton. Our coverage starts Friday at 7:00 p.m. with Brian Jordan, Jon Nelson, Sam Crenshaw, Chelsea Tafoya and me. It's gonna be fun.
Secondary Content
Bottom Content