Section Branding
Primary Content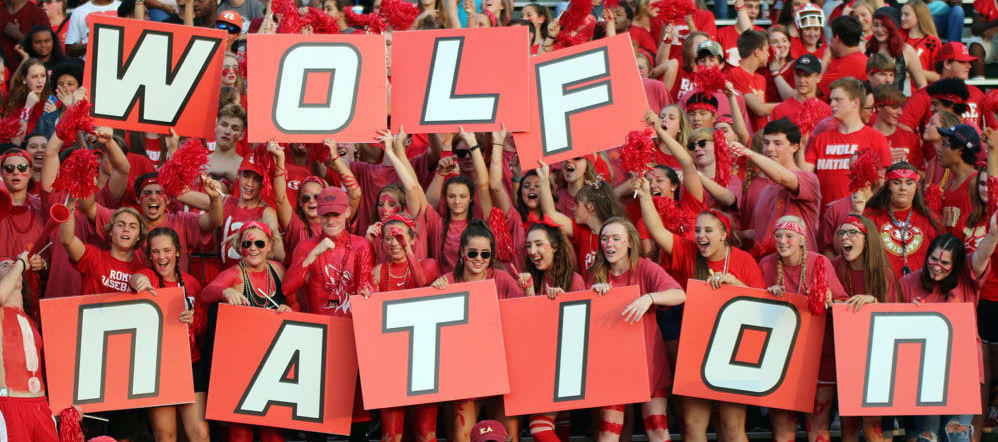 There is an old saying that Rome wasn't built in a day, and neither was the Rome High School football program.  But I will tell you while construction continues, a great foundation has been poured and Wolves fans are seeing great things out of their team.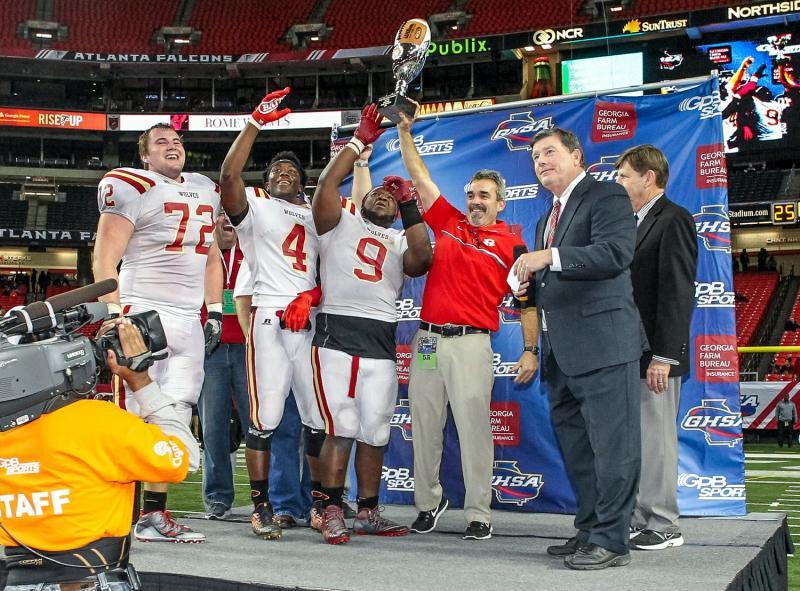 Coach John Reid took over the Rome program three years ago.  His team went 8-4 in year one, 13-2 last year winning the GHSA Class 5A state title defeating perennial powerhouse Buford 16-7.  I remember standing up on the GHSA podium inside the Georgia Dome as the championship trophy was presented and this week I asked the coach about the team's triumphant return home to Rome that December night.
"It was as much fun as you can imagine.  We had a police escort, everyone in town was elated and came out to greet the team.  It was a triumphant return.  The fans were just fantastic and it is something I will never forget," says coach John Reid.
 But coaches will always tell you last year's victories, don't help win this year's games.  The Wolves have 7 starters turning on offense and 7 more on defense and right now the Wolves are a picture perfect 8-0 in 2017.
"I told the kids at the start of the year, that this team has not won anything yet.  That this team is not repeating anything and this team is not defending anything. It is a brand new year. I have always said it's tough to get to the top, it's tough to stay on top and those things are both different. I will say that this team is hungry to be the best."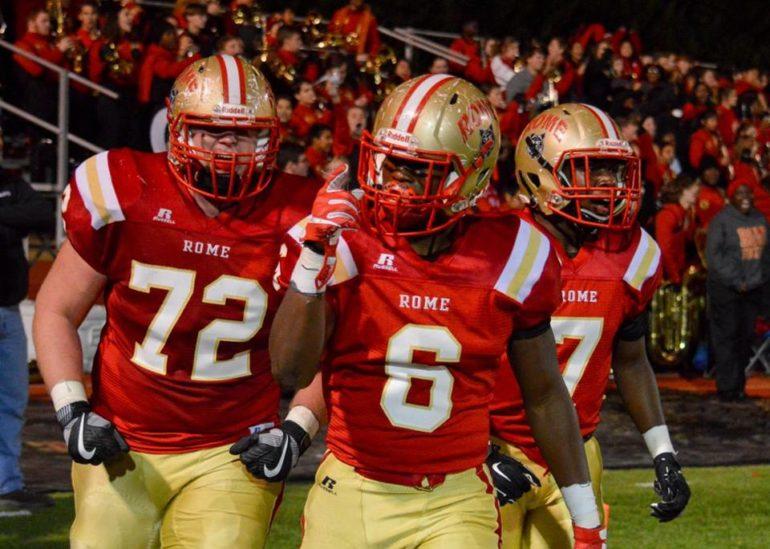 The Rome Wolves have been impressive this season while posting an 8-0 record.  Right out of the gate they had to take on Harrison and their outstanding multi threat quarterback Justin Fields winning that game 33-21.  While chalking up those 8 wins, the Wolves have scored 386 points, scoring over 48 points a game.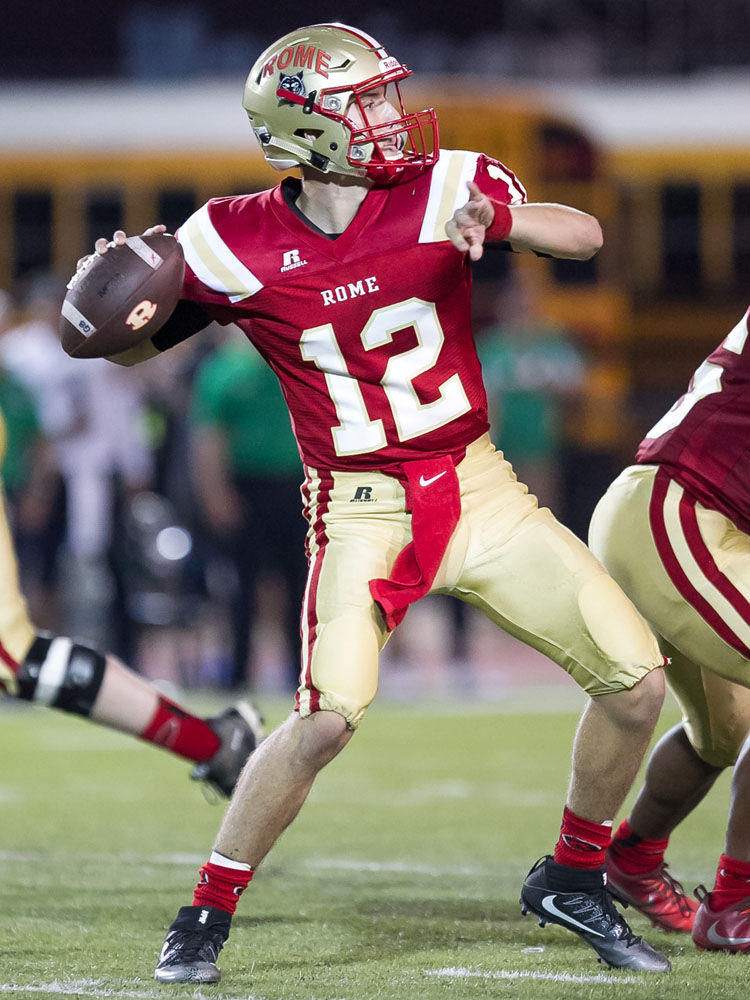 Quarterback Knox Kadum calls the signals and in his last two games has completed 16 out of 16 passes.  "Knox has been doing a great job and we have a lot of offensive options on this team.  Knox has passed for over 1400 yards completing 70 percent, he does a good job in spreading it around and then, like in the championship game last year, he has made some great and timely plays running the football" says Coach Reid.
The Wolves have a couple terrific tailbacks in Jalynn Sykes and Jamious Griffin and some talented wide receivers in Xavier Roberts Donaldson (who happens to be the nephew of former NFL Great Ray Donaldson) and Jordan Watkins. 
Defensively the Wolves are led by Linebacker Adam Anderson who has 42 tackles, 18 for loss, 9 sacks and just recently verbally committed to the University of Georgia. Coach Reid likes how his defense has been playing.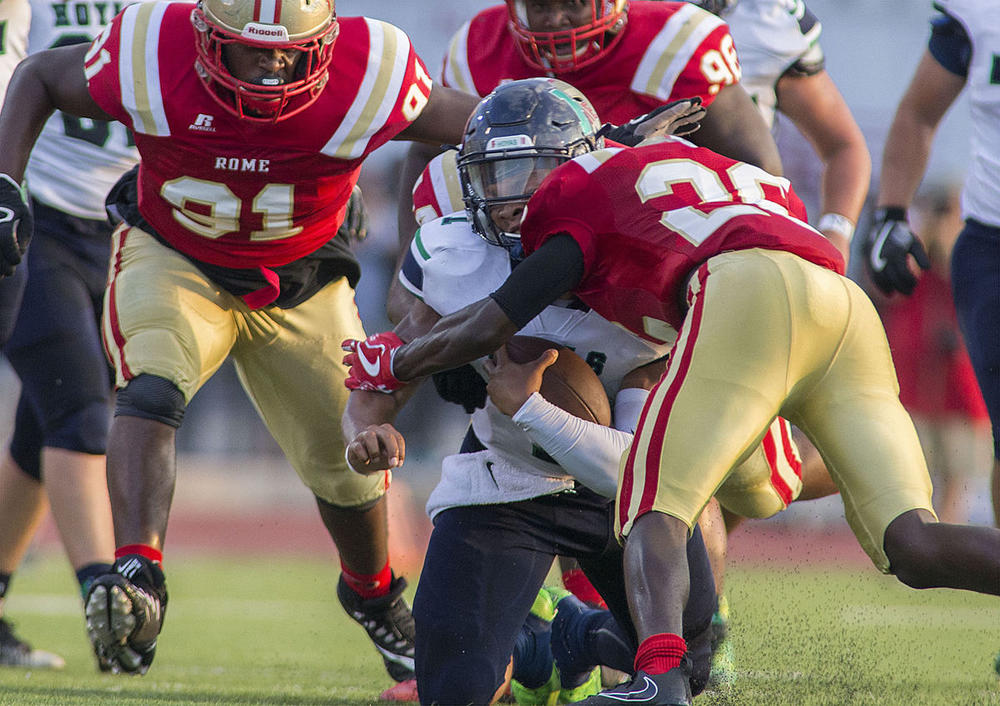 "In our first game we had nine sacks on Justin Fields which was an outstanding effort against an outstanding player.  We have had three shutouts and our defense has played well all season"
As to the building process, "We are on track for our expectations. We took over a program that maybe did not have a great pedigree and we came on board with high expectations and have had some success already.  And those expectations now are even in our youth football teams. "
Coach Reid says he has set three goals for this team.  "First, win the first five games" (mission accomplished).
"Second, win the second five games." (Wolves are 8-0 right now). "Third, win the last five games."
Of course, if the Wolves can accomplish that, even with my limited math skills I can add up 15 wins in a row, an undefeated season, and back to back state titles. 
"This is a great group to work with, they are very dedicated, they practice hard, there is great leadership among the players, and they are just a joy to coach."
That sounds like a pretty good foundation to build long-term success.
Secondary Content
Bottom Content