Section Branding
Header Content
My Top 5 All-Time Georgia High School Quarterbacks
Primary Content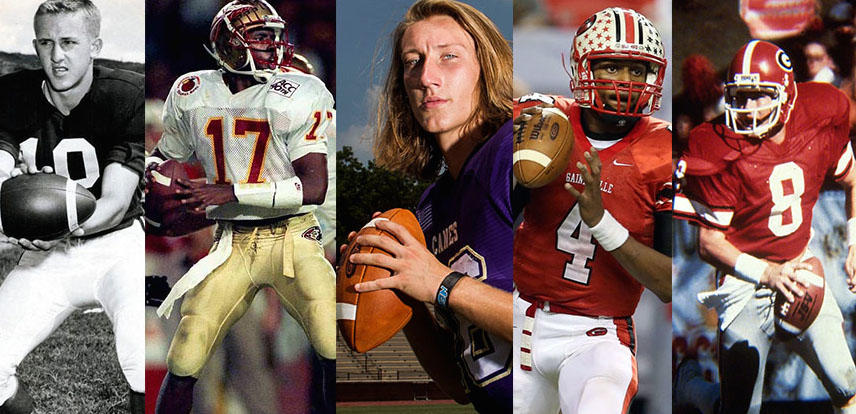 I blame Nellie for this.
Ever since last week's Football Fridays in Georgia show when Jon Nelson blurted out so ever haphazardly, "Who are the top five quarterbacks of all-time in Georgia?" I've been perplexed by the question. Great! Why don't you just ask me to do something easy like memorize and then recite Webster's Dictionary…backwards?
The question is impossible to answer just as trying to formulate a criterion for even attempting to compile a list is impossible.  Do you make the list solely on what the quarterback did in his high school days? Can you really separate in your mind the greatness that quarterback might have gone on to achieve in college football and the NFL? 
So ultimately I came up with no criteria. I looked through lists of the state's top all-time passing and touchdown passes leaders. I looked at lists of Georgia high school quarterbacks who went on to be stars in college or made it to the NFL. So my Top 5 is a little of this and a little of that.
I'm sure you've got a Top 5 of your own and I want you to let us know on Social Media. I think my Top 5 is the best Top 5. If I didn't, I would have come up with a different Top 5
5. Buck Belue – Valdosta.  Buck did not make my list because he's a long-time friend and broadcast partner, though he has been those things to me over the last 20 years.  Buck was a great quarterback for maybe the toughest high school program to play for…the Valdosta Wildcats.  When Buck finished his career he was the state's all-time passing leader with 5,214 yards.  An astounding number at the time and a record that took more than a decade to break.  He started at Valdosta as a freshman so when he led Georgia to a dramatic come-from-behind win over Georgia Tech as a freshman in 1978…that was nothing.  He threw the most famous pass in Georgia history, the one where Lindsey ran and Munson broke his chair.  He would lead the Bulldogs to a national championship in 1980 mainly pitching and handing off to a freshman named Herschel.  Buck was an even better baseball player.  And he's just an all-around good dude.
4. Deshaun Watson – Gainesville.  As history goes on he may move up the list.  Until last week he was the state's all-time passing leader with 13,077 yards.  For one more week he'll be the state's all-time touchdown passes leader with 155.  Trevor Lawrence will likely break that record in his next game (two Fridays from now) just as he broke his passing yards record last week.  Like Buck, he started as a freshman.  By his junior season he had led the Red Elephants to their one-and-only state championship and they've been playing football at Gainesville for over 100 years.  Like Buck, he led his college to a national championship guiding Clemson to victory over Alabama nine months ago.  And now he's the starting quarterback for the Houston Texans.  Pretty, pretty, pretty good.
3. Trevor Lawrence – Cartersville.  He's now the state's all-time passing leader and soon will hold the record for career touchdown passes.  He has started since his freshman year.  He has led the Purple Hurricanes to 39 straight wins and is just six wins away from guiding Cartersville to its third straight state championship.  Only one team during that 39-game winning streak has played the Canes to within less than ten points and that was North Cobb in win number two of this streak way back in 2015.  I don't see that changing until sometime after Lawrence is wearing Clemson orange.  I'm guessing you will see the last game of his prolific high school career December 8th here on GPB.  That will be the AAAA state championship game.  Look forward to that.
2. Charlie Ward – Thomasville.  I know. You almost forgot about him too didn't you?  Starred at Thomas County Central back when Thomasville was one of the most incredible hotbeds of high school football talent in the state, if not the nation.  He crossed the border to play for Bobby Bowden and Florida State and led the Seminoles to their first-ever national championship in 1993.  He won the 1993 Heisman Trophy (by the third greatest margin ever), Davey O'Brien Award and Maxwell Trophy.  He also won the 1993 Sullivan Award that goes to the nation's top amateur athlete.  He was 6-2, 190-pounds and got passed over by the NFL Draft.  So he just played in the NBA instead.  For 11 years!  Inducted into the College Football Hall of Fame in 2006 he could coach anywhere in the country but saying he wanted to help prepare young minds for Christ he's coached high school football and basketball instead.
1. Fran Tarkenton – Athens High.  Wait a second. Wasn't he the guy that gave a speech at the Republican National Convention endorsing Donald Trump? Isn't he that wealthy entrepreneur?  Didn't he co-host "That's Incredible" on ABC and was a member of the Monday Night Football Crew?  Isn't that the guy who led the Minnesota Vikings to all those Super Bowls, played 18 seasons in the NFL and held virtually every league passing record when he retired?  Isn't he the guy that was inducted into the Pro Football Hall of Fame in 1986 and the College Football Hall of Fame in 1987? Yep that guy, Francis Asbury Tarkenton, aka "The Scrambler," played his high school football at the long-since closed Athens High School. He would stay in town and lead Georgia to the 1959 SEC Championship breaking a drought of 11 years for the Bulldogs.  And all that was just the start of an incredible career. And it began as a Georgia high school quarterback. #1 on my list.
I'd love to see your list and unlike Nellie, I'll give you some time to think about.  If it's good maybe we'll show it Friday night when we return to your television for another edition of Football Fridays in Georgia 7-10 p.m. on GPB.
Secondary Content
Bottom Content