Section Branding
Header Content
If You can Imagine, the State Semifinals this Friday Night
Primary Content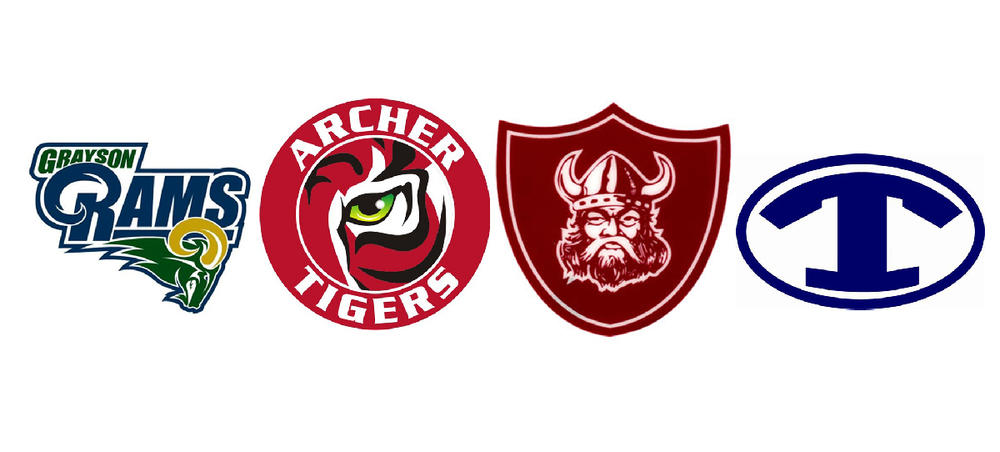 The Georgia High School Association doesn't play by the format of the Football Bowl Subdivision College Football Playoffs, but if it did you'd swear they were holding the state semifinals this weekend here in Georgia. Going by our GPB Sports 7A Top-10 Poll we have #1 ranked Lowndes playing at 6th-ranked Tift County Friday night and we have  #2-ranked Grayson heading to Lawrenceville to meet #3-ranked Archer.
If that doesn't make for a great Football Fridays in Georgia on GPB, I don't know what the heck does. Now thankfully the GHSA doesn't limit its football playoff field to only four teams. Instead it's a 32-team tournament in each of the classifications 2-7A covering five weeks and culminating with eight state championship games in the Mercedes-Benz Stadium. I love it (although I would love to seed the teams 1-32 but we'll save that for another blog).
Here's a look at both of our semi-finals…err…big games this Friday.
#1 Lowndes at #4 Tift County:  In four-team Region 1-7A it's going to be very hard for the loser of this game to be region champions. Just not much room for error. Lowndes is 7-0 and averaging 54 points-per-game while giving-up only 7 ppg. Tift County is also 7-0. They've played two common opponents. The Vikings crushed Valdosta 45-0 in the season opener while the Blue Devils were 20-10 winners at Bazemore-Hyder Stadium for the first time since 1993. Lowndes routed Parkview 64-38 in South Georgia. Tift County came to Atlanta two weeks later and beat the Panthers 50-37. This will be the 52nd all-time meeting between these two rivals. Lowndes leads the series 28-23 and has won 19 of the last 22 meetings dating back to 1995. Before that the Blue Devils owned the series. 
Lowndes Recruit Watch:  247 Sports Composite 3-star Athlete Michael Barrett, Vikings QB and considered a Michigan lean, 3-star OT Jalen Goss whose leaders are Auburn, Tennessee and Mississippi State; and 3-star junior RB Travis Tisdale who has offers from LSU, Ole Miss, West Virginia and UCF. 
Tift County Recruit Watch:  3-star OLB Andrew Johnson who is committed to Oregon and 3-star WR Rashod Bateman, who leads the state in receiving yards and is committed to Minnesota.
#2 Grayson at #2 Archer:  This is our other big semifinal…I mean…big game this Friday night. Safe to say that we'll break our second-place tie in the GPB rankings this weekend and of greater importance to these two teams, the winner will be the favorite to win the Region 8-7A championship. With all due respect to the first game in our blog, this game could be a state championship caliber game. I wouldn't be surprised if one of these two teams (or both ends up playing Lowndes deep in the state playoffs). The winner wouldn't get the Vikings until the state championship game while the loser could possibly meet them in the state semifinals and have to make the long trip to South Georgia to try and beat them. This game should be so incredibly fun!  Archer is back.  After a rebuilding year following a three-year stretch of 33 wins and the 2014 state finals, the Tigers are 6-0 this season. Archer has beaten traditional heavyweights Brookwood, Mill Creek, Norcross, Roswell and then edged college talent-laden Newton 20-19 last Saturday night.  Grayson has won 20 straight games, six this season under new Coach Christian Hunnicutt. The defending State 7A Champions have gone 43-4 the last three-plus seasons and the scary thing is next year's team is already the overwhelming favorite to win the 2018 state title. Grayson played only one in-state team during non-region play and beat McEachern 12-7. This will be the eighth all-time meeting in the quick developing rivalry and the Rams have won six of the first seven match-ups. Every big-time college coach in America will be interested in this one because there will be more big-time college talent on the field in this game than a lot of college games on Saturday. No joke. 
Grayson Recruit Watch (all of these players are juniors):  247 Sports Composite 5-star and #1 OLB Owen Pappoe whose leaders are reportedly Florida State and Clemson, 4-star and #5 OT Wanya Morris who is committed to Florida State, 4-star and #8 OLB Kevin Harris and Georgia is considered his leader, 4-star and #24 Athlete Ronald Thompkins with 12 offers including FSU, UGA and Auburn, 4-star and #17 safety Kenyatta Watson who is committed to FSU, 4-star WR Kenyon Jackson and FSU is considered his leader, 3-star DT Tru Thompson who is committed to FSU (have you noticed a Seminoles theme here?), 3-star DT Trente Jones with 8 offers including Florida, Louisville and Mississippi State; and 3-star CB Jalen Alexander with 18 offers including Auburn, Mississippi State and South Carolina.
 Archer Recruit Watch:  Seniors 3-star CB Taiyon Palmer who is committed to Duke and 3-star OT Joshua Ezeudu whose leaders include Minnesota and West Virginia; plus a big junior recruiting class led by 4-star and #19 CB Andrew Booth with 13 offers including Georgia, Alabama and Clemson, 4-star Athlete Braylen Weems who has offers from South Carolina, Iowa State and Rutgers, 4-star Safety Jalyn Phillips who has 33 offers including Oregon, South Carolina and Vandy and 3-star DE Colby Wooden who's offers include Georgia and Duke.
Keeping up with it all should be fun but that's what we do! So be sure to join us Friday night 7-10 pm for another exciting edition of Football Fridays in Georgia on GPB. We'll have scores, highlights, recruiting news, the week's top high school football stories and we'll talk to Eagles Landing Christian Coach Jonathan Gess and Calhoun Coach Hal Lamb. Don't miss it.
Secondary Content
Bottom Content