Section Branding
Header Content
Arms Race: Week Seven
Primary Content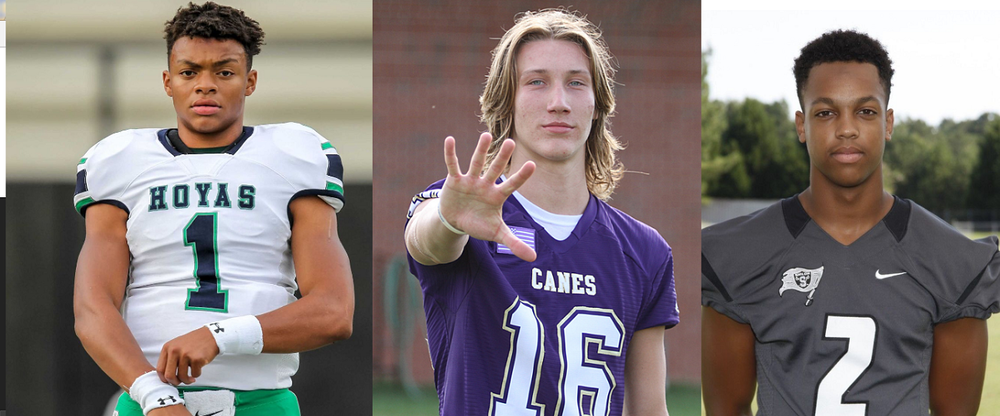 It's never a dull week of high school football in Georgia and week 7 is no exception. In the GPB Game Of The Week, Mill Creek will face off against North Gwinnett.  Both teams are 4-1 and are coming off a week of offensive explosion. These teams are ranked 7 and 8 in the GPB 7A rankings. Look for the Bulldogs of North Gwinnett to rely again on their defense after grabbing 3 turnovers in the second half against Mountain View last week. In West Georgia, Rome and Carrollton will do battle. These two 5A giants have high-powered offenses and so far neither team has had much trouble producing points leading up to Fridays matchup. Rome shut out Paulding County 62-0 last week - subbing their starters out in the second quarter. Carrollton also had a dominating performance beating Woodland-Cartersville 41-6. The Trojans' defense held Woodland to 139 total yards and 9 first downs. Although these two undefeated teams are a joy to watch, one of them will come home on Friday with their first loss of the season. Make sure to tune into "Football Fridays in Georgia: Inside Edition" at 7pm on GPB where we will keep you updated on all of these games and more. 
"Get you a QB that can do both!"
That's what some coaches have been yelling in recent years as more and more high schools are relying on their QB's legs more so than their arms attempting to get the ball into their best player's hands. It's the QB that touches the ball on almost every play, and coaches have started moving players who have never played QB behind the center to spark their team's offense. Glynn Academy did it with Deejay Dallas in 2015. You might remember that Dallas started the season at wide receiver, and ended the season playing quarterback in the 5-A State Championship.  Deejay graduated last year and is playing for the University of Miami under former Georgia Bulldogs Coach Mark Richt.
We also have seen teams that traditionally don't run their QB put in plays that allow those who have the athletic ability, to run simple draws and power plays that mirror ones that traditionally would be drawn up for running backs. Dual-threat quarterbacks are exactly what their name suggests.  Defenses don't have to only worry about their arms, they must also think about the threat they poise with their legs. It is worth noting that 7 of the 14 teams that played in the 2016 State Championships had QBs listed as dual threats.  The rise of dual-threat quarterbacks in Georgia is a trend- a trend I don't see ending anytime soon.        
We have a newcomer to the Week 7 Arms Race.  Mark Wright from Carrollton has been able to lead his Trojans to an impressive 4-0 start while putting up some ridiculous stats along the way. Wright and Rome's Knox Kadum will face off this week in a matchup of unbeatens. This could be a preview of the 5-A State Championship.
In week 6, the top 5 QBs handled their opponents. These QBs have improved just about every week as we get closer to the playoffs. Stay tuned because the best is yet to come from these field generals. Don't miss a second of all the action!
Arm's Race:
1.      Justin Fields. Harrison. DUAL. 7-15 for 153 Passing yards 1 TD, 20 carries for 102 Rushing Yards. Next Game: Sprayberry
2.      Trevor Lawrence. Cartersville. PRO. 15-20 for 327 passing yards 3 TDs. Next Game: Central
3.      Jarren Williams. Central Gwinnett. DUAL. 11-15 for 202 passing Yards 1 TD. Next Game: Lakeside
4.      Emory Jones. Heard County. DUAL. 12-19 for 338 yards 1TD. Next Game: Callaway
5.      Knox Kadum. Rome. PRO. 7-7 for 149 yards 2 TDs. Next Game: Carrollton
6.      Mark Wright. Carrollton. DUAL. 16-25 for 169 yards 1 TDs. Next Game: Rome
7.      Harrison Bailey. Marietta. PRO. Did not Play due to injury. Next Game: Kennesaw Mountain
8.      Steven Krajewski. Colquitt County. PRO.  14-20 for 154 Passing yards. Next Game: Bishop Sullivan Catholic
9.      Luke Shiflett. Northwest Whitfield. DUAL.  80 Total Yards 1 TD. Next Game: Lafayette
10.  Octavious Battle. Carver. DUAL. 19-23 for 355 Yards 2 TDs. Next Game:  Grady 
Others to Watch:
1.      Gunnar Watson. Taylor County. PRO. Next Game: Crawford County
2.      Cordell Littlejohn. Roswell. DUAL. Next Game: Milton
Secondary Content
Bottom Content