Section Branding
Primary Content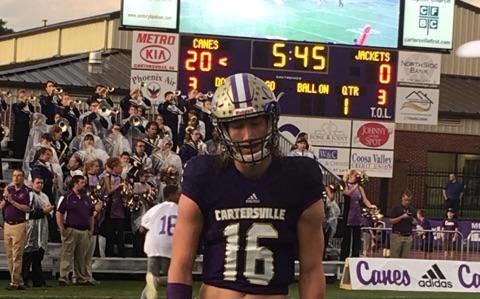 I was on a jog this week, thinking about Vince Lombardi, Knute Rockne, Eddie Robinson, and Bear Bryant and wondering what makes a coach not just successful, but mega-successful. And then my mind or what is left of it starting thinking about all the great high school coaches and programs in the State of Georgia and then I started thinking about the great job that Joey King and his staff is doing at Cartersville these days.
Since taking over the program four years ago, Coach King has posted an incredible 45-2 record and collected back to back State Championship titles. This year's team is 3-0, and of course while the Purple Hurricanes play em "one game at a time," the fan base and media are already thinking about the possibility of the three-peat, the potential of back to back to back state championships and the payoff of a 45 game winning streak.
"Our ultimate goal of course is to win a State Championship this season. But last year's touchdowns won't win this year's ball games. This year's team has not won anything yet, but we are going to work hard and coach hard and try to achieve the goals we have set out for this season" says Coach King.
This year's ball club has looked very impressive winning the opener 35-14 over Allatoona, beating Bartram Trail, a team out of Florida in a shootout, 52-45, and winning last week against previously undefeated Calhoun 58-6. The Purple Hurricanes have not been in a ton of close games over the last three seasons, so the close win over Bartram Trail was telling from a coach's perspective.
"We played well and played hard against a tough opponent. That win showed me that this team can handle adversity, and that this team is going to scrap and fight the full 48 minutes."
Of course when you talk Cartersville football you are going to talk about their all world quarterback Trevor Lawrence who is 6-6, 195 pounds and who threw for over 3900 yards with 51 touchdowns and just 9 interceptions last year and is putting up even gaudier numbers this year. Trevor is rated by some as not just the best quarterback in the country, but the best player at any position in the country. I asked the coach how his QB has improved from his junior to senior season.
"His decision making is better and getting better with every game and his leadership qualities are outstanding. He is always there to encourage and cheer on his teammates."
Now Trevor has plenty of talented teammates around him. Defensively, Nyvin Nelson and Darian Poellnitz lead the way. The offensive line has four of five starters returning and doing a great job. Rico Frey and Marcus Gary are running the football with authority and there is a talented trio in the receiving corps, E. J. Turner, T. J. Hunter, and J'Koby Orr.
Another great element of Cartersville football is the environment on game day. GPB Sports has had the opportunity to broadcast a couple games from Weinman Stadium where fans come early and cheer their hearts out.
"We love to play before our home crowd and see all that purple in the stands. Everyone contributes, the bands, the cheerleaders, the technology staff with our drones flying around, the parents, and the administration and teachers just all do a great job in supporting this team," says Coach King.
I can assure you it's "a happening" at home games in Cartersville, Georgia. And I would not be surprised if the ghosts of Lombardi, and Rockne, and Robinson and the Bear might look down from that grid iron in the sky and take in some Friday night lights at Weinman Stadium this fall. What that fabled quartet will see, is a winner. 
Secondary Content
Bottom Content