Section Branding
Header Content
Heavy Hearts this High School Football Weekend
Primary Content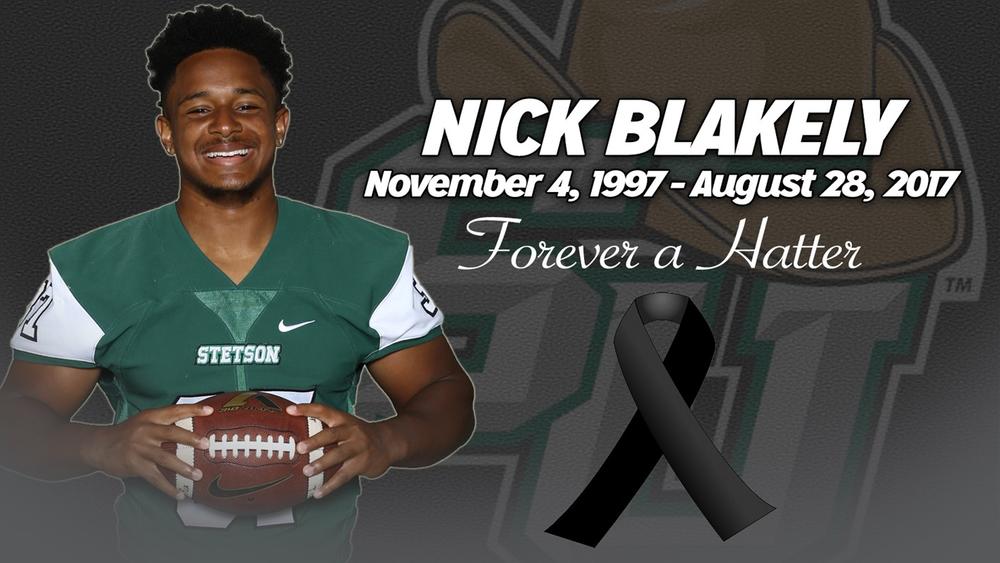 One of the reasons we love high school football is because for three hours on a Friday night we are reminded of the carefree days of our youth. We are taken away from the stress of our everyday lives and we get to have fun and cheer for our favorite team. The games are full of emotion…exhilaration and disappointment. Cheers and tears. Memories made.
The 2017 season is just two weeks old and already our hearts have been saddened by the loss of two men who've been a part of our Friday nights over the last couple of seasons on GPB. A month ago we learned of the loss of Coach Bruce Cobleigh who was diagnosed with pancreatic cancer in July and three weeks later was gone.
WYSIWYG: EMBEDDED VIDEO
I awoke Tuesday morning this week to see in my ESPN newsfeed that a 19-year-old defensive back at Stetson University had collapsed and died at practice. When I clicked on the story I discovered that the young man was Nick Blakely who had starred at Archer High School and had played in four games on GPB during his junior and senior seasons including the 2014 6A State Championship Game.
Nick was part of a 2015 senior class at Archer that won 33 games over three seasons.  He wasn't one of the four- or five-star players on the roster but I remember him as a player who made just as many plays, sometimes more big-time plays than the big-time prospects. He was more than good enough to play college football.
Nick had found a new football home at Stetson University, a tiny little school in central Florida with a picturesque campus and pretty tight-knit student body. After all Stetson's enrollment of 3,000 students isn't much bigger than that of Archer. One of those schools that if you don't know everybody…you probably know somebody who knows somebody you know.
Nick was a sophomore accounting major who was getting ready to play in his first college game this coming Saturday. He had redshirted his freshman season. The Hatters have decided to go ahead and play their season opener at Sacred Heart on Saturday even though they will do so without Nick and with heavy hearts.
The cause of Nick's untimely death is not yet known. He had reportedly told trainers during Monday's practice that he felt lightheaded. They pulled him from practice and watched him. He apparently seemed to be okay. Forty-five minutes later he collapsed.  CPR was administered.  The ambulance was reportedly on the scene six minutes later, but that evening word came from the local hospital that Nick was no longer with us.
Nick's high school coach was Andy Dyer. He's a good man.  Coach Dyer told the Gwinnett Daily Post, "Our hearts are broken with the loss of Nick Blakely. The Lord used Nick to touch a lot of lives, including my own. Nick was a super young man with a million-dollar smile. We will all miss him tremendously."
The Tigers have started this season 2-0 and playing again like those great teams that Nick was a part of just a few years ago. Archer doesn't have a game this weekend. It's probably just as well.  Friday nights are for fun. Hard to have fun when your hearts are broken.
Just two weeks ago Nick reportedly posted a message on his Twitter account that read, "Moms told me I could do all things thru Christ who strengthens me so this year for her."
His family and his friends will now need that Strength to get through the hours, days, weeks and months ahead.
Secondary Content
Bottom Content