Section Branding
Header Content
One-on-one with Packers QB Jay Saunders
Primary Content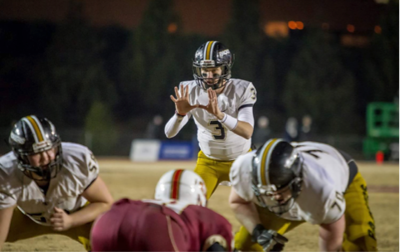 The last time we caught up with Jay Saunders, it was the offseason.

Well, the football offseason. But for Jay, he was in mid-season form as a member of the Colquitt County baseball team.

Back on that summer day, we talked about what's on the horizon --- football wise, of course.

At that time, he'd yet to have his first start as a senior, yet to win a game or lose a game on the gridiron.

But a lot has changed for Jay since we spoke over the summer. I went down to Moultrie this week to catch up with the Packer QB.
Things haven't been easy. The Packers started the season 0-4, including a home loss to the Tucker Tigers.

In a town where football is king, that's a LOT of pressure on a quarterback who's never started and is working with a team that's all relatively new.
"I think he's handled it extremely well, with all the stuff that comes with being the quarterback here… and then there's another one (quarterback) who moves in that everybody thinks is going to take his job," his Head Coach Rush Propst said. "Especially with an 0-4 start," people started questioning whether Propst would make a change at quarterback.

Jay didn't listen to the nay-sayers, though. Instead, he surrounded himself with positive influences- like his family and his teammates. He didn't listen to the outside noise. That's hard to do in today's world where social media is so dominant.

But after that 0-4 start, the Packers won 5 straight and haven't looked back. If they win on Friday, they will be region champions. Because of reclassification, the Packers can have 4 losses on their schedule, but still head into the playoffs and keep their postseason hopes alive.

He's going to need to maintain his confidence this week, because this game is bigger than ever. Coach Propst has his team right where he wants them. They always like to play their best football at this time of year and they are.

"This is for all the marbles, they say, so it's going to be a tough one, they're coming here, they're going to bring their fans, be loud and rowdy. We've just got to stay focused, do a good job this week in practice and be ready for them," Jay told me.

To see the full interview with Jay, catch us on GPB TV at 7:00 PM! We'll be live from Macke Tharpe Stadium in Moultrie, Georgia. See you then!
Secondary Content
Bottom Content