Section Branding
Header Content
Year Of The Quarterbacks: Ryan Glover
Primary Content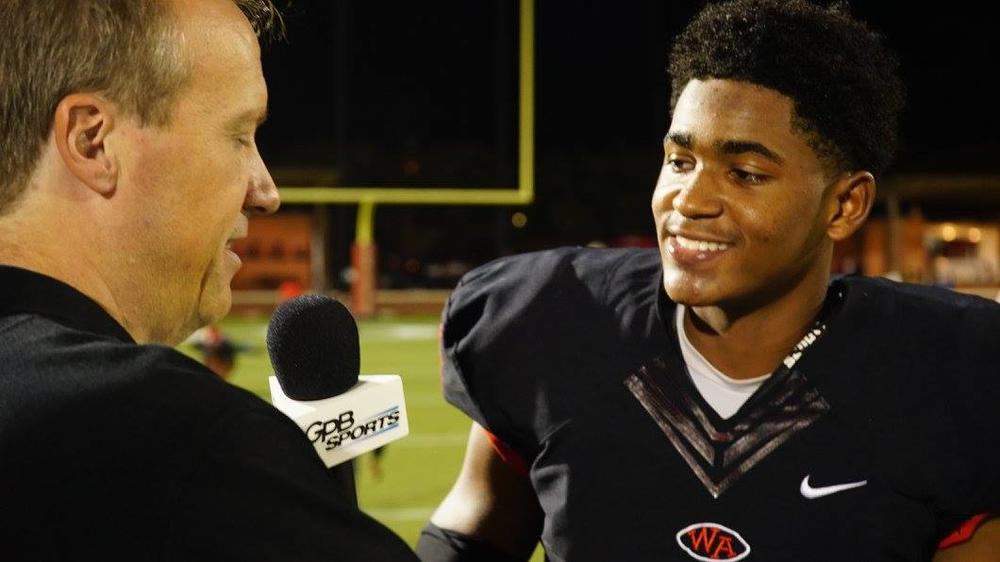 Rising senior and quarterback Ryan Glover led the Woodward Academy War Eagles to an almost perfect season last year. They fell short and lost in the semifinals to the Buford Wolves. But much like everyone else, he's focusing on how he can better his game for the year that awaits him. 
"I learned to never become complacent," Glover said about the biggest thing he learned from last season. But in addition to that, he did some self-scouting and admits that there are parts of his game that need work: "I need to work on using my core and fixating my base," he continued. 
Glover will be without one of his best weapons this season, Elijah Holyfield (now enrolled at UGA). I asked him how much he was going to miss handing the ball off to a guy like Holyfield, he laughed and said, "Yeah, I'm going to miss that [a lot]. We're real close, I was with Elijah the night before he left for Georgia."
Of course, the team last year didn't rely on Elijah to win ball games. Holyfield missed 5 games due to a foot injury and the War Eagles continued to rack up 5 W's in his absence. That being said, who can we expect to see step up in Holyfield's place? 
No, Glover isn't the head coach… but he would say that JR Pace and Josh Johnson are next in line to fill the void at running back. Pace is a Northwestern commit and Johnson is being heavily recruited by several schools. 
And speaking of playing college ball… what about Glover?
"Right now, I like who likes me," he said. "I should have a base of where I want to go at the beginning of July," he added. Glover has visited Tulane, Duke and Wake Forest and finished his junior year with a 3.5 GPA. He'll also be attending football camp at Tulane and Harvard this summer. #SmartyPants
Glover is one of those guys who does everything well. He's a well-rounded quarterback who can run when he needs to, and he isn't afraid to throw the deep ball, even when he's backed up in his own end zone. When running the ball, he commits to it and does a good job manipulating the defense. His timing is pretty exceptional too, he does a good job putting his receivers in a good position to make the catch. There's a lot to like about the way Glover plays the game. 
As they focus on this season, Glover says that not too much is going to change since they didn't lose too many starters last year. "We should be just as good, if not better," he says. They will open up the season on the road against Westminster, the defending AAA State Champs- they beat Blessed Trinity in an overtime thriller at the Georgia Dome in December. 
Coach Hunt is the Commander in Chief of the War Eagles and this will be his sixth season as the head coach. As head coach, the team's winning percentage has steadily increased and last year was their best season, yet. And here's something I didn't know about Coach Hunt: apparently he's a pretty funny guy…
Glover says "Coach Hunt, that's my man. I think he's the funniest guy- not a lot of people think that but I think he's hilarious." Ummm and why is that? "He screams all the time, I love it." Interesting…
When I spoke with Glover, he was just finishing up working at a football camp with Coach Hunt at Woodward, where he says they talk a lot about next season: "You know, he's always talking about football." The football camp at Woodward is a once a year event for 5-14 year olds.
According to 247 Sports, Glover is among the Top 25 dual-threat quarterbacks in the country. There's a lot to look forward to this season, keep an eye on him… the bar is high and the same level of excellence is expected. 
Secondary Content
Bottom Content