Section Branding
Primary Content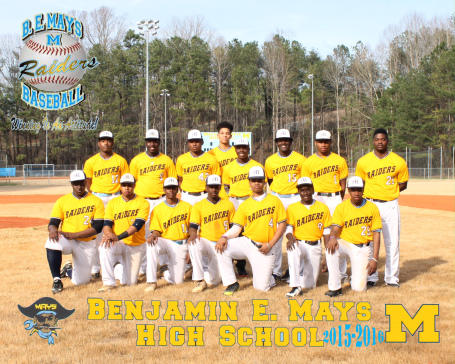 The Mays Raiders baseball team is on a big time roll right now.  The Raiders are cruising along with a sparkling 15-1 record, and a picture perfect 10-0 slate  in region play.  Coach Reginald Austin has his team clicking on all cylinders and the ball club is coming off a signature win, a 6-4 extra innings victory over the Henry Clay Blue Devils out of Lexington Kentucky, in the prestigious Rawlings Select Classic that was held last weekend at the LakePoint Sports Complex in Emerson, Georgia.  That game marked the first time an Atlanta Public School baseball team had been invited to that baseball extravaganza and of course the first time an APS school has won a game in that tournament.
"It meant so much to be the first APS school to get invited, and it was great exposure for our school system and our program.  Our kids have worked very hard and this will give them a huge boost in confidence"  said Coach Austin.
The Raiders are led by pitcher Xzavion Curry who has a 92 mile an hour fastball, a 7-1 record with four saves and 68 strikeouts.  For good measure he is also batting .435 and the coach says he is the heart and soul of the team. He will be heading to Georgia Tech to play his college baseball.
  Blake Fraley has been leading the way at the plate hitting an incredible .600 with fourteen doubles, two homers, and the coach says he has become an RBI producing machine.  He also scored a 34 out of a possible 36 on the ACT college entrance test, which is something his coach and teammates are also very proud of.  Trent Jamison is another pitcher having a great season along with Malique  Foreman who is the third starter. Tervant Johnson is a clutch hitting, great glove infielder who is heading to Eastern Kentucky next season.
The Raiders have a lot of veteran leadership with eight seniors on the team. "Our strengths this year has been real timely hitting and we play great defense.  And having these eight seniors who have been on the varsity since they were freshmen, means  a lot"
Coach Austin went to college at Wake Forest where he played football and some baseball.  He was selected in the fourth round of the 2000 NFL draft by the Chicago Bears.  This is his fourth year as head coach of the Mays Raiders and he has high hopes heading into the post season.
"I want us to do better than in the past.  If we can win our region that will be huge and set us up for a good chance at a run  in the tournament.  Our pitching is good as is our hitting and defense and we want to be the best team we can be and go as deep into the playoffs as we can."
One thing is for sure, by winning a game against tough competition at the Rawlings Select Classic, the Raiders will be able to pull from that experience and gain a lot of confidence as they head into the GHSA baseball tournament. Next up a game with Druid Hills on April 13th.
Secondary Content
Bottom Content