Section Branding
Header Content
Ten Players For Ten Weeks
Primary Content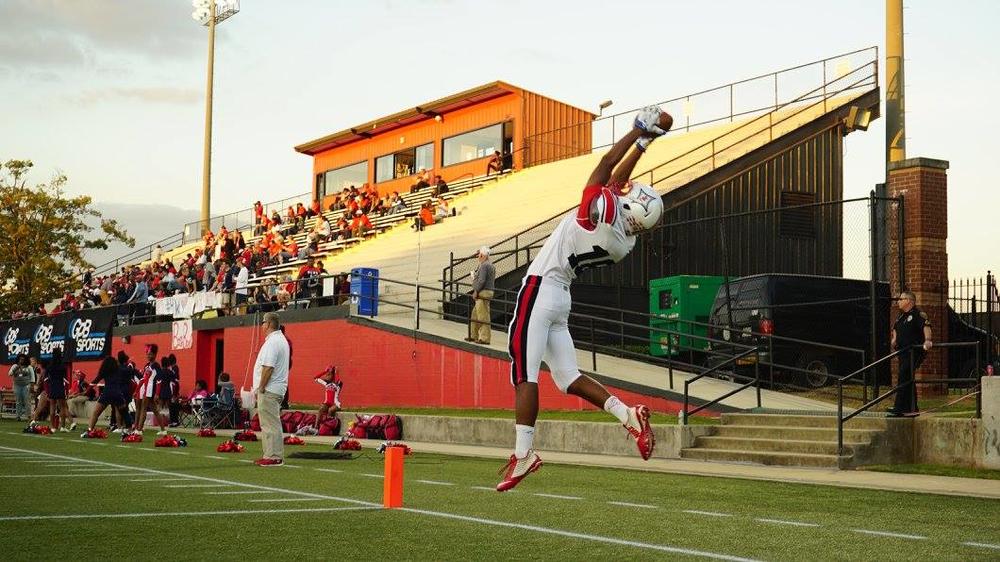 I seriously can't believe we've reached the final week of the regular season. Who likes to reminisce on good times? (Raises hand)!
In honor of going into our tenth game on GPB's "Football Fridays in Georgia" tonight showcasing Stephenson vs. Mays, here's a look at the 10 players who've stood out to me so far this season. 
1. Julian Rochester, DT, McEachern.
Nobody left an impression on me quite like Julian Rochester. I would NOT want him coming at me full speed, would you? This defensive stud is soon to be an SEC weapon. He's committed to the University of Georgia and (in my opinion) is the most impressive player I've seen so far this season.
2. Jamyest Williams, RB/CB, Archer
Even though this game was postponed and didn't air on GPB, I was still blown away when watching his film. He's versatile on offense and defense and is an overall phenomenal athlete, which makes him an even better football player. Side note: He has 40 college offers.
3. Chase Parrish, QB, Colquitt County
According to MaxPreps, he's the best quarterback in the state. He's a pro-style QB leading the Packers to a perfect 9-0 record, and getting plenty of points on the board when doing so. He's poised, patient and instinctive. Oh, and has a decent arm. He has 1,861 yards and 23 touchdowns on the season.
4. Dominick Blaylock, WR, Walton
He comes from an athletic background. His father is Mookie Blaylock and his brothers play at Kentucky. In addition to an offer from Michigan this week… he's also getting offers from SEC schools, like Georgia, Auburn and South Carolina but ready for the most impressive stat? He graduates in 2019... yeah, so he's a freshman. Do you feel old now or is that just me? 
5. Tre Lamar, LB, Roswell
He runs things for Roswell on defense. He had 36 offers before he committed to Clemson. 247 Sports has him listed as the 8th best ILB in the country.
6. Drew Jordan, DE, North Gwinnett 
Even though they lost to Norcross, don't you dare overlook the young talent that the Bulldogs have at NGHS. I was extremely impressed with Jordan as a person and as a player. He is extremely athletic for a guy his size. He's a junior with four offers: Clemson, Boston College, Wake Forest, Nebraska and Duke.
7. Randrecous Davis, WR/RB, Mays
We'll see him in action live tonight on GPB, but there's a lot to be excited about with this guy. He's got the raw athletic talent that will take him far. But he's smart too, makes defenders miss left and right, which is a tall order for the Stephenson Jaguars. Davis has 41 receptions, 751 yards and 13 touchdowns.
8. Carlito Gonzalez, FS/WR, Stephenson
Speaking of Stephenson… One guy on defense who will partly be responsible for stopping Davis is Carlito Gonzalez. We've seen him on our air twice this season and he never stops impressing. He's a junior and he's committed to Auburn.
9. Jacob Robertson, WR, Woodward
He has 17 offers and was on fire the night Woodward beat Sandy Creek. The senior wide out leaves everyone in the dust once he gets going. 
10. Chris Broadwater, RB, Tucker
He was the name of the night in their victory over M.L. King. He's a junior and as the season progresses, he keeps getting better. He plays with a lot of power and passion and has a supernatural talent for finding holes in defenses and exploding into a big run. 
(*stats provided by Georgia High School Football Daily Newsletter, 247 Sports, Yahoo sports, MaxPreps).
Secondary Content
Bottom Content