Section Branding
Header Content
Get Ready... It's Gameday!
Primary Content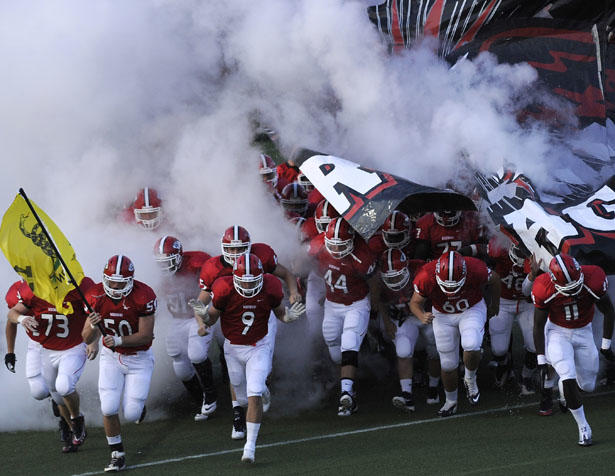 Game Info-
When: Friday, October 23, 2015
Time: 7:30 Kickoff -- on GPB TV at 7:00 for All Access Pass Pre-Game Show
What: Sandy Creek Fighting Patriots @ Woodward Academy War Eagles
Head Coaches: Chip Walker (SCHS) and John Hunt (WA)
Record: 7-0 WA, 6-1 SCHS
Much of the hype surrounding Woodward Academy football has swirled around senior running back, and UGA commit, Elijah Holyfield. Despite the fact that his last name is Holyfield, and that he'll be playing in the SEC, the hype is still warranted. He's an exceptional player.
But here's the thing. The War Eagles are 7-0. And Holyfield hasn't played in five weeks due to a foot injury. The War Eagles have a great player in Holyfield, but hold the phone. They have a wealth of talent that can't be overlooked.
Let's start with the Commander in Chief on the field… that would be QB Ryan Glover, who's a junior and has an offer from Georgia State.
Coach John Hunt said in a conference call this week that Glover has learned to be smart with the football and that he has really matured. Noting specifically, spotting trouble and being able to tuck it and run. In fact he has 48 carries, the most of any running back on the roster. He has four rushing touchdowns and 174 yards. 
Their offense hasn't had any problems putting points on the board this season. Glover has found friends in wide receivers Joshua Johnson and Antone Williams. Look for this trio to go off on Friday night. But wait a second…
Sandy Creek's secondary is stacked with sprinters. Literally. Many of them are track and field kids and are seriously speedy. In the last four weeks, their defense has held the last four opponents to just 20 points total. They are also technically a 4-3 defense but bring their linebackers up close to the line of scrimmage depending on the down and distance and if Elijah Holyfield is in the mix or not.
We are anticipating an offensive shootout between these teams. You definitely don't want to miss the game, for several reasons… but if I may do a promo here… I sat down with the 5-time Heavyweight Champion of the World Evander Holyfield and his son Elijah earlier this week. That segment airs in our All Access Pass pre-game show and you won't want to miss it.
See y'all on your TVs at 7P!
Secondary Content
Bottom Content