Section Branding
Primary Content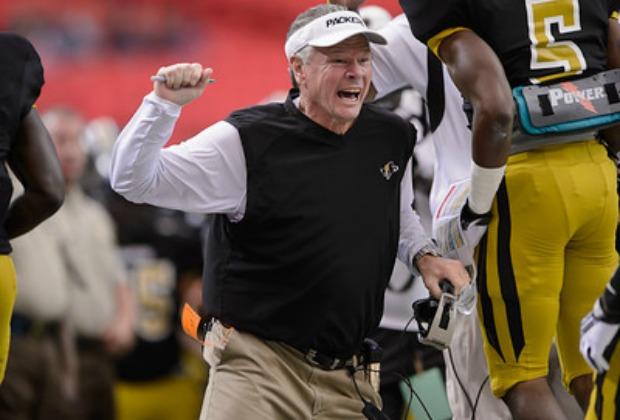 The 7-0 Packers are way over their 2014 State Championship title. There's no more time for celebrating. It's just how they operate.
They view it as a sense of accomplishment, but not something that's going to help them for this week's matchup against the 5-2 Valdosta Wildcats.
The Packers have one of the most prolific offenses in the state of Georgia. They've scored up to 65 points, and no less than 37, in every game this season. They have a lot of depth at wide receiver, but their quarterback Chase Parrish is leading the way each and every week.
According to Max Preps, he is the best quarterback in the state and ranks #25 nationwide. He's 97-135 on completions with 1437 yards, 18 touchdown passes and just 2 interceptions. They are looking to go 8-0 tonight.
And apparently he's a nice kid, too.
"Wouldn't swap him for anybody. One of my favorite's of all time," said his proud head coach, Rush Propst.
Speaking of the HC, he mentioned how football has evolved over the years, specifically with the history of these two teams in particular. It used to be more of a "defensive slug-fest" as Coach put it.
Looking back at their history between Colquitt County and Valdosta, the highest scoring game ended with a 48-20 win over the Wildcats. Not that 48 points is not high scoring… but that just happened last year.
As Propst pointed out, now this region (Region 1, AAAAAA) has developed into more of a scoring region and puts a lot of points on the board, which puts pressure on teams to keep up. Being in this region, Propst says is like "playing 5 state championship games in a row."
The Packers haven't really had any trouble "keeping up" this season.
But could things be different tonight? Against an old, storied rival?
The Wildcats have Seth Shuman at the helm. A guy who, Propst says, can't be stopped. He's 72-110 on completions, 1183 yards, 13 touchdown passes and zero interceptions.
So while, history would tell you to be ready for a "defensive slug-fest," I'm telling you that tonight it could be different. Coach Propst doesn't want to be the best in the state. He wants to be the best. Period. Which means, no mercy when it comes to scoring points.
We are in Moultrie, Georgia for this matchup and you can watch it on your TV! Our pre-game coverage begins at 7:00 PM only on GPB and can be streamed at gpb.org/sports. See y'all tonight!
Secondary Content
Bottom Content