Section Branding
Primary Content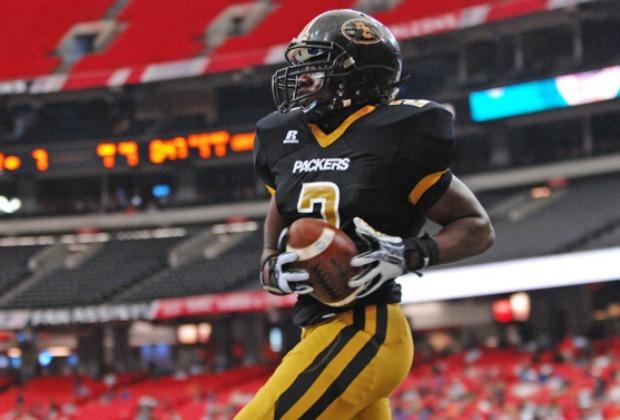 GPB Sports is hitting the road this week and heading down I-75 to Moultrie, Georgia for our Football Fridays in Georgia broadcast as the undefeated, top ranked, and defending champion Colquitt County Packers host  Region 1, 6A   rival,  the Wildcats of Valdosta High School.

Valdosta is 5-2  right now and coming off a dramatic come from behind victory over Tift County, while the Packers knocked off Lee County  54-17.  One of the stars in that Packer victory was wide receiver Kiel Pollard who had 12 receptions for 142 yards and a touchdown.  I talked with Kiel this week and while he was thrilled with earning the game ball in last week's win over Lee County, he was already focusing on what he needed to dial in  on for this week's game with Valdosta.

"We have been very focused on every game this year, every quarter, every play. The Valdosta game is a big rivalry game"

Kiel has been putting up some big numbers this year having caught 37 passes for 555 yards and 9 touchdowns.  He has also rushed for 6 touchdowns giving him a whopping 15 trips to the end zone already this year.   The Packers are on a 22 game winning streak, and are clicking right now on all cylinders.

"We are very confident right now because of how we work.  We work hard at practice, we lift the weights, we are always prepared and we bring that confidence into every Friday night game."

Kiel has verbally committed to play next season at Arkansas and has had over 15 offers.

"I committed to Arkansas.  I have a former teammate already there in T.J. Smith and it felt like home when I went to visit.  It felt like it was the right spot for me"

Before heading to Fayetteville, there is work left to be done this year, like trying to win back to back state titles.  Last year's win was a tremendous experience for Kiel.  And after raising the championship trophy high in the sky at the Georgia Dome, the entire team was treated to a parade around the downtown square in Moultrie at about 2 in the morning.

"The entire community was behind us.  It was great to win, and there were  so many people around the square for that parade.  It was amazing"

I have a feeling that this week's Colquitt County-Valdosta game is going to be amazing.  These two teams first met (I am talking the old Moultrie High now) on October 17, 1913.   That game ended in a 7-7 tie and these two schools (Colquitt County High became the new school in 1978) ever since.  This will be the 95thmeeting and we are very happy and proud to bring it to the entire state on GPB.  The All Access Pass Pregame Show kicks off at 7pm and then hold onto your hats for some of the best high school football in the galaxy, bar none.
Secondary Content
Bottom Content