Section Branding
Primary Content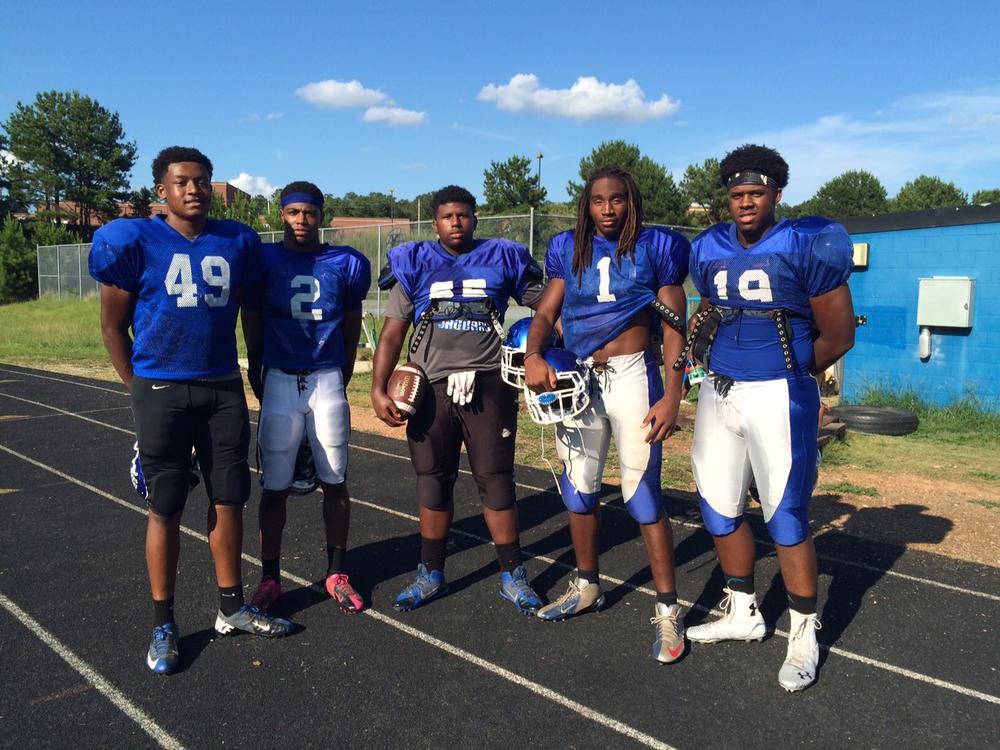 Seated at the end of a lunchroom table in a room packed out with football players was Head Coach Ron Gartrell.
It was study hall. Practice would begin in about 15 minutes or so.
I asked him for an interview. Sometimes coaches can be pre-occupied or un-interested in speaking to the media, but not Coach Gartrell.
Kindly, he agreed to do an interview with me, but his kindness didn't stop there.
He went above and beyond to make sure I had all the information I needed. And I quickly learned… that's Stephenson. That's what they do. They go above and beyond.
I know this because his success is measured in how many of his players get a college education rather than a state title.
Stephenson has a unique resource that is HUGE to these high school kids- a recruiting coordinator, Corey Johnson.
The two have known each other since Johnson was just a ball player himself at 14 years old. He would go on to be the first scholarship player that Gartrell would ever sign. And now, they work in tandem to give other young men the opportunity to receive a college degree through football.
The passion that drives Gartrell is from his own life experience: "I'm a prime example myself. Coming out of a home where nobody had gone to college until I got an opportunity," he says.
Just to give you an example of how successful he has been in doing that, 29 players signed letters of intent in 2010. There are approximately 12 players (current and past) who were able to go beyond the college level and dabble in the NFL: Mike Davis (San Francisco 49ers), Bruce Irvin (Seattle Seahawks), Kelvin Sheppard (Miami Dolphins), Jermaine Cunningham (Formerly New York Jets, current free agent) just to name a few.
But really, Corey Johnson will tell you, the NFL is something that if it happens, then that's great, but it's not the priority.
Johnson was originally going to play at Wisconsin, until the program underwent coaching changes and at the last minute he was left wondering where he would play. He, too, wants to help players be one-step ahead so they aren't left scrambling like he was.
The heart of Ron Gartrell is so big.
The great thing about high school football is the purity you see, especially from these two coaches. They had 17 players sign on National Signing Day last year and then a few others after that. This year they intend to have about the same amount. I got to meet some of this years commits. 
1. Safety Carlito Gonzalez, Jr. (Auburn).
2. Defensive End Dennis Wonnum, Sr. (Iowa State).
3. Defensive End Michael Pitts, Sr. (Cincinnati).
4. Center Kameron Smith, Sr. (Mercer).
5. Left Tackle Tyler Johnson, Sr. (Georgia Southern).
An important thing to remember, even though they do have a lot of players who end up in the SEC… Gartrell and company are committed to getting every player off to college, whether they're at the top of the depth chart or the bottom.
One recent big name is Chauncey Rivers, who is now at the University of Georgia. He stays in close touch with Ron Gartrell. And Coach had this to say about him:
"He brought something to our program that was much needed and that was- example of how champions work. He wasn't very vocal, but he lived by example and we're very appreciative of that and the opportunity to have him in our program."
Coach Gartrell keeps a close-knit relationship with his players. They truly are family. Michael Thornton, formerly of the Pittsburgh Steelers, was in his office last week. It's so easy to see why everyone loves Coach Gartrell.
The heart he has for his players will always win over any game under the Friday night lights.
Tune in to GPB at 7:00 PM tonight for one heckuva showdown between two elite teams. The guys on the field tonight could very well be the ones you root for on Saturdays next year. 
Secondary Content
Bottom Content