Section Branding
Header Content
Heading Towards A Milestone
Primary Content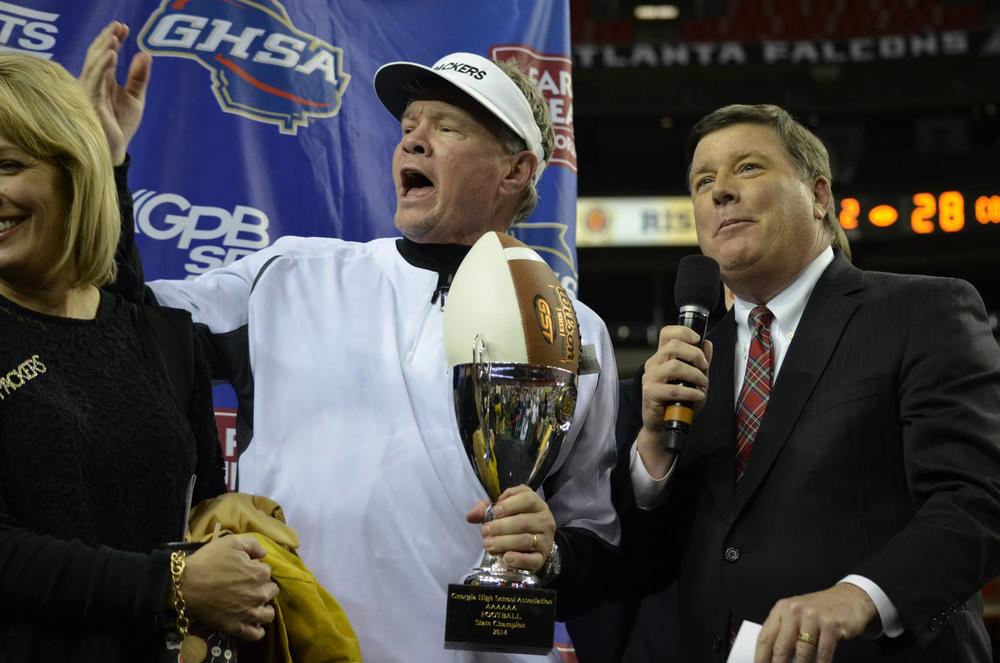 Coach Rush Propst of the Colquitt County Packers is approaching a couple of coaching milestones.
His next win will be his 250th career win, and he is closing in on coaching his 100th game for the Packers. "It means a lot to close in on both those numbers.  I remember my first win.  My 50thwin was a first round playoff game, but hey, I had also lost 41 games at that time.  My 100th win came at Hoover High School.  I don't really remember too much about my 150th win, but my 200th win was in the playoffs when we beat Grayson in 2010."    The coach remembers.  And it brings back a lot of great memories.
"I have the same drive, the same motivation,  the same determination to get up in the morning and do my best every single day.  And you know, every kid that has played for me over the years is a part of those victories.  Every single kid"
Coach Propst has been at this for 27 years.  His record in Alabama where he built  a  perennial powerhouse at Hoover High School was 176-61-0. He won 5 state titles while at Hoover.  His record in Georgia is 73-25-0 with a state 6A title last year to his credit.  His Packers are undefeated so far this season and ranked number one is many polls.
"As a coach you have goals…to win state championships and to develop young boys and help turn them into men.  I also want to help kids further their playing careers and to get a college education."  And coach Propst and his staff have done a great job at that, with 66 players over the last 6 years receiving college scholarships.
Colquitt's next game is on Friday when the Packers host Crisp County.  And Coach Propst loves the challenge of coaching in the state of Georgia. " I think this is the greatest state for high school football. I think it's the best high school football in the country.  30 kids from Georgia were taken in this year's NFL draft and SEC and ACC rosters are loaded with kids from this state."
On a personal note whenever I have been around coach Propst I always  felt that here is a guy who knows what he is doing, and a guy who is good at what he is doing.  There was never a doubt in my mind that he would win a state title at Colquitt County.  We televised a number of Packer games on GPB in the playoffs and they just kept banging on that door and I knew that someday soon, they would win a title.  I got that one right and I got a big kick out of helping present  championship trophy  to coach Propst in the Georgia Dome last year.   
So good luck coach,  and when that 250th win comes, congratulations.
Secondary Content
Bottom Content