Section Branding
Header Content
Hey, Football. We're Ready for Ya!
Primary Content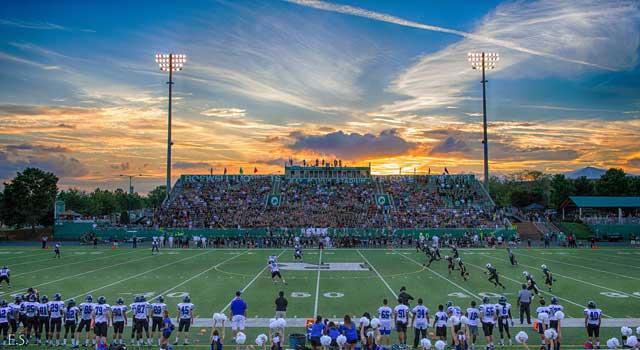 Hi!
I'm Jackie. I'm new here. Well, sort of… I had a stint here at GPB in 2011 doing social media for "Football Fridays in Georgia." I've spent the last three years in Foxboro, Massachusetts covering the New England Patriots as their team reporter predominantly for the web. It's been an adventurous three years in the Northeast. I learned a lot about the greatest game ever played from one of the greatest coaches to ever coach it- Bill Belichick. I learned to love the Northeast, but also learned that I really hate snow. I hope you'll welcome me aboard as the Co-Anchor alongside Mark Harmon as we gear up for a pretty exciting season in high school football. Where should we start?
How about with the first game on our schedule: The Vikings of Lowndes High vs. The Roswell Hornets. Both are 6A heavyweights, but Lowndes is a whole different kind of dominant. The two will battle it out on August 21, just like they did in Week One last year. Lowndes owns the bragging rights here with a 2-0 record over the Hornets. A South Georgia delicacy, The Vikings will travel from Valdosta to the suburbs of Atlanta, and kick things off for our first show of the season.
If there's one thing you can be sure of… it's that Lowndes won't come quietly. They have a strong fan-base deeply rooted in southern ground. In their last meeting, it wasn't pretty for Roswell. That's not me saying that, but Coach John Ford put it in his own words when I talked to him last week. "We got our teeth kicked in," he told me. It was almost exactly a year ago, to the day in fact.
Coach Ford is expecting the same physically demanding team that Head Coach Randy McPherson grooms them to be. However, each year also brings its own element of surprise. Ford notes that Lowndes is bigger upfront, more explosive on offense, and you can bet he'll do some things he didn't do last year. Dare we call this a re-match of Week One from last season?  Nah... That wouldn't be fair.
Here are some news and notes to get you up to speed for this matchup under the Friday night lights:
For Lowndes, it sounds like their defense is pretty stacked at every position with a lot of players who are playing with a purpose. Competition at a big school can do that to a team. Expect them to be stout against Roswell's pass-happy offense. John Ford is entering his third season as head coach and has been tasked with the responsibility of bringing the Hornets football program up to where it's used to being. After three consecutive losing seasons, they made it to the second round of the playoffs last year and will hit the ground running against some quality competition in week one. See y'all on the gridiron on the 21st! Kick-off is at 7:30, but be ready to pre-game with us for our All Access Pass starting at 7:00 PM on GPB!
Secondary Content
Bottom Content