Section Branding
Header Content
The Breakdown: Indians Battle Tigers In Quarterfinals
Primary Content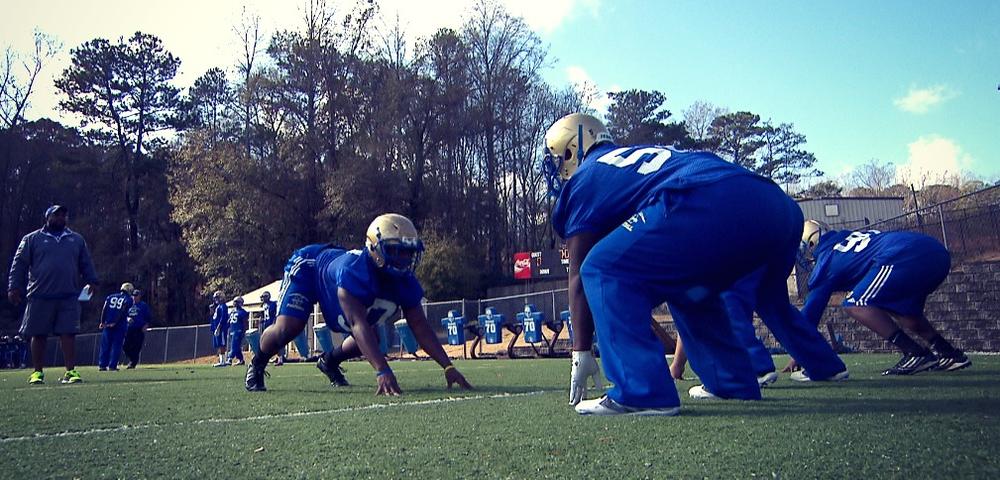 Two of the state's most decorated and successful programs meet for the first time ever in the GHSA AAAAAA quarterfinals Friday night on GPB when the Tucker Tigers play host to the McEachern Indians. The Tigers, who moved up to AAAAAA this season after losing to Creekside in the AAAAA state finals last season, will be gunning for their seventh semifinal appearance since 2003 and tenth in their program's 65-year history. The Indians reached the semifinals last season and will be attempting to advance to the state's final four for the fifth time in their program's 55-year history.

Tucker is 10-2 on the season after posting nail-biting playoff wins over Tift County (31-29) in the first round and Grayson (26-23) in the second round. McEachern is 9-3 and has had an easier time advancing to the state's round of eight with a 23-3 first round victory over East Coweta and 44-14 win vs Alpharetta in the second round.

The Tigers have won 10 straight games since starting the season 0-2 (losses vs. Norcross and Miami's Booker T. Washington) and were the Region 2-AAAAAA champions (5-0), Tucker's 16th all-time region title. All eight of the Tigers regular season wins were by at least 15 points and five were by 51 points or more.

McEachern also started the season 0-2 (losses to North Gwinnett and Buford) and have won nine of ten games since. The Indians finished as Region 4-AAAAAA co-champs for the 16th region title in program history. McEachern however is a No. 2 seed in the state playoffs because of losing their head-to-head matchup vs. Hillgrove in their regular season finale. Eight of the Indians nine wins were by two touchdowns or more and their three losses by a total of just 15 points.

Tucker has won two state championships (2008, 2011), reached the state finals four times, semifinals nine times and quarterfinals fourteen times. Most of that success has come since 2000. McEachern has never won a state championship in football but did advance to the state finals in 1998. In addition to four semifinal appearances, the Indians have also qualified for the quarterfinals eight times.

Led by third-year Head Coach Bryan Lamar (34-6) these are Tucker's top prospects: 247 Sports Composite 4-star and #6 DE Jonathan Ledbetter who is committed to Georgia; 3-star CB Duke Shelley who is committed to Kansas State; 3-star OLB Elijah Sullivan who is committed to Auburn; 3-star RB and No. 21 APB Delvin Weems who is committed to Marshall; and junior 3-star and No. 28 DE Tabarius Peterson.

Led by seventh-year Head Coach Kyle Hockman (63-19) these are McEachern's top senior prospects: 247 Sports Composite 5-star and No. 3-ranked OT Chuma Edoga who is committed to USC; 4-star and No. 1 all-purpose back Taj Griffin who is unfortunately out for the season with a knee injury but committed to Oregon; 3-star WR T.J. Rahming who is committed to Duke; and 3-star OG Chandler Jones who is committed to Louisville.

The Indians top underclassmen prospects are 5-star and No. 4-ranked junior DT Julian Rochester who has 17 offers including Auburn and Georgia, 4-star and No. 4-ranked sophomore pro-style QB Bailey Hockman, who is the coach's son and whose five offers include FSU, Alabama and Tennessee; and 4-star and No. 8-ranked athlete Tyler Smith who plays WR for McEachern.

It will be another great GPB Football Friday in Georgia live from Clarkston's James Hallford Stadium. It all starts at 7:00 p.m. with our GPB All Access Pass show hosted by Mark Harmon and Claire Simms and then join me, former Atlanta Falcons star DE Chuck Smith, Jon Nelson and Grace Olson on the game call starting at 7:30 pm. It'll be fun. Be sure to tune in.
Secondary Content
Bottom Content