Section Branding
Primary Content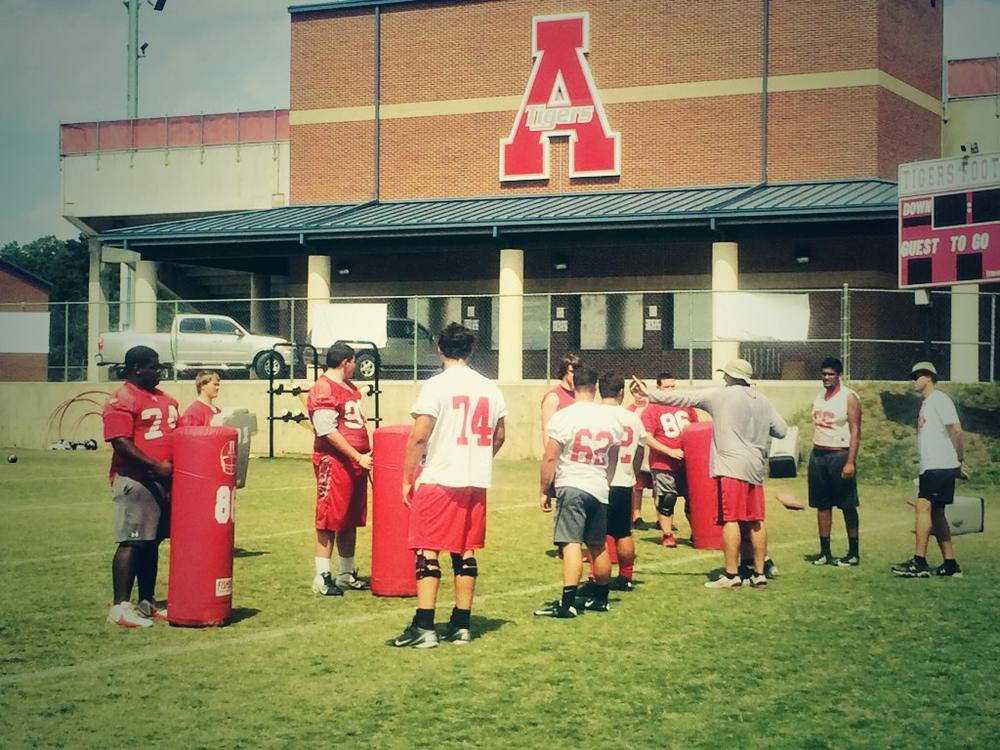 Written By: GPB Sports Announcer Matt Stewart

What is more beneficial? A tough season-opening loss to one of the best high school football programs in the state or an extra week to practice and scout your opening game opponent?

We will get the answer to that question when the second-ranked Archer Tigers play at 10th-ranked Peachtree Ridge to open our Football Fridays in Georgia schedule this Friday night at 7:00 p.m. on GPB.

The Tigers suffered a tough 21-13 season-opening loss to perennial state power and AAAA's third-ranked Sandy Creek last Friday night in the Corky Kell Classic. The Tigers were unable to hold a 13-point halftime lead, surrendering 21 third quarter points to the Patriots. Archer committed four turnovers in the loss and eight penalties including a holding call with nine seconds left that negated a touchdown pass. That pass would've given the Tigers the opportunity to tie the game and send it to overtime.

In the meantime, Peachtree Ridge had the luxury of scouting their opening game opponent and getting an extra week of practice. Will that be more helpful for the Lions than Archer getting a game under their belt? That remains to be seen as these two Gwinnett County programs meet for the first time.

Both of these programs are loaded with big-time college football recruits. Perhaps the most heralded prospect on the field this Friday night will be Archer's 4-star Kyle Davis who is already committed to South Carolina. The Tigers 6-3, 220-pound WR is the nation's 13th-ranked junior athlete in the 247 Sports Composite ratings. Archer 3-star TE Connor Redmond is also committed to the Gamecocks, although he did not play this past Friday night because of a reported back injury.

The Tigers also boast two of the top sophomores in the country in 4-star Jamyest Williams, 247 Sports eighth-ranked sophomore athlete, with offers from Clemson, Georgia Tech, Kentucky, Michigan, Wake Forest and others. 4-star Isaiah Pryor is 247's fifth-ranked sophomore safety although he plays CB for Archer and already has offers from Indiana, Iowa, N.C. State, Ohio State, Oklahoma and Tennessee.

Peachtree Ridge's prospect list is stocked with players with famous NFL last names. The Lions boast Chad Clay, Baylen Buchanan and Connor Heyward, all whose dads played pro football.

The 4-star Clay is the son of former Georgia Tech star and NFL cornerback "Big Play" Willie Clay and transferred from Walton. He is the 20th-ranked junior CB in the Composite rankings with offers from Clemson, Georgia, Georgia Tech, Nebraska, Ohio State and Texas A&M. The 3-star Buchanan is the son of former Atlanta Falcons star "Big Play" Ray Buchanan and is committed to follow in his father's footsteps at Louisville. So I guess it wouldn't be unreasonable to expect a big play Friday night, huh?

The sophomore Heyward is the son of the late Ironhead Heyward who was a bruising NFL fullback and the younger brother of Cameron Heyward who starred at Peachtree Ridge before going on to Ohio State and is now a defensive end with the Pittsburgh Steelers.

But the biggest recruit on the Lions roster might just be Deangelo Gibbs. 247 Sports ranks Gibbs the 5th ranked sophomore player in the nation, the #1 10th grade CB and the #1 sophomore in the state of Georgia. So not only is Friday night's game a great game this Friday night but will be a great game for several years to come.

Archer is led by Coach Andy Dyer and beginning just its fifth season of varsity football. After winning 13 total games its first three seasons, the Tigers broke through in 2013 going 11-1 before losing to eventual state finalist North Gwinnett 34-32 in the second round of the state playoffs.

Peachtree Ridge is led by Coach Mark Fleetwood, who enters his 4th season having posted a 20-13 record in those first three seasons. The Lions were 8-4 last season, beating Lassiter and then losing to Dacula in the state playoffs. Peachtree Ridge won a state co-championship in just its fourth season of football back in 2006 and then was a state finalist again in 2008. But the Lions have had just one double-digit win season since going 10-3 in 2009.

It should be a great opener to our 2014 Football Fridays in Georgia schedule and we hope you will joins us from The Lion's Den in Suwanee Friday night at 7:00 p.m. I look forward to starting my 17th consecutive season of calling high school football on television here in the state of Georgia and my first with our new team on GPB. We've got an outstanding schedule and are excited to bring you the best high school football in the nation all the way through the seven state championship games at the Georgia Dome in December.
Secondary Content
Bottom Content