Section Branding
Header Content
B.E.S.T. Academy Keeps On Building
Primary Content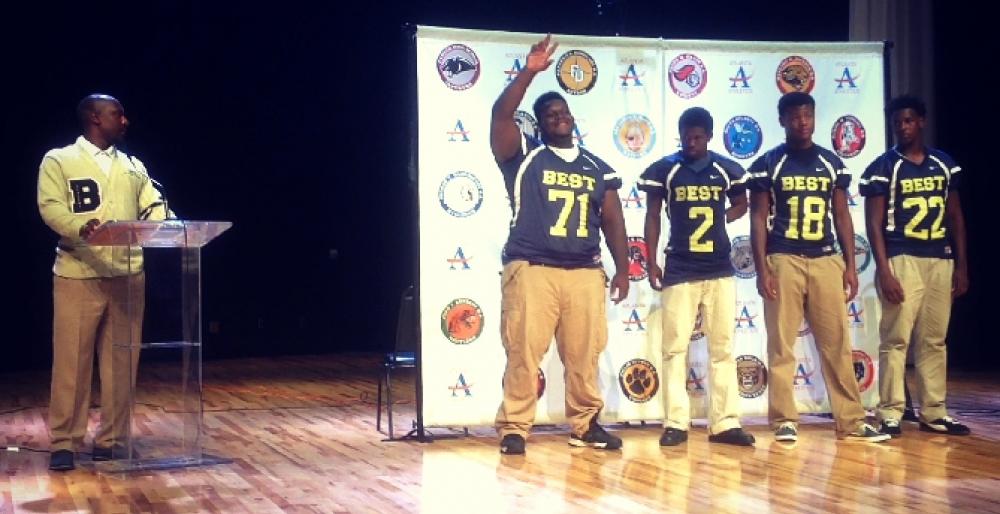 In-season conversation about high school football generally, and for obvious reasons, swarms around programs producing consistent wins, those with top-notch recruits and teams that ultimately find themselves surrounded by eyeballs on big playoff stages. But Atlanta Public Schools' Media Day offered a big stage this July to every team within its district as schools look ahead to fall 2014.
One of those football teams, B.E.S.T. Academy, is putting its best foot forward in-season and outside of it to put their name on the map, as the program begins only its third season in Georgia high school football.
You could say Head Coach Joshua Moore did a pretty decent job since the program first launched, leading his team to the playoffs in only the Eagles' second season. A nail biter in a triple overtime loss to Carver-Columbus, who finished 11-2 on the season, brought the Eagles deserved recognition.
Four of the players that were behind B.E.S.T. Academy's ascendance from 3-7 in 2012 to 7-5 in 2013 joined Coach Moore as he presented team goals heading in to 2014.
Those athletes were senior defensive tackle/offensive guard Tyler Gibson; senior athlete Deshawn Waller, who has offers from Georgia State and Indiana; junior tight end/defensive end Robert Tucker; and junior tight end/defensive end Rickey Williams.
Watch below as Coach Joshua Moore presents his team and his thoughts at Atlanta Public School's Fourth Annual Media Day.
Secondary Content
Bottom Content