Section Branding
Header Content
The Football Waves Roll In: Dekalb Media Days
Primary Content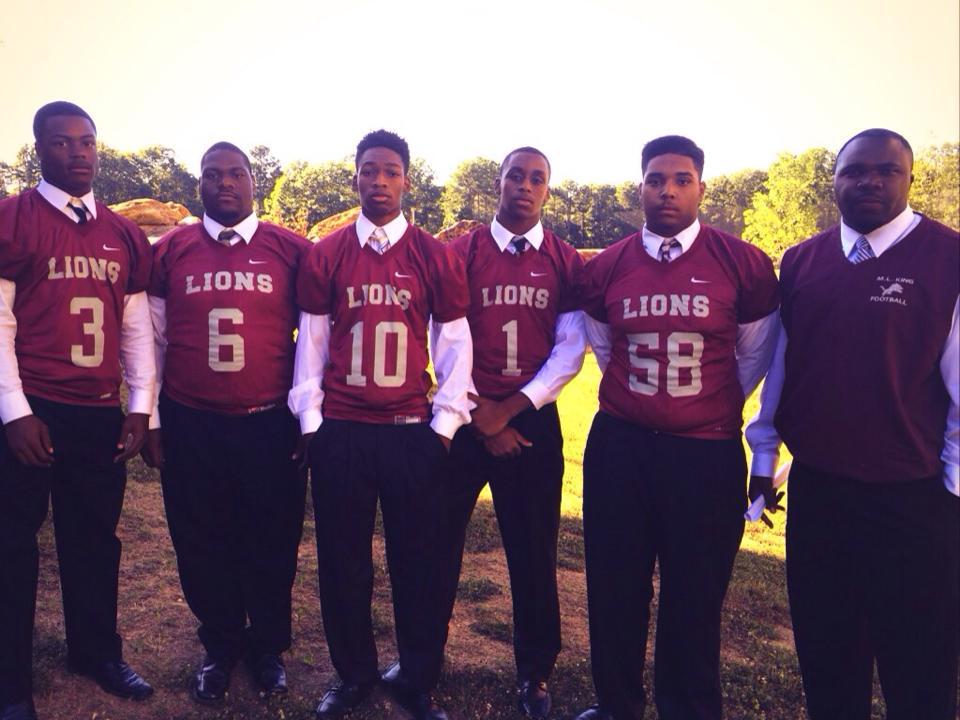 Written By: GPB Sports interns Jannah Bolds, Katie Wilson and Savannah Pratt
Dekalb County Media Day, held this week at Tucker High School, officially kicked off the 2014 football season by showing off rising seniors and new coaches from 19 high school teams within Dekalb County borders. Some teams present gained a new head coach, some had some spectacular tidbits to share about their rising seniors, and some are kicking off this 2014 season very similarily to the way they began last year. But it was clear that everyone had at least one thing in common: a desire to bring home a championship at the season's end.
During the event, schools like M.L. King and Cross Keys had the opportunity to introduce their new head coaches and display their key players as if they were on the auction block.
It was unanimously mentioned that expectations are high for this upcoming season, especially for the rising seniors of Dekalb county.
Losing seniors is just one of those things that coaches have to accept at the end of each school year. However, after losing a total of thirty seniors from last season's squad, Arabia Mountain High School Head Coach Stanley Pritchett said that he's looking forward to seeing other players take on positions of leadership.
Seniors from Arabia Mountain not only have personal high expectations, they are also looking for their team to come together as a whole and make a big impact.
Teams similar to Arabia Mountain like Tucker and Dunwoody High School, who came off great seasons last year, say they plan to continue working hard within their football programs for continued success.
Dunwoody High School Head Coach Jim Showfety said that some of his players have to step up.
"A lot of our seniors are going to be three-year starters and they've kinda paid their dues as sophomores two years ago when they had to play varsity even though they may not have been ready to go to that level. But because of our numbers in the overall program, we kind of had to throw them to the wolves. I think they are going to play with a lot more confidence since they have the experience under their belts now. Hopefully trials will pay off this season," said Coach Showfety.
When it comes to having the seniors make an impact on Dunwoody's squad, the offensive line is where this head coach wants to focus and not one just one particular player.
Rising Dunwoody Wildcat seniors like running back Daniel Hinton have to continue to work hard especially if they are planning to play collegiate ball.
Speaking of working towards playing at the next level and leadership expectations for rising seniors, Katie Wilson looked into how that reality has sunk in for some of Dekalb's finest:
Senior high school football players are often glorified for their team leadership, strength, and maturity. Young football players often dream about the days when they can finally reach that level of play for their team. So what does it feel like to finally get there?
Well, to start off, Jonathan Ledbetter of Tucker High School says he's still getting used to the idea that he's beginning his last year of high school football.
Some players who have gotten over the initial shock use words such as "good", "great", and "exciting" to describe what they anticipate their final year of high school football to be.
Listen below to hear what Kellyen Walker of Lakeside High School, Kenyonte' Richardson of Stone Mountain High School, and Chauncey Rivers of Stephenson High School have to say.
Others, still, view their senior year as a chance to act as a true role model and help others find their way.
Andre Brown and Michael Scott of Columbia High School shared their thoughts about leadership responsibility in their final season.
Lastly, one player even viewed his senior year as nerve-wracking.
Prudencio Logan of Stone Mountain High School says he's worried about having only one year of high school remaining.
However they may feel about finally reaching their last year of high school football, we wish all Dekalb County Rising Seniors good luck on their final season.
Secondary Content
Bottom Content