Section Branding
Header Content
Turnover At The Top
Primary Content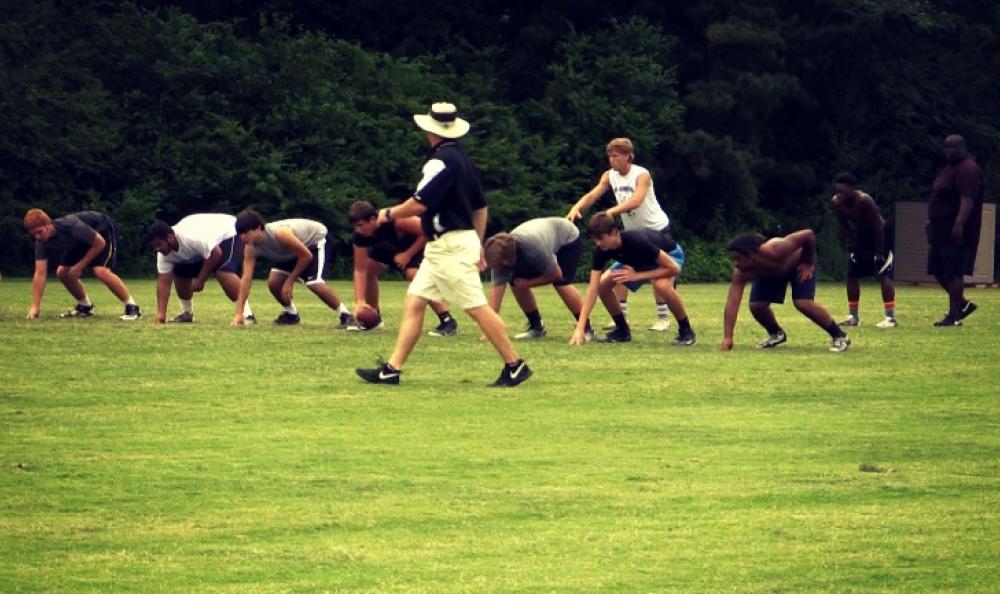 In less than two months, stadiums will fill, jumbotrons will fire up and communities will rally together around the South's staple sport as the 2014 high school football season kicks off across the state.
As teams return to the field and devise their plans for another season of ball, many are doing so under new schemes, new philosophies and a new head coach.
According to the Georgia High School Association, there will have been nearly seventy head coaching changes by the start of this upcoming season. Last year, there were eighty.
If that number seems high, it's because it is. A few years ago and prior, football head coaching positions were not nearly as quickly nor widely abandoned, the GHSA explained.
"You're talking about 150 head coaches changed over the last two years. That's 30 some-odd percent of our member schools. That's a big number," said Gary Phillips, Executive Director of the GHSA.
The reasoning behind the turnover? Phillips and his staff believe the high volume in coaches on the move can be attributed primarily to two things. First, pressure from surrounding communities to perform; second, an improved economy making moving residences a more feasible option.
"Coaches get into situations where there are unrealistic expectations from the community, they have relative success maybe not to the satisfaction of the community, not to the satisfaction of the coach himself, so that stimulates the thoughts of moving elsewhere. So you take that and you couple it with an improving economy, that's where the movement comes from. Three years ago, there weren't very many vacancies and coaches were hesitant to change schools. You buy a house and sometimes, you get in places where you own the house and you can't sell it. But I think now, things are better. Being able to put up a house for sale and actually have someone buy it is a much better situation than we were in before," said Phillips.
Another theory, according to Atlanta sportswriter Craig Sager, is the domino effect created when coaches leave positions at top football programs.
In this year's rotation, longtime head coach Rayvan Teague's leaving Carrollton set off the trend.
"The Carrollton job was one of the major factors. When one big job opens up, it filters down and shuffles everything. That's the highest paying job in the state and only the fifth time they've had to hire a coach in almost 60 years. After that, Ware County opens up because Dudley leaves, then Lamar County, then Cartersville, etc," Sager explained.
The man now enjoying that highly coveted spot with the Trojans is former Ware County coach Ed Dudley. Dudley spent five seasons with the Gators, leading the 2012 squad to a state title appearance. A career 185-75 record in 22 years of coaching handedly explains Dudley's competency for the Carrollton position.
Dudley and his wife said while they were elated to receive the offer from Carrollton, the final decision still required a great deal of time and thought. His four kids' high involvement in their schools and the Waycross community was a major factor.
"They were fearful. They didn't want to move and change. But they understand high school football and the high school football coach's role and some of that involves moving. Gordon has really had to make the biggest sacrifice. He was a two-year starter at Ware County, he was coming back for his senior year and he's had to come here and start all the way over. So it's been toughest on him but he's managed it well and the other kids have followed suit," said Dudley.
While Rayvan Teague's leave was a shock to athletes like rising senior wide receiver Jackson Hesterlee, there's somewhat of a silver lining at the prospect of a change of pace.
"I was surprised at first, it was kinda unexpected for me but I was ready for change I guess. Last year was fun since we made it to the dome but it's exciting with all the new stuff we're putting in the offense and everything. We're transitioning pretty smoothly," said Hesterlee.
Dudley's past success at the helm provides a bright outlook for seasons to come at the home of the Trojans. And the hot, dog days of summer are where it's all beginning.
Secondary Content
Bottom Content