Section Branding
Header Content
Vikings Earn Victory In First 7-on-7 Tournament Qualifier
Primary Content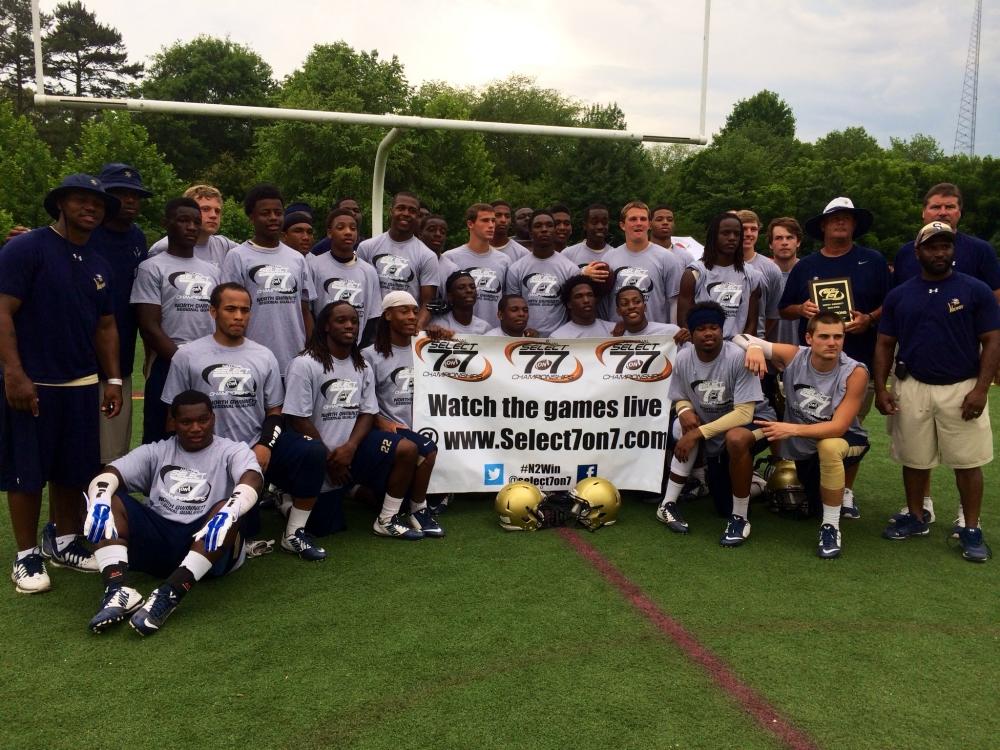 Written by: Katie Wilson and Savannah Pratt
Katie: The Spartanburg Vikings fought their way to victory this Friday at the first National Select 7-on-7 Qualifier Tournament. They'll head to Hoover, Alabama in late July to compete in the championship tournament.
After four back-to-back games, Spartanburg advanced to the final game to face the Alpharetta Raiders. Alpharetta had an undefeated record going into the finals, so Spartanburg needed to beat the Raiders not once, but twice.
The Vikings showed no sign of fatigue in the final games against Alpharetta. They led the first contest from the beginning, catching the undefeated Raiders off guard.
"They just had a lot of speed and executed their plan real well," said Alpharetta Head Coach Jacob Nichols. The Vikings won the second game in dramatic fashion.
Savannah: The Vikings ended up coming out on top but it was not an easy win for the taking. It seemed the odds were against them after their loss to North Gwinnett in the third game.
"We faced a lot of adversity and I think the coaches did too. We talked about that and said you know we got five games. All we got to do is come back, play tough and work our way through it," said Vikings Coach Chris Miller.
As mentioned, Spartanburg had to beat Alpharetta not just once, but twice. Alpharetta did not make it an easy win. The second final game was a tight contest between the two teams.
As I stood behind their team bench, a roar erupted from the Viking's huddle. "Fast Raid!!!" they shouted as they put their helmets together and ran onto the field. Tension was high. Their conditioning and teamwork leading up to this point had come down to this. The final game was about to begin.
Katie: Spartanburg scored immediately after the clock began to run, and Alpharetta responded with a touchdown as well. The score was 7-6, Spartanburg.
After Alpharetta intercepted one of Spartanburg's passes, the momentum of the game changed in the Raider's favor. They proceeded to score another touchdown and led 15-7.
But with one final surge, the Vikings took over and won with a final score of 21-16. They will now continue to the National Select Championship 7-on-7 Tournament in Hoover, Alabama next month.
While a Georgia team has never won the Select Championship Tournament, this may just be the year.
Secondary Content
Bottom Content