Section Branding
Header Content
Seeing Double
Primary Content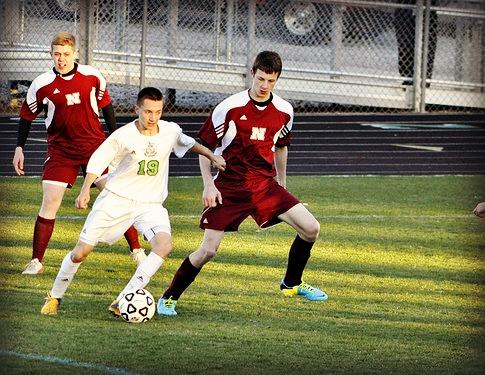 Can you say soccer powerhouse??
The 2014 GHSA soccer championships crowned three schools with not one, but two state titles. 5A McIntosh, 3A St. Pius and 2A Greater Atlanta Christian pulled off the double-double, winning both the boys and girls state titles.
McIntosh Coach Bunky Colvin's boys team capped off an outstanding year, posting a picture-perfect 22-0 record by beating Houston County 8-1 in the finals. The Chiefs are ranked number one...not only in Georgia, but in the entire nation!
"Last year we climbed in the polls as the year went along and finished number one in one poll and number two in another. We graduated eleven seniors so this year, we started at number sixteen and moved on up. To finish ranked number one in every poll is a great accomplishment," said coach Colvin.
The Chiefs beat Houston County in the championship game, spearheaded by the three goals by Didrik Cooper-Seip and two goals by Adam Sheikali. Others who led the way this year are twins Matt and Chris Dognazzi, Nick Alvey, Carson Brooks and goalie Spencer Wrobleski. The Chiefs have now won back-to-back state titles and have a forty-five game winning streak.
Coach Colvin says it's been quite a run.
"The hardest thing to do is win back-to-back. But this group of seniors set a standard of what they wanted to do, and they accomplished it."
On the girls side, Head Coach Marcia Clark's team defeated Starr's Mill 4-1 in the title game. The McIntosh girls have now won three titles in the last four years and an impressive nine state championships overall. The Lady Chiefs posted a 19-2 record.
"Our defense is very strong, we played great in the midfield and this team has a lot of heart. Playing for each other carried us to the championship," Clark said.
The team is led by four talented seniors: Taylor Dowse, Amanda Bartholomew, Rachel Green and Amy Brewer. But there is a lot of talent returning.
"We will miss our seniors terribly, on the field, and in their emotional leadership, but we have some juniors and even sophomores that will step into those leadership roles," Clark added.
In other words, look out for the Lady Chiefs again in 2015.
2014 GHSA Soccer Champions
Boys Girls
6A Brookwood 6A Harrison
5A McIntosh 5A McIntosh
4A Dalton 4A Marist
3A St. Pius 3A St. Pius
2A GAC 2A GAC
1A Paideia 1A Pace Academy
===============
Lacrosse Champions
Boys
6A Roswell
1A-5A Northview
Girls
6A Milton
1A-5A Kell
Secondary Content
Bottom Content