Section Branding
Header Content
Making It Count: From The Stat Sheet To The Grade Book
Primary Content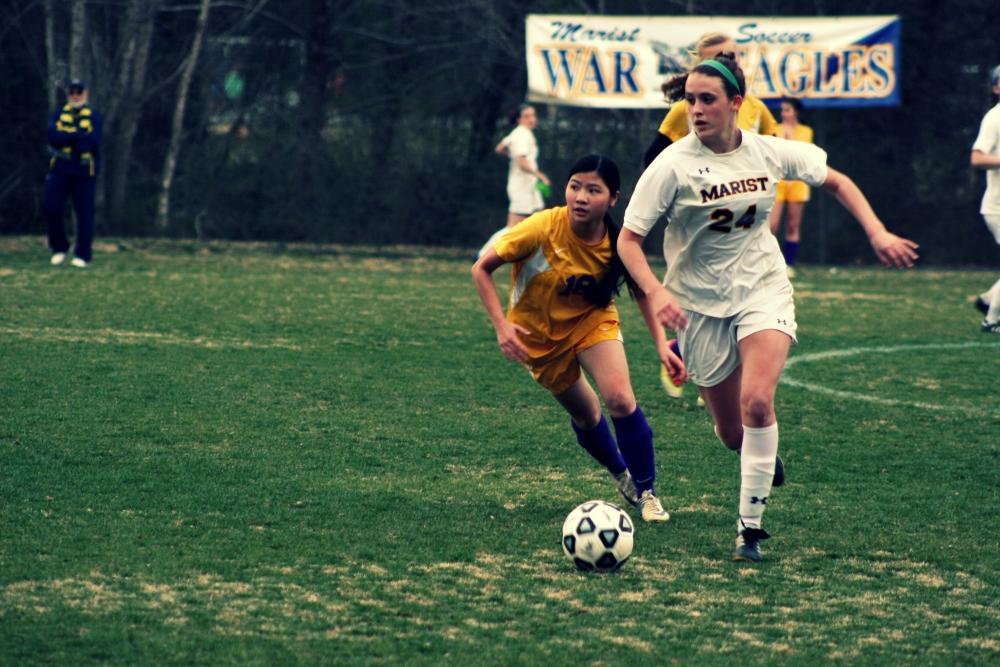 The Marist girls soccer team is lighting up the scene on the field and in the grade book.
Coach Sergio Stadler has been at the school for thirty-nine years and is the first and only head coach the Lady War Eagles have ever had. While Marist has been competing in soccer since the 1980's, the GHSA first held a state-wide soccer championship in 1992. Since that time, the Lady War Eagles have won a record-tying eight state championships, coming in 1995-97-2001-03-04-08-09-2013. Coach Stadler's record, an impressive 401-69-27!!!
This year's team is on a similar course, cruising along with an 8-0-1 record and ranked number one in Class 4A. The coach believes in reloading rather than rebuilding.
The Lady War Eagles have a solid senior class providing leadership, led by team captain Stephanie Krouskos who will play collegiate soccer next year at the University of Virginia, along with Dorsey Wagner, Emily Gale, Frances Monardo, Kate Andrews,
Anna Crochet, and Meredith Selvey.
The goalie this year is junior Carlin Zaprowski. Coach Stadler taught Carlin's dad when he was going to school at Marist, which is what happens when you teach mathematics AND coach soccer for thirty-nine years.
One thing coach Stadler is very proud of is that his team does very well in the classroom with a team GPA closing in on a perfect 4.0 mark.
When we spoke, Marist had nine more regular season games to go before moving on to the playoffs.
Other schools have sparkling records in girls soccer. Parkview has won seven state titles and McIntosh has won eight. But the Lady War Eagles of Marist have won the most, with a record-sharing eight state titles. Coach Stadler would like to add one more to the Marist trophy case before he and his wife ride off into the sunset of retirement. It would be a great way to cap off nearly four decades of teaching and coaching at Marist.
Secondary Content
Bottom Content