Section Branding
Header Content
Gameday Notebook: 1-on-1 With QB Hayden Sphire
Primary Content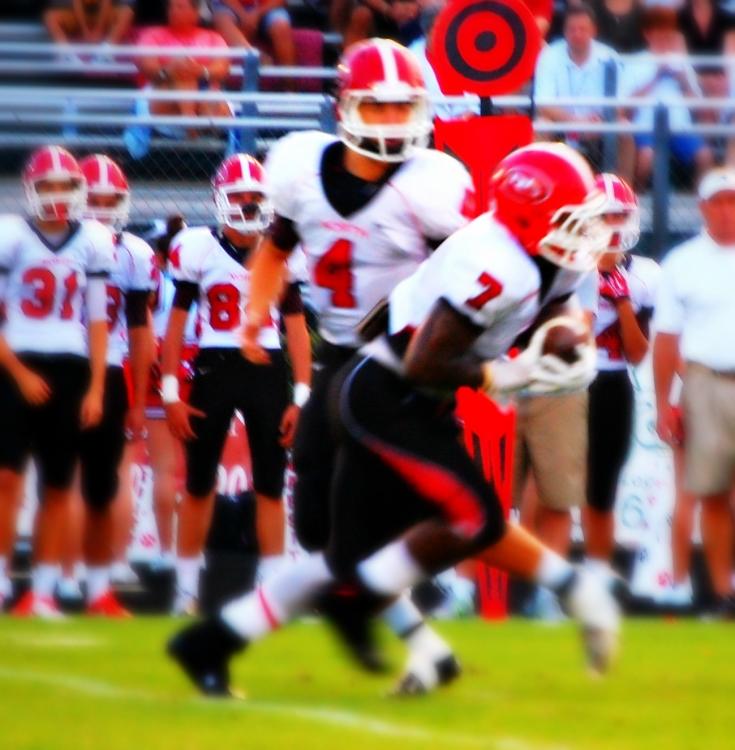 It's that time again...time for some "Football Fridays in Georgia!" Tonight, the North Gwinnett Bulldogs meet the Norcross Blue Devils in a game that could ultimately determine the winner of Region 7 AAAAAA. At this point, this is no cold hard fact but based on recent history, the probability of one of these teams claiming the region is HIGH (the winner of this contest has gone on to win Region 7 AAAAAA the past six of seven years.)
To give you a more up-close-and-personal look at tonight's game, I caught up with North Gwinnett quarterback Hayden Sphire. We most often hear observers assess athletes' roles among their teammates but here, one of the Bulldogs primary offensive leaders gives us his take on his role within the Bulldogs squad and what Friday's region rivalry game means to him.
Me: Describe the type of quarterback you think you are.
Hayden: I'm the definition of a pocket passer. I have the ability to escape the pocket but I prefer to stay in the pocket.
Me: So, do you look up to guys like Peyton Manning, Aaron Rodgers or Matt Ryan--guys that you could compare your style of play to?
Hayden: My favorite quarterback of all time is Peyton Manning so I definitely try to model my game after him.
Me: You're geared up out there on the field with one of the best receiver sets. How much confidence does this give you, knowing that you're backed up by such big playmakers?
Hayden: I feel like I can definitely throw the ball out in space and they'll just go make the play. It definitely gives me a lot of confidence knowing I have big-threat receivers.
Me: Off the field, do you have a closer relationship with any of your "offensive weapons" than others?
Hayden: The whole offense is a tight-knit group. So, we'll go out to eat together, we'll hang out at each other's houses. We're definitely all close on offense.
Me: How important do you think it is to establish that type of trust both on and off the field, especially with the offensive line?
Hayden: It's definitely really important because I think the more you know the person next to you, the more trust you're going to have in them.
Me: Describe what this big region rivalry with Norcross means to you.
Hayden: This game is huge. With them being part of the same city/area, there's a lot of competition for bragging rights and them being the reigning champions makes it even better.
Me: Are you friends with any of the guys on the Norcross team?
Hayden: Not really.
Me: Who do you see as being your biggest threat, specifically as quarterback, from the Norcross team?
Hayden: Definitely (DE) Lorenzo Carter and (OLB) Kevin Mouhon.
Me: What does it feel like to go up against one of the biggest recruits in the nation at defensive end (Carter)?
Hayden: It's kind of thrilling knowing that you're going to have to put up your A-game in order to deal with them.
Me: Your defense has contributed a lot more than even expected. Describe their production on the field and how they've surpassed expectations so far this season.
Hayden: It's huge because we know on offense that we can go for our own fourth down on our own side of the field and that they're going to get the stop for us and get the ball back without any points going up. So, that's huge for us. And Coach (Robert) Andrews coming in has done a great job. I know the more we mind his system, the better we're going to get on defense.
Me: Despite a shaky start against the Wildcats at the Georgia Dome, what did it feel like to wind up so handedly beating big opponents in Camden County and Grayson to begin this 2013 season?
Hayden: I knew our potential. I knew we could definitely put up big points every game. But, beating those two teams the way that we did definitely gave us a lot of confidence.
Me: What went through your mind once the clock started running in the Grayson game?
Hayden: That shocked me.
Me: Do you ever challenge your dad (Head Coach Bob Sphire) on football-related decisions?
Hayden: We talk through the game plan and the calls we're going to make all week long and if there's something I'm not comfortable with, we'll try to fix it or we'll just throw it out.
Me: Do you talk much football at home or is it something that you typically leave on the field?
Hayden: We don't talk as much football at home as people would think. We're usually pretty tired when we get home and don't have much time to talk.
Me: Is your mom heavily involved in the football life?
Hayden: She's been around football her whole life so I don't think she really had a choice.
Me: Describe what type of leader you are on this team.
Hayden: I definitely try to be a vocal leader. I definitely try to get things moving in a faster tempo; just vocally get people enthusiastic.
Me: Your team challenged the North Gwinnett student section to have 2,000 students there at the Corky Kell Classic and to bring their A game. How much communication is there between the football team and the student body as a whole?
Hayden: There's a ton of communication. Bailey Ulp--he's not on the team but he's one of the leaders of the student section and everyone loves Bailey, he's one of all of our best friends. So, there's definitely a lot of communication there and we usually challenge them each week because they bring a ton of energy to us when we see the whole bleacher filled with our fans.
Me: What is the atmosphere like at school each week leading up to Friday games?
Hayden: It's actually kind of chill during the week. We're usually pretty focused. We kind of try to avoid conversations about the game but we definitely have great school spirit.
Me: Picturing the Norcross squad as you know it versus your North Gwinnett team, what do you expect to see from Friday night's competition? In your mind, how would the game ideally play out?
Hayden: I definitely think it's going to be a tough, physical game. The ball is going to be won in the trenches between the linemen. It's going to be extremely physical and we're going to have to fight through all four quarters. If I had a dream situation: It's 31-31. They punt it down to our 14 and we drive the whole field in 35 seconds and get the game winning field goal.
Now remember, football fans--today is not just a huge day for high school football, it's Friday, the 13th--a HUGE day for superstitions! We all know that athletes are some of the most superstitious people, especially in the effort of mastering their craft.
I'll be divulging a few WEIRD game day superstitions of some of tonight's star athletes on GPB's All-Access Pass Pregame show, live at 7pm.
It's the Blue Devils versus the Bulldogs, live from Blue Devil Stadium! You'll find the action only on the great GPB! I'll see you there!
Secondary Content
Bottom Content