Section Branding
Primary Content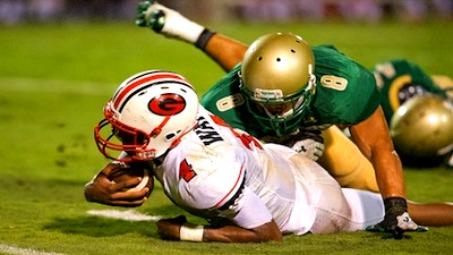 This week's featured GPB high school football game is one I circled at the beginning of the year, hoping GPB Sports would get the chance to televise this matchup between two state champions and two number-one ranked teams.
This week, the defending 3A state champion Buford Wolves, currently ranked No. 1 in Class 3A, will travel to Gainesville, Georgia to tackle the defending 5A and currently No. 1 ranked team in Class 5A, the Red Elephants of Gainesville High School.
Sound great so far? It only gets better. Both teams are loaded with talented players. Today, I will look focus on two of them.
For Gainesville, quarterback Deshaun Watson is the top recruit in the state and he is loaded with talent. The stats he put up last year were video game-like...Deshaun passed for 4,011 yards and tossed 50 touchdowns. As if that wasn't enough, he rushed for 1,430 yards and 24 more touchdowns. That's right--Deshaun Watson helped account for 74 touchdowns in one season!
The Buford Wolves are led by outside linebacker Korie Rogers. Korie is 6-2, 220 pounds. He had 91 tackles last year, 12 for losses and 7 others for sacks. He also intercepted four passes and ran one back for a touchdown. To top things off in the stat department, he forced 2 fumbles and had 14 quarterback pressures.
This game should be an outstanding example of Georgia high school football. Big thanks to Gainesville Athletic Director Wayne Vickery who is allowing GPB Sports to come up and televise this game all around the great state of Georgia. This matchup has all the makings of an instant classic.
Being there in Gainesville Friday night should be a happening....and if you can't make it there, just tune in to GPB. We will have you covered starting at 7:00 pm with the GPB All-Access Pass pregame show.
GPB will also run an encore presentation of the game immediately after I say "So long from Gainesville" to sign off original telecast.
So put this battle between top-ranked powers on your must-see TV list for this week. It's the Buford Wolves at the Red Elephants of Gainesville, only on the great GPB.
Secondary Content
Bottom Content