Section Branding
Header Content
Big Stage Awaits Corky Kell Classic Teams
Primary Content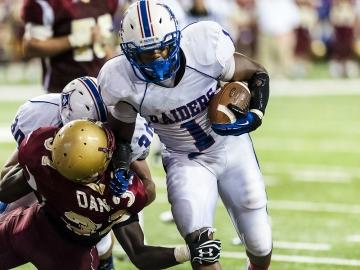 Believe it or not, the kickoff to the 2013 high school football season is next week! The main event will be the 22nd annual Metro PCS Corky Kell Classic. This year's classic features ten top teams in five big games. Take a look at these match-ups:
Kell vs Chattahoochee
Peachtree Ridge vs Walton
Grayson vs Colquitt County
Camden County vs North Gwinnett
Brookwood vs McEachern.
The team here at GPB Sports has been hard at work preparing for the Corky Kell Classic.
Jon Nelson spent three days last week traveling through South Georgia on what he has termed the fourth annual "Southern Swing." Jon spent time observing high school football practices and interviewing coaches and players at some of the state's most prestigious programs. Those Camden County Wildcats and Colquitt County Packers obviously made the list.
While Jon ventured through South Georgia, I visited six schools for practice and learned some interesting facts about each program.
For instance, while visiting Brookwood, I talked with running back Jost Brown who told me he was looking at Harvard, Georgia Tech, and Vanderbilt for school next year. I asked him if he had a 3.9 grade point average, to which he answered "actually, 3.96." Josh is both a great student and an outstanding runner and will certainly be one to watch this year and in the future.
At McEachern, I watched Quarterback Ty Clemons and running back Taj Griffin. These two guys are EXPLOSIVE. And fun to watch. Coach Kyle Hockman has 9 starters returning on defense so he is one happy coach.
At North Gwinnett, Coach Bob Sphire will be looking for his eighth straight year of ten wins or more. He'll coach his son, Hayden, who will be the starting quarterback for the Bulldogs. The team is loaded with play-makers in running back C.J. Leggett and wide-outs Nate Brown, Caleb Scott, and Daniel Imatorbhebhe. So, they should light up the scoreboard this season.
The Grayson Rams have experienced much success the past two seasons, as they won the 5A state championship in 2011 and went 10-2 last year. The Rams will have to replace 21 of 22 starters...but don't feel too bad for coach Mickey Conn. He has a boatload of talent to coach up like quarterback Hunter Schuessler and running back Aares McCall, along with defensive end Daniel Fennell.
Peachtree Ridge is trying to bounce back from a 4-6 season and they are installing an up-tempo, no huddle, high-powered offense which will be led by QB Chance Thrasher and running backs Jordan Ellis and Myron Burton. Up front, on the offensive line, is big number 78, Orlando Brown, who will play next year in Knoxville with the Tennessee Vols.
At Raider Valley, Coach Rocky Hidalgo's Walton team is gearing up for a big season. Gone is all-state running back Tyren Jones and QB Parker McLeod to Alabama. Six starters return on defense. Price Wilson will be the starter at quarterback and Coach Hidalgo thinks this could be one of his best offense teams EVER.
Now that you've gotten the low-down on the Corky Kell Classic teams, join GPB Sports on Saturday, August 24th for the 22nd Metro PCS Corky Kell Classic, live from the Georgia Dome. The first game kicks off around 9 am and we will be with you for the following 15 hours for a prep pigskin palooza unlike any other.
Secondary Content
Bottom Content