Section Branding
Header Content
Georgia High Schools Gear Up For 2013 Season With Concussion Baseline Testing
Primary Content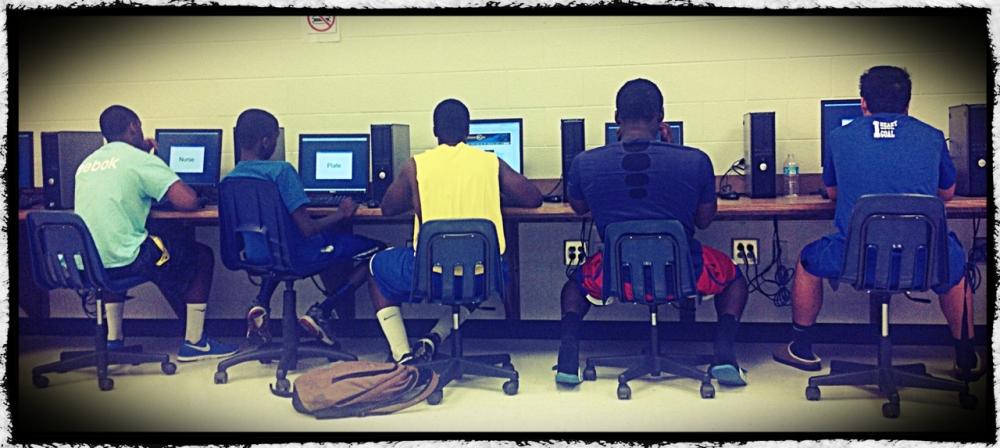 A fall weekend spent in the state of Georgia is likely to teach a visitor at least one thing: southern football is king around these parts and there is no question about it. From the pee-wee ranks on local fields to those high school Friday night lights…from Saturday bar-b-ques, tailgating and the donning of university apparel to those dirty birds that cap off the weekends. For so many Georgians, football is more than just a sport. It's an integral part of the culture, a way of life.
While the dangers of concussions and player safety are changing the way football is played and new rules are implemented within all levels of football, there was a point in the peach state's history when the sport's existence was threatened.
With many thanks to what I would call our "football encyclopedia," Jon Nelson, and his book titled A History of College Football in Georgia, I learned the story behind the threatening of the game that so many Georgians hold dear.
In 1897, a young man named Vonalbade Gammon sported the red and black as he represented the University of Georgia Bulldogs. But what had been healthy competition turned deadly on October 30, 1987, when "Von" Gammon tragically died while playing the University of Virginia.
Nearly immediately, the House of Representatives and the Senate passed a resolution to outlaw the sport of football in Georgia. Governor William Atkinson's signature was the final check mark on the list in saying so long and farewell to the pigskin sport for Georgians.
But one particular individual wanted nothing more than for the game to live on. That person was Rosalind Gammon, Von Gammon's mother. In a letter delivered to a local representative, Rosalind strongly requested that her son's death not be used to end football's existence in Georgia.
"Grant me the right to request that my boy's death should not be used to defeat the most cherished object of his life," Rosalind pleaded.
Her words clearly struck a cord with Governor Atkinson, as he refused to sign the resolution and hence, football lived on.
By nature, high contact sports like football carry much greater risks of head injury. As science evolves and awareness of the dangers spreads, athletes young and old are learning about the ways their lives have been or could be dramatically changed due to both minor and major concussions.
In recognition of what has been termed the "concussion crisis," Georgia recently passed the Return to Play Act of 2013. The law, which will take affect in January, will require concussion training for coaches, the development of return to play policies for athletes who suffer concussions and providing information to parents on the risks of head injuries.
While skimming through high school football calendars, I found that Chattahoochee High School was conducting concussion baseline testing this week. With head-related injuries causing such a stir in sports medicine, I thought I should go check it out and find out what schools like Chattahoochee are doing to keep these young athletes safe and how the baseline testing process actually works. Plus, with parents often being the initial supporters and drivers of athletic careers, they too should be well-aware of the injury risks and the initiatives being taken to alleviate long-term repercussions of playing sports like football.
So, I gathered my camera gear and headed to visit that Hooch football program. Below, you can watch my story on how the testing process works. If you have any further questions, feel free to ask!
By the way…cheers to the one month Corky Kell Classic countdown football fans!
Secondary Content
Bottom Content