Section Branding
Header Content
Two-Sport Star Receiving Late Interest
Primary Content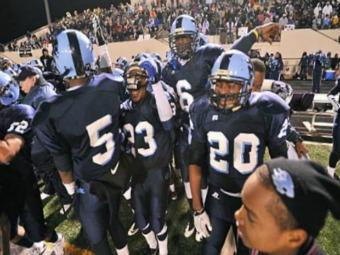 With the news that Tennessee has fired head coach Derek Dooley, plenty of schools will now try and poach members of the Vols' 2013 recruiting class. Dooley always was able to produce solid efforts in each of his classes, finishing No. 17 in 2012, No. 13 in 2011 and No. 9 in 2010, and he typically recruited the state of Georgia well. Seemingly each class always contained a Peach State superstar that was sought after by a number of schools, and this class was no different. The 18-member class features three Georgia products: Jonesboro's Cameron Sutton, Troup's Joe Sanders and Grayson's Zach Barnes. Sutton, a member of the Score 44 committed to the Vols over offers from Arkansas, Georgia Tech, UNC, Kentucky, NC State, Ole Miss, Pittsburgh, South Carolina and Virginia Tech. Barnes also held offers from Indiana and Southern Miss. Interestingly enough, Sanders pledged less than two weeks ago to the Vols. Dooley has previously signed Georgia players such as A.J. Johnson, Alan Posey, Brian Randolph, Deion Bonner, Jason Croom, Ja'Wuan James, Rajion Neal and of course Nash Nance and Da'Rick Rogers.
Last year Buford's National Signing Day ceremony was a virtual tour of the SEC and ACC, but this year's class does not quite have the star power of one year ago. Regardless, one of the team's top seniors Mikey Bart has made the decision to attend South Florida. The tight end prospect has proven to be a matchup nightmare for opposing defenses. He recently snared a touchdown in Buford's win over Cedar Grove in the first round of the playoffs.
Just when you start to wonder who the next key cog of Lovejoy's offense to commit will be, it is announced that receiver Jumichael Ramos has pledged to Georgia Tech. Ramos is a three-star prospect according to ESPN.com and joins teammate Travis Custis in heading to the Flats.
Creekside's Chris Sanders-McCollum is the definition of a late-riser, but the 6-foot-5 wide receiver is finally starting to receive some interest after making several recent visits. Sanders-McCollum has taken visits to Middle Tennessee, Auburn and Georgia Tech in recent weeks, but the 2011 AT&T Junior Bowl alumnus is still looking for his first big offer. Sanders-McCollum is hoping to impress potential suitors in perhaps an upcoming all-star game or on other recruiting trips. Creekside's season came to a close last Friday with a 24-21 loss to Thomas County Central in overtime. He ended the season with 22 receptions and more than 750 yards with five scores in a new run-based spread attack similar to Urban Meyer's Florida offense, installed by first-year head coach Aaron Whittington. The two-sport star also excels on the basketball court and has been hailed as one of the state's best dunkers.
Secondary Content
Bottom Content