Section Branding
Header Content
Peach County Lucks Out With Playoff Draw
Primary Content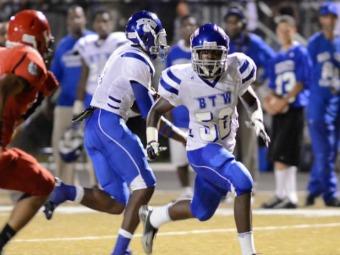 Several surprises took place over the weekend with some upsets setting up a few interesting first-round matchups as the 2012 postseason begins this Friday. One major upset was Colquitt County knocking off Camden County, giving the Packers the No. 4 seed. Now McEachern's reward for winning eight straight games is a date against Rush Propst, who has had some serious postseason success on the road during his time with the Colquitt County program. Lee County is a AAAAA team that was undefeated through the first six weeks of the schedule but now heads to No. 5 Whitewater. Lee County lost its best playmaker in Josh Cabrera before the season, but Dean Fabrizio's offense has found a running game that has earned the Trojans a No. 4 seed. Washington in Class AAAA was ranked several weeks ago, but now the Bulldogs sit as a No. 4 seed and will travel to Ridgeland. Don't knock Cedar Grove either. Jonathan McCrary has the ability to take over a game, and if North Hall doesn't shake off a loss to Buford, the future Vanderbilt QB could spring the upset.
While Brookwood losing to Grayson may not have been considered an upset, the Broncos fell to the No. 4 seed and will now face Class AAAAAA No. 2 Lassiter, a team that made a run to the semifinals one year ago as a No. 4 seed. Look for Brookwood to try and pound the ball and run clock against the Trojans in an effort to keep Eddie Printz on the sidelines.
Finally, with the way the brackets shook out, Peach County's loss to Carver-Columbus two weeks ago may end up being a great thing for the Trojans. Peach County would not face Cartersville, Carver-Columbus or Buford until the finals with perhaps just St. Pius X standing in their way to get there.
Secondary Content
Bottom Content