Section Branding
Header Content
Camden County Stays Atop AAAAAA Poll
Primary Content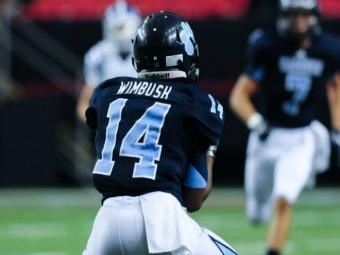 The Camden County Wildcats were ranked No. 2 in one national poll heading into a second straight tough road trip Friday after wrapping up the Region 1-AAAAAA title. Colquitt County slipped past Camden County in an upset, but despite the outcome, Camden County remains No. 1 based on the first nine games of the year. The Wildcats look like the class of AAAAAA with perhaps just No. 3 Grayson capable of slowing the Jeff Herron offense featuring Brice Ramsey and J.J. Green.
In Class AAAAA, Kell, Whitewater and Flowery Branch all took advantage of a Thomas County Central loss to move up in the polls. No. 6 Flowery Branch knocked off previously-ranked Gainesville for the Region 8-AAAAA crown and pushed the Red Elephants out of the rankings at the same time. No. 10 Allatoona also fell a few spots after losing to No. 2 East Paulding.
No. 7 Ridgeland jumped into the Class AAAA poll after defeating River Ridge Friday. Vonn Bell has been a force all season for Ridgeland, playing all three phases of the football game. In Class AAA, No. 10 Blessed Trinity knocked off Cedar Grove to take North Hall's spot after the Trojans fell to No. 4 Buford.
Class A saw the most shuffling when Seminole County moved into the rankings at No. 10, right behind No. 9 Savannah Christian and No. 8 Prince Avenue Christian. Prince Avenue fell from No. 5 after a loss Friday.
Class AAAAAA
1. Camden County
2. Lassiter
3. Grayson
4. Norcross
5. Lovejoy
6. North Gwinnett
7. Lowndes
8. McEachern
9. West Forsyth
10. Langston Hughes
Class AAAAA
1. Northside-WR
2. East Paulding
3. ML King
4. Kell
5. Whitewater
6. Flowery Branch
7. Ware County
8. Thomas County Central
9. Tucker
10. Allatoona
Class AAAA
1. Sandy Creek
2. Marist
3. Burke County
4. Griffin
5. Jonesboro
6. Cairo
7. Ridgeland
8. Monroe Area
9. Stockbridge
10. Westside-Macon
Class AAA
1. Thomson
2. Carver-Columbus
3. Cartersville
4. Buford
5. Peach County
6. Pierce County
7. Washington County
8. St. Pius X
9. North Oconee
10. Blessed Trinity
Class AA
1. Calhoun
2. Brooks County
3. Vidalia
4. Lamar County
5. Jefferson
6. Heard County
7. Fitzgerald
8. Screven County
9. Washington-Wilkes
10. Cook
Class A
1. ELCA
2. Lincoln County
3. ECI
4. Athens Academy
5. Calvary Day
6. Wilcox County
7. Walker
8. Prince Avenue Christian
9. Savannah Christian
10. Seminole County
Secondary Content
Bottom Content