Section Branding
Header Content
Thomson, Jonesboro Climb In Football Poll
Primary Content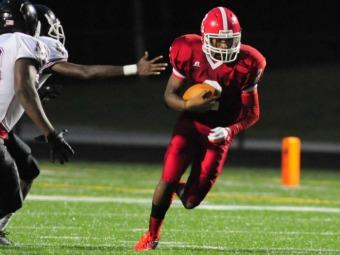 Region 1-AAAAAA featured several incredible matchups over the weekend with the results weighing heavily on the Class AAAAAA poll. No. 4 Lowndes picked up a big road victory and No. 1 Camden County won over Brunswick. Colquitt County missed out on a chance to move back into the poll after losses from West Forsyth and Parkview as the Packers fell to Valdosta. Parkview fell in triple overtime to fall out of the poll while Langston Hughes debuted at No. 10 after the Panthers won their fifth straight game.
The top five in Class AAAAA did not change after Northside-Warner Robins, East Paulding, ML King and Thomas County Central all won while No. 4 Gainesville was idle. Tucker, Kell, Allatoona and Warner Robins all moved up while Stephenson, which has lost two straight, fell from the polls. No. 1 Northside faces Warner Robins this Friday in a huge top 10 affair.
Washington fell from the Class AAAA poll after losing to Carver-Atlanta, which sits just on the outside of the top 10. Chamblee is the new No. 10 team and will face No. 2 Marist this Friday. Carver-Atlanta will face No. 5 Grady this week. Westside-Macon, Ridgeland and Chestatee are just on the outside looking in.
Buford dropped to No. 5 despite a huge win over Fannin County. Buford's recent forfeits dropped the Wolves' record to 5-3, but Jess Simpson's team will be a major force come the postseason as Buford appears to be ahead of schedule on the rebuilding front. New No. 2 Thomson scored a huge win over former No. 2 Washington County, who fell to No. 8 after the loss.
In Class AA, No. 2 Brooks County defeated No. 8 Cook. Benedictine and Bleckley County fell, allowing No. 9 Screven County and No. 10 Washington-Wilkes to move into the poll.
In the state's smallest classification, Wilkinson County entered the rankings once again after a resounding victory over First Presbyterian Day coming one week after knocking off Aquinas. No. 1 ELCA, No. 2 Lincoln County and No. 3 ECI all posted victories to maintain their rankings.
Class AAAAAA
1. Camden County
2. Lassiter
3. Grayson
4. Lowndes
5. Norcross
6. Lovejoy
7. North Gwinnett
8. McEachern
9. West Forsyth
10. Langston Hughes
Class AAAAA
1. Northside-WR
2. East Paulding
3. ML King
4. Gainesville
5. Thomas County Central
6. Tucker
7. Kell
8. Allatoona
9. Warner Robins
10. Whitewater
Class AAAA
1. Sandy Creek
2. Marist
3. Burke County
4. Monroe Area
5. Grady
6. Statesboro
7. Carrollton
8. Griffin
9. Jonesboro
10. Chamblee
Class AAA
1. Peach County
2. Thomson
3. Carver-Columbus
4. Cartersville
5. Buford
6. Blessed Trinity
7. Pierce County
8. Washington County
9. St. Pius X
10. North Oconee
Class AA
1. Calhoun
2. Brooks County
3. Vidalia
4. Lamar County
5. Jefferson
6. Heard County
7. Fitzgerald
8. Cook
9. Screven County
10. Washington-Wilkes
Class A
1. ELCA
2. Lincoln County
3. ECI
4. Athens Academy
5. Prince Avenue Christian
6. Calvary Day
7. Wilcox County
8. Walker
9. Savannah Christian
10. Wilkinson County
Secondary Content
Bottom Content