Section Branding
Header Content
Stephenson Falls In Latest Football Poll
Primary Content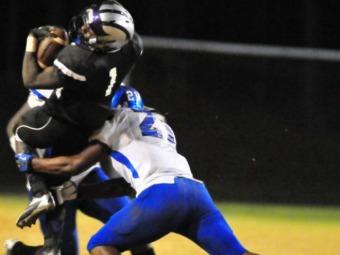 After last weekend's upsets shook up the polls, a top team once again fell as Stephenson lost to Miller Grove Saturday. The Jaguars, who knocked off previous No. 1 Tucker last week, dropped to No. 6 from No. 2 in Class AAAAA. East Paulding now moves up to No. 2 behind Northside-Warner Robins. Warner Robins is back in the rankings at No. 10, moving in over 7-1 Whitewater after Lee County fell to No. 5 Thomas County Central.
The Class AAAAAA poll remains unchanged. No. 1 Camden County was idle while No. 2 Lassiter remained undefeated after rallying past Milton on the road. No. 3 Grayson posted its third straight shutout in a win over South Gwinnett. No. 10 McEachern posted a solid victory over North Cobb, the Indians' sixth straight victory after an 0-2 start. Class AAAA and AA also remained unchanged.
North Oconee moved into the Class AAA poll at No. 10 after beating Elbert County and benefiting from Gordon Central falling to No. 7 Cartersville.
In Class A, Aquinas dropped to No. 10 after yet another loss, while George Walton Academy fell from the rankings completely. Athens Academy is up to No. 4 while defending Class A champion Savannah Christian moved back into the poll at No. 9.
Class AAAAAA
1. Camden County
2. Lassiter
3. Grayson
4. Lowndes
5. Norcross
6. Lovejoy
7. West Forsyth
8. North Gwinnett
9. Parkview
10. McEachern
Class AAAAA
1. Northside-WR
2. East Paulding
3. ML King
4. Gainesville
5. Thomas County Central
6. Stephenson
7. Tucker
8. Kell
9. Allatoona
10. Warner Robins
Class AAAA
1. Sandy Creek
2. Marist
3. Burke County
4. Monroe Area
5. Grady
6. Statesboro
7. Carrollton
8. Griffin
9. Jonesboro
10. Washington
Class AAA
1. Peach County
2. Washington County
3. Buford
4. Thomson
5. St. Pius X
6. Carver-Columbus
7. Cartersville
8. Blessed Trinity
9. Pierce County
10. North Oconee
Class AA
1. Calhoun
2. Brooks County
3. Vidalia
4. Lamar County
5. Cook
6. Jefferson
7. Fitzgerald
8. Heard County
9. Benedictine
10. Bleckley County
Class A
1. ELCA
2. Lincoln County
3. ECI
4. Athens Academy
5. Prince Avenue Christian
6. Calvary Day
7. Wilcox County
8. Walker
9. Savannah Christian
10. Aquinas
Secondary Content
Bottom Content