Section Branding
Header Content
Grayson Eyeing Postseason Positioning
Primary Content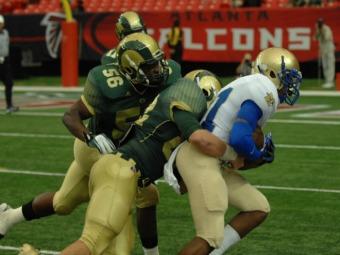 Norcross is for real and that is all that should be said. The Blue Devils traveled to Collins Hill and left with a 35-23 win and the region title all but wrapped up. Alvin Kamara rushed for 312 yards and three scores against what had looked like a stout Eagles defense. Score 24 2Look4 defensive end Lorenzo Carter also racked up four sacks in the Norcross' victory. The Blue Devils host Mountain View this week before traveling to Peachtree Ridge on Oct. 26 and wrapping up the year on Nov. 9 against Meadowcreek. With two wins against the teams with a combined 5-14 record, the Blue Devils will claim the Region 7-AAAAAA title.
Grayson has not been joking around since dropping a 22-7 Sept. 14 game to Parkview. The Rams have gone 4-0 with a combined 204-34 score since the loss to the Panthers. Grayson faces 5-1, 4-0 South Gwinnett this Friday with a chance to move up into second place in Region 8-AAAAAA. Grayson would need to win out and hope that Parkview loses twice in region play in order to claim yet another region crown. Parkview has two home games (Shiloh, Berkmar) and two road games (Central Gwinnett, South Gwinnett) left on the schedule.
Centennial started the second half of the season off on the right foot, taking out previously undefeated Lambert 26-7 at home. The Knights have home games the next two weeks before heading to Alpharetta Nov. 2. The Knights wrap up the regular season at home against Chattahoochee. First-year coach Jeff Carlberg praised several unsung heroes for the win, noting that Andrew Estes has jumped over to the offensive line from defense after seven offensive linemen have suffered injuries this year. Carlberg was perhaps most pleased with his defensive front seven and especially the front four. "The front four played out of this world," said Carlberg. "They were just great. I tell our players to be the hammer and not the nail. (Friday) we were finally the hammer."
Brooks County can certainly say it won the special teams phase of the game against Fitzgerald and that was enough to escape with a victory. Deric Herring returned a kick 88 yards to pull Brooks County to within three points before returning a punt 68 yards for a touchdown with less than a minute remaining to give Brooks County a victory.
Secondary Content
Bottom Content