Section Branding
Header Content
Carver-Columbus, Grayson Impress With Wins
Primary Content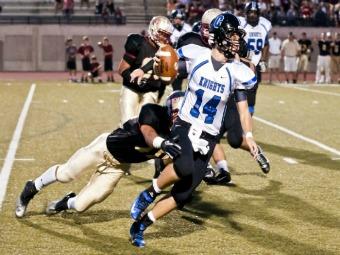 Carver-Columbus isn't done yet. Del McGee's perennial powerhouse program isn't going out without a fight in the 2012 season. A week after getting dominated by Colquitt County, the Tigers roared back with an impressive 32-20 win over Class AAAAAA Tri-Cities, a program that made the AAAA quarterfinals last season. It is looking like Carver's game against Peach County on Nov. 2 will decide the Region 2-AAA title.
Going through a coaching transition where new head coach Jeff Carlberg was left with the cupboard bare and also having to rebuild the loss of community support over the years, the Centennial Knights are 0-4, but quarterback Chase Rosenberg continues to develop in the new spread offense. The senior signal-caller completed 28-of-35 passes for 347 yards and three scores in a loss to Johns Creek Friday night. Rosenberg also rushed for 62 yards while breaking school records for completions, passing yards and total offense. .
Lowndes earned its third shutout in a row after whipping Hardaway 57-0. The Vikings step up in competition Friday with a road trip to Colquitt County to open Region 1-AAAAAA play. In fact, Packers coach Rush Propst spent his bye week in the stands of Martin Stadium watching Lowndes operate on Hardaway. In a region stacked with contenders, the Vikings-Packers game looks to be of critical importance.
Parkview and North Cobb suffered no ill effects the week after upsetting two of the best teams in the state. Parkview edged Archer 20-18 while North Cobb dominated Kennesaw Mountain 52-7. The Warriors draw Harrison Friday in another region contest while the Panthers host arch-rival Brookwood.
Anyone thinking that the Grayson Rams would stay down for long or even that Grayson is not one of the top 10 teams in Class AAAAAA after losing last week to Parkview is foolish. The Rams entered the season as one of the nation's top five teams with a defense loaded with future BCS players. After seeing another member of its defense commit to Penn State late last week, the Rams dominated Dacula 45-7 by holding the Falcons to just 106 total yards. Wayne Gallman had 137 total yards by himself including a pair of scores as Grayson rolled to an easy win. This Rams squad is too talented and too well-coached to stay down long.
His nickname may be "Gator" but Donquell Green was more like a cheetah, running for 225 yards and three scores as Burke County scored 35 unanswered points to drop Statesboro 35-14. Green is listed as Burke County's quarterback, but much like last season, Green is far more dangerous with his legs (26 rushes) than his arm (5-of-10 passing, 74 yards). The Bears have certainly rebounded after dropping their first game of the year by winning three straight.
Despite four turnovers and three missed field goals, the Lanier Longhorns picked up their first-ever region win with a 14-7 decision over Madison County. Ricky Viengxay posted the game-winning score by returning a fumble 90 yards for the winning score. Tario Fuller helped the cause with 162 yards on 22 carries, while Taylor Grant and Onyx Berrios connected for a 28-yard touchdown.
McEachern dropped its first two games of the year to non-region foes, but the Indians are winning the ones that count after a 29-28 victory over Marietta Friday. Ty Griffin notched three touchdowns, including one to put McEachern into a position to either tie or go for the win with less than one minute to play. Tymashian Clemons threw a jump-pass to Chris Okeh for a two-point conversion and the winning margin. For Griffin it was a sweet return to action since missing time after sustaining an injury against Grayson to open the year. He was used at running back, quarterback and receiver.
Secondary Content
Bottom Content