Section Branding
Header Content
North Cobb, Parkview Moving On After Wins
Primary Content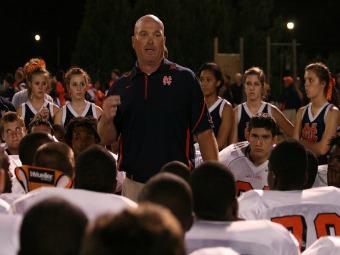 Upsets happen in sports. The fans love them, the media smothers the teams involved and coaches are adored or reviled because of them.
As celebrated as they are, the hardest part about upsets is the next week. Getting a team off the canvas or down from the clouds is one of the toughest jobs even the best motivators have.
Parkview coach Cecil Flowe and North Cobb head man Shane Queen found themselves saddled with that task after their teams earned wins over No. 1 Grayson and No. 3 Walton last week.
SKY HIGH ...
Flowe's Panthers played incredible defense and upset what some were calling the nation's best team in Grayson, which had not lost since the 2010 playoffs. The 22-7 win was important for a program that had dominated the state at times around the turn of the century in winning four state titles between 1997 and 2002, but had fallen on hard times in recent years.
"It was huge because you beat a ranked team, a nationally ranked team," said Flowe in an exclusive interview with Score. "It's a situation where my kids grow confidence. You see that on any given night, what you preach is true: you can play with anybody."
The psychology of the upset is very real. Getting players to buy into the fact that they can beat teams ranked as highly as Grayson can be a challenge. But it wasn't for Flowe, who has won 187 games in 20 years at the Lilburn school.
"You've gotta go out and play the game," he said. "That's why you don't play it on paper."
Meanwhile, Queen's squad faced a similar goliath in Walton, which had not lost a regular season game since September of 2010. But the Warriors were not intimidated and wasted no time in grabbing a 14-0 lead before the No. 3 Raiders got off the bus.
Wide receiver Xavier Borishade returned the opening kick for a touchdown, then caught a 78-yard pass for another score, and it was all but over. Borishade went on to catch two more touchdowns and North Cobb shocked the state with a 49-17 demolition of Walton.
DOWN TO EARTH ...
Even professional teams have a tough time staying humble after an upset. Getting high school kids to stay grounded and not over-confident can be next to impossible for many coaches. But Flowe and Queen have their methods of working through that problem.
"Show 'em the film," said Flowe of how to get his team ready for its next game against Archer. "Take care of business. You just gotta go out there and play again each week. We told 'em, every week, it's going to get harder. It's not going to get easier."
That is especially true for the Panthers, who were dismissed 40-16 by the Tigers last season. And Archer may be even better this year.
"We're playing another big team this week," said Flowe. "We've got to get through this stretch."
While Parkview is already 1-0 in the region, North Cobb begins region play tonight in a game with Kennesaw Mountain. To get up for the Mustangs, Queen has a fairly direct approach for his team.
"It was a big win, but it doesn't help us get into the playoffs," said Queen. "We're 0-0 (in the region), so it's a new season now."
North Cobb defeated Kennesaw Mountain 42-17 last year, but coming off a huge win sets the Warriors up for the dreaded "hangover game."
How these two programs bounce back from monumental upsets remains to be seen. But the psychology of an upset in sports remains one of the most intriguing parts of the game.
Secondary Content
Bottom Content