Section Branding
Header Content
Single Players Can Swing Prep Football
Primary Content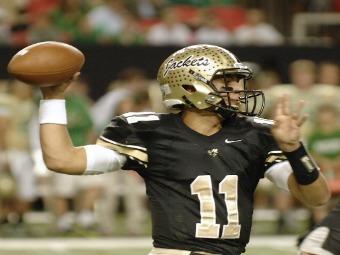 In the professional game, all players are part of a machine the moves forward and back as a team, with the standouts having to rely on the other 10 players in order to achieve success. In college, the impact players can stand out a bit more, but they still must rely on the rest of the team to find ultimate success. In the high school game, however, a single player can completely change a game, taking it over and merely willing his team to a victory. Just this season on the GPB.org webcast, Northside's Keshun Hill, Gainesville's Deshaun Watson and Calhoun's Taylor Lamb have simply been the best players on the field and refused to let their teams lose. Hill scored three times in Northside's win over Flowery Branch. Watson ignored a host of turnovers down the stretch to throw the game-winning touchdown. Last week Lamb scored six touchdowns while passing for well over 400 yards in a comeback win over Carrollton. These impact players are just a few of the standouts that take over games.
In Parkview's victory over former No. 1 Grayson, Chris Carson scored twice in a 22-7 victory, including a score to put the game on ice. For the last few seasons, it has been tough to run on the Rams' defense and it was for Carson, but he still reached the end zone twice in the victory.
Xavier Borishade notched four touchdowns in North Cobb's win over Walton. The wide receiver returned the opening kickoff for a score before beating Walton's young secondary for three scores in the upset win.
Finally, Heys McMath served as the catalyst for Savannah Country Day as the Hornets notched a win for the first time since 2010 with a 45-13 victory over Wheeler County. McMath threw for a pair of scores and ran for three more in his second game as a member of the team.
Single players can shape and impact a high school game by simply being the best player on the field. While football is a team game, it can be fun to watch a player take over.
Secondary Content
Bottom Content