Section Branding
Header Content
Grayson, Calhoun, Tucker Off To Fast Start
Primary Content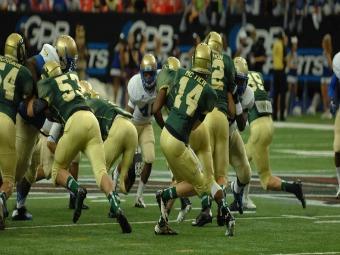 Defending a title is hard as teams are coming after you on a weekly basis. Defending a title and an extending winning streak may be even tougher, but three GHSA football defending champions have gotten off on the right foot thus far in 2012. Grayson has been the most impressive so far, taking out a ranked McEachern squad in the Georgia Dome before dismantling USA Today No. 1 Miami-Central 35-3 Friday. In the most recent game, Robert Nkemdiche rushed for just 12 yards but scored a pair of touchdowns to help the Rams bounce past Miami-Central. The Wing-T offense piled up 236 rushing yards, led by Jordan Germany. Wayne Gallman is also a force out there at running back, and he has shown he can catch passes out of the backfield.
Tucker, meanwhile, was idle last weekend after thumping Cedar Grove 36-14. Dallas Rivers carried the load, rushing 12 times for 114 yards and three scores in the win. Yusuf Minor and Joseph Farrar also must be accounted for in new coach Bryan Lamar's system. The straw the stirs the drink is Juwaan Williams, an all-around athlete that will play wide receiver at the next level but plays quarterback for Tucker. His athleticism will be the key to Tucker's repeat bid, especially with Northside-Warner Robins showing just how explosive the Eagles can be in a 45-7 win at Flowery Branch.
The Calhoun Yellow Jackets knocked off a very talented Ridgeland team 42-35 behind the efforts of senior quarterback Taylor Lamb. The Calhoun signal caller passed for 283 yards by completing 27-of-38 passes for a pair of scores including the game-winning points with less than one minute to play. He is helped in Hal Lamb's offense by Alex Urbano, who rushed for 62 yards on 14 carries and three scores. The defense allowed 91 rushing yards and a pair of scores to Vonn Bell, but look for Calhoun's repeat bid to be the most likely thanks to Lamb's arm.
Two defending champions tasted defeat in their first games this season as Burke County felt the loss of 22 seniors from last year's squad in a 21-14 loss to Thomson. Savannah Christian is trying to rebuild its defensive line after losing DeAngelo Brown. The Raiders fell 21-20 to Jenkins to open the year, but Jalen Myrick is expected to lead both the offense and defense. The Raiders made the Class A title game two years ago as a No. 4 seed, so an early loss likely won't deter Donald Chumley's team.
Secondary Content
Bottom Content