Section Branding
Header Content
Grayson, Jones Prove Hard to Stop
Primary Content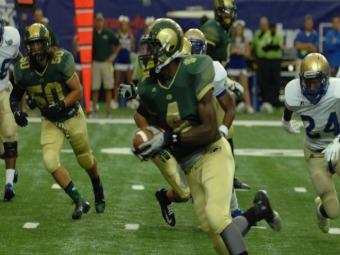 Grayson is all that and a bag of chips. The Rams' 35-3 demolition of ESPN RISE national No. 6 Miami-Central was impressive to say the least. Mickey Conn's group is loaded with talent and experience, and looks like a good bet to win the state's first Class AAAAAA state title.
Marist QB Myles Willis is the real deal. In the War Eagles' 30-13 win at Clarke Central, Willis totaled 144 yard rushing and three total TDs - one passing, two rushing. Willis helped vault his team into the title picture in Class AAAA by defeating a quality group of Gladiators on the road.
Colquitt County rotated QBs and edged Class AAAAA power Thomas County Central 35-33. Cole Segraves and Daniel Mobley each played well to help give the Packers their first win of the season. Putting up 35 points against quality competition had to be relieving for coach Rush Propst after his squad was stymied by North Gwinnett last week in the Corkey Kell Classic. However, the road doesn't get any easier for Colquitt as No. 5 Lovejoy visits Moultrie.
A year after surprisingly making the state quarterfinals, Tri-Cities was upset 12-7 in the season-opener Saturday by Washington. One of the state's top stories from 2011 is off to a poor start.
Tyren Jones of Walton has cemented himself as the best running back in the state with his two performances so far this season. Through two games against Brookwood and McEachern, Jones has scored nine TDs and rushed for 634 yards. With such a fast start against solid Class AAAAAA defenses, Jones may have launched himself into what may become one of the best seasons in state history. Also, Jones tallied most of his yards after taking a vicious helmet to the head in the first half, which caused McEachern DB Kell Parham to be ejected from the game.
Secondary Content
Bottom Content