Section Branding
Header Content
Football Stars Shine At Corky Kell Luncheon
Primary Content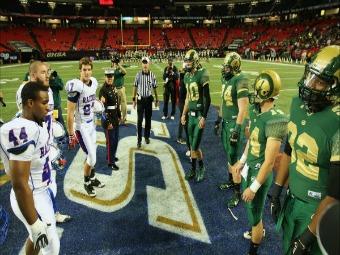 Wednesday marked the inaugural kickoff luncheon for the Metro PCS Corky Kell Classic, the first event of what promises to be one of the best showcases in the 21 years of the prestigious series. This year will feature even more star players and more exciting plays as a fifth game has been added.
Media members, fans, coaches, players and parents all attended the luncheon, held at the New Media suite just yards away from the Georgia Dome field.
Score Atlanta founder IJ Rosenberg started things off with a powerful message about how much high school football meant to one of the greatest quarterbacks in NFL history, former New York Jet quarterback Joe Namath. Rosenberg told a story of how legendary Alabama coach Bear Bryant hung one of Namath's high school jerseys on his wall because Broadway Joe always cherished his high school memories more than any other time on the football field.
From there the faces of Georgia Public Broadcasting's sports division asked questions of all of the coaches and players in attendance. Each school was represented, and answers from Grayson's Robert Nkemdiche, Chattahoochee's Brian Sykes and McEachern's Kyle Hockman drew applause and laughter. North Gwinnett's Bob Sphire and Colquitt County's Rush Propst each spoke on the joy it brought them to coach their sons and how special it is when a father can help teach his son the game of football. Other players heaped praise on their coaches such as Brendan Langley for his coach Derek Cook.
Overall the event was a success as each of the players and coaches truly seemed pleased with the event and were honored to be a part of it. Camden County's Jeff Herron after the luncheon admitted he was honored to once again be a part of the Corky Kell Classic.
This Saturday, teams will meet on the Georgia Dome field, seeking to start the 2012 season off with a huge victory. But for one day, these coaches and players came together, joked and paid tribute to the man who this event is named after, former Wheeler coach Corky Kell.
Secondary Content
Bottom Content