Section Branding
Header Content
Houston County A Prep Football Goldmine
Primary Content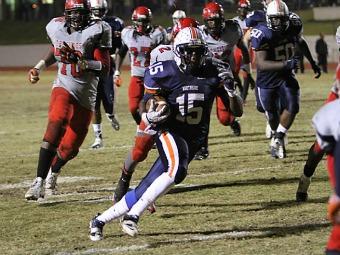 In continuation of our special look inside the top high school football counties in Georgia, we head down to Houston County to find a goldmine of talent and history.
Houston County, Northside-Warner Robins, Perry, Veterans and Warner Robins all call this county home, which holds seven football state championships.
The new Houston County flag bearer is Northside. The Eagles claimed their most recent state title in 2007 and are coming off a region championship.
Warner Robins still lurks in the background. The Demons hold 23 region titles to the Northside's 12. But Northside holds a 35-game winning streak from 2006-2008, seven longer than Warner Robin's 28 from 1975-1977.
These arguments are all the rage during the fall at local barbershops and restaurants. Rivalry's never sleep, especially when concerned with Southern High School Football.
Rivalry embodies this county. Northside and Warner Robins have met every year since 1964. Warner Robins holds the upper hand with a 33-21 series lead. Northside enters this season with bragging rights and a two-year winning streak over their cross-town foes.
"The rivalry between Warner Robins and Northside starts when you are elementary school," said Northside coach Kevin Kinsler. "Kids are indoctrinated whether it be the Northside part of town or the Warner Robins part of town. The town of Warner Robins is a great community and a great place to raise kids in.
Kinsler is very proud of the magnitude the game carries each year, and wishes more could experience a big game like this.
"There are not a lot of people leaving this area and the people here went to one of those two schools," Kinsler said. "It's a great experience for high school kids and it's a shame more kids in high school can't experience a rivalry like that because we have people coming from all over the state to see this one ballgame. It's almost like the Hatfields and the McCoys."
Perry is coming off a 7-4 season with victories over Houston County and Veterans. 2011 was their first trip back to the state playoffs since 2007. Reclassification beckons as Perry makes the jump up to Region 2-AAAA in 2012.
The Panthers will walk into the den of powers like Baldwin and Westside-Macon and of course, cross county foe Veterans will be lurking to knock the Panthers down a notch.
Lastly, Houston County looks to fix some issues after a 2-8 2011 finish. The Bears step into a dark trap in 2012. Region 2-AAAAA bears it teeth, with both Warner Robins schools, and schools with new talent like Grovetown and Evans.
It will be a new world for all the Houston County football communities. Each Friday night will be filled with excitement as the fight for the playoffs begins Aug. 31.
Secondary Content
Bottom Content