Section Branding
Header Content
Northside Looking To Soar Again
Primary Content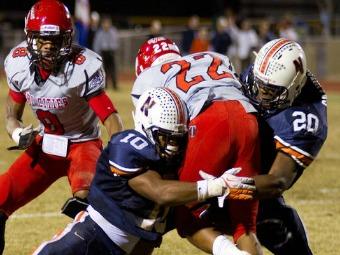 In what may have been the most exciting postseason game of 2011, eventual state champion Tucker edged past the Northside, Warner Robins Eagles 17-16. While every playoff defeat hurts, this defeat was especially painful for coach Kevin Kinsler's kids. The Eagles were seeking the program's first state title since 2007. Now Northside will look for another state title in 2012 at the AAAAA level after GHSA reclassification.
"Obviously it was a tough loss in the semifinals," Kinsler said. "Our kids came back in the winter, got to work and had a great attitude. Every year our expectations are the same; we just have a group of kids who know that it's their job to get it done. Our kids know that they will have to go to work and the routines are the same."
Although the jump to AAAAA is different from one year ago, the goals and opponents remain similar to what the Eagles faced in 2011.
Settling down in Region 2-AAAAA, Northside will face familiar opponents such as Houston County and Warner Robins. There will be a few new faces on the Eagles' schedule.
"Most of the schools just bumped up," Kinsler said. "As far as moving to a new region, there are some schools that these kids aren't familiar with. We really think there are some quality teams in our region and we are looking forward to the competition."
The Northside/Warner Robins series has a rich history dating back to the 1960's. The Demons hold the upper hand in the series with a 33-21 overall record against Northside. This includes a 5-1 record over Northside in playoff competition.
"The rivalry between Warner Robins and Northside starts when you are in elementary school," Kinsler said. "Kids are indoctrinated whether it be the Northside part of town or the Warner Robins part of town. The town of Warner Robins is a great community and a great place to raise kids in."
Kinsler said sometimes the rivalry has the feeling of the Hatfields and the McCoys.
"There are not a lot of people leaving this area and the people here went to one of those two schools," said Kinsler. "It's a great experience for high school kids and it's a shame more kids in high school can't experience a rivalry like that because we have people coming from all over the state to see this one ballgame."
Before Kinsler can worry about the Warner Robins game, though, he must decide on a quarterback. Glen Smith and Marcus Ivory are competing to become the Eagles' starting signal caller.
Defensively, six starters return to defend the end zones of McConnell-Talbert Stadium. Defensive tackle Austin Roberts will be leaned upon, as will returning linebacker Trey Payne. The secondary returns Marques Moore and Rodney Levine.
Kinsler is cautiously optimistic about how his squad will do this year. He pointed out that quarterback maturity will be key in how far the Eagles can fly this season.
"Our philosophy is the same as always," said Kinsler. "We have 15 steps and we will take one step at a time. We will start with Flowery Branch, and hopefully by the end of the season, we will be a good football team."
Secondary Content
Bottom Content