Section Branding
Header Content
Georgia's Top Prospects Prepare For Draft
Primary Content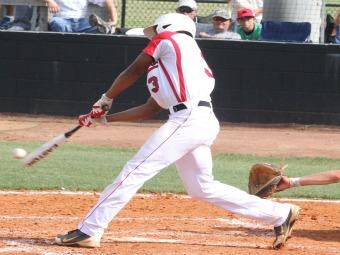 As the 2012 GHSA baseball season prepares to declare its five champions, many Major League Baseball scouts will be watching the championship series to see just how the standouts fare and whether the cream that rises to the top may be ready to rise to the top of the draft boards.
For years Georgia high school players such as Jason Heyward, Tim Beckham, Delino DeShields Jr. and others dating back to Mike Ivie (1970) and Ron Blomberg (1967) have been taken in the first round straight out of the prep ranks and thrust into professional baseball. This year's crop of talent could surpass the 2010 season, when five high school talents were taken in the first round.
BLASTIN' BYRON ...
The first Georgia high school player expected to be selected could be the first player taken overall in the draft. Appling County's Byron Buxton is an outfielder with all of the tools that MLB teams covet from a potential No. 1 selection. Buxton stands 6-foot-2, weighs 180 pounds and while his home run numbers haven't popped eyeballs, his blazing speed has scouts drooling. Buxton recently knocked just his third home run of the year, but his speed was on display against Blessed Trinity as the speedy Buxton registered a stolen base and later scored the winning run in Game 1 from second on a single. In the semifinals, he knocked a bases-loaded triple to clinch a ticket to the Class AA finals.
Buxton's defense is also a major reason why he could be taken No. 1 overall by the Houston Astros. According to Keith Law of ESPN, Buxton is the top high school player in this year's draft, and Law has given Buxton's defense a perfect 80 rating. Law also saw fit to give Buxton an 80 as a runner. He projects "big future power" for the outfielder.
In addition to serving as an outfielder, Buxton has been called upon to pitch for Appling County. Buxton started Game 1 of his team's quarterfinals series victory over Blessed Trinity and then came on in relief to close out the Titans in Game 2. He also pitched in both games as Appling County closed out Brantley County in the semifinals.
Appling County coach Jeremy Smith said that Buxton is more than just an outstanding player. Smith noted that Buxton leads by example. "He's a tremendous kid, very humble and team-oriented."
Smith did concede that Buxton has some incredible gifts as a baseball player. "If there was only one part of his game to watch, I'd like to watch him run," said Smith.
According to Smith several scouts including one from the Boston Red Sox have timed Buxton as getting from the batters box to first base in 3.7 seconds.
GWINNETT STARS ...
Several Class AAAAA prospects have made college declarations, but two could end up leaving Clemson and Vanderbilt at the altar if their names are called early enough in the first round. Brookwood's Lucas Sims signed with Clemson and was still undecided about his future plans entering the playoffs. That may have changed, though, as Sims has been fantastic through the early rounds of the GHSA playoffs.
Sims went the distance in Game 1 of Brookwood's best-of-three quarterfinals series against Harrison, striking out eight in the 11-2 win. Sims would also come through with his bat in Game 3, keeping a rally alive to help Brookwood take down the Hoyas. Sims had previously dominated Colquitt County with 10 strikeouts after striking out seven North Gwinnett batters in five innings. He also pitched a complete game shutout against Grayson in the semifinals.
ESPN lists Sims as the No. 12 high school player in America and projects Sims as landing in the top half of the first round of the draft. Jason Churchill believes Sims has a "plus fastball and curveball. The breaking ball sits in the low 80s with good shape, depth and late break."
Meanwhile reigning Gatorade Player of the Year Matt Olson has a future at Vanderbilt if he wants it, but Parkview's Olson could too be selected early in the first round of the MLB draft. Olson came through for the Panthers in Game 3 of the quarterfinals against Hillgrove. The pitcher/first baseman was 2-for-3 with a double and two RBIs after hitting a home run and driving in three in the Panthers' Game 2 win.
Churchill noted on Olson's ESPNHS profile that the Parkview prospect "has big-time raw power."
TERRIFIC TEAMMATES ...
The Columbus Blue Devils are no strangers to extended GHSA playoff runs as the Blue Devils have taken the last two Class AAA crowns. This year's squad boasts a pair of players that could hear their names called early in this June's MLB draft.
Kyle Carter has a smooth left-handed stroke, and the outfielder/pitcher was on full display last December in Phoenix. Carter bashed 14 home runs to win the 6th annual Power Showcase Home Run Derby at the Diamondbacks' Chase Field. Carter set the Columbus single-season home run record with 22 one year ago while maintaining a .467 batting clip. He was nearly unhittable on the mound, winning nine games with 97 strikeouts. He has been just as good on the bump this season, recently striking out 18 batters in a second-round game against Harlem and going the distance in a win over Troup in the semifinals.
It will likely be Carter's prowess at the plate, though, that will get him drafted in the first round. In a piece written by Score Atlanta's Stephen Black, Columbus head coach Bobby Howard gushed over his star.
"There aren't too many hitters like Kyle," said Howard. "He's been good for a long time and has been able to live up to expectations. He's pretty special."
Pitchers have shied away from throwing to Carter much this season, choosing to intentionally walk the six-foot-one, 195-pound phenom. The strategy hasn't paid off, however, as the rest of the team, including J.T. Phillips, has stepped up with some big numbers.
Phillips, who has signed with Georgia, could also hear his name called early enough in the MLB draft to skip his time in Athens. Phillips stands 6-foot-3, 200-pounds and could project as a third baseman in college or the pros, though he has been manning the shortstop position for the Blue Devils. He also has been lighting up radar guns off the mound for Columbus this season after returning from a back injury that forced him to miss part of the early non-region schedule.
The state of Georgia has been called one of the top four states in terms of producing football talent every National Signing Day, and schools across the country annually raid the Peach State for basketball talent. The baseball talent from Georgia is strong this year and Major League Baseball scouts have taken notice of these Georgia gems. Get a good look at these high school stars now because soon they will be making an impression at the major league level.
Secondary Content
Bottom Content